BUZZWORKS CHEFS COOK UP A STORM IN KITCHEN COMPETITION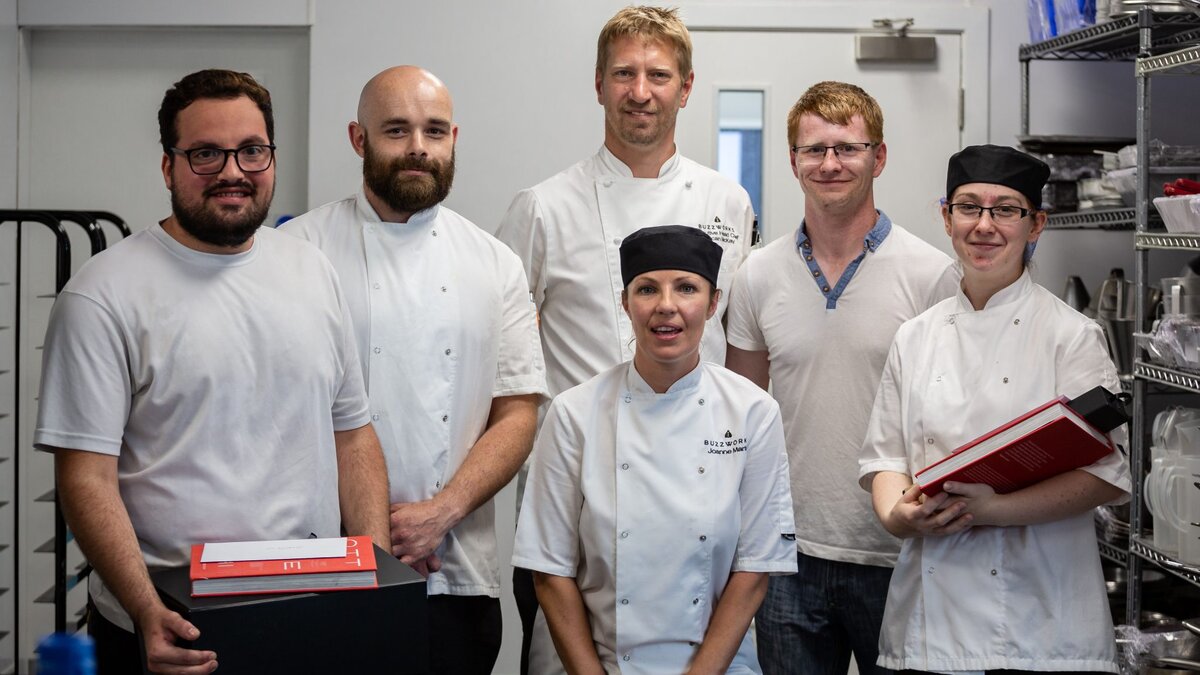 Chefs from leading Scottish restaurant group, Buzzworks Holdings, went head to head this month to see who would be crowned winner of the Buzzworks Cook 'n' Crown.
Now into its second year, the fiercely contested chef competition saw 14 Commis Chefs and Chef de Parties face off in the kitchen, creating an exquisite meal under the watchful eye of judges, and hoping to be crowned king of the kitchen.
The event, which took place at Ayrshire College, had chefs representing all ten of Buzzworks venues take their turn to create a spectacular dish in the hope of winning the top prize and take home the bragging rights for their venue.
In a tense day, which also included a live cooking demonstration from Buzzworks Executive Head Chef Duncan McKay, Commis Chef Gabriella Crawford from the Millhouse venue in Stewarton came out on top with her perfect Skate wing, pea and asparagus risotto along with a brown shrimp butter sauce.
Judges were marking each chef on time management, control of cookery processes, food preparation skill, hygiene, organisation, presentation of dish, taste and flavour – with Gabriella showcasing some fantastic culinary skills and creating her flawless dish.
Taking the top prize, Gabriella took home a Midori Knife worth £100, a £100 meal experience voucher and a culinary book, to hone her skills further.
Chef Jacopo Delle Piane from Lido Troon came in second, whilst James McKinlay from Treehouse in Ayr was in third place.
Kenny Blair, Managing Director of Buzzworks Holdings, said: "We are renowned for our high quality dishes, and that comes from the fantastic chefs working hard in the kitchen to create plates to suit all tastes and occasions.
"The standard of our chefs is fantastic and we love to challenge them to bring out their best, so congratulations to everyone who took part in our Buzzworks Cook 'n' Crown, and especially well done to Gabriella. Everyone can certainly be proud of their performance on the day."
The award-winning business – which has been voted one of The Sunday Times best 100 companies to work for in the UK – is always on the lookout for chefs who are passionate about good food and want to work with the best.
For more information on the job opportunities available visit buzzworksholdings.com/careers or call 01292 670198.  This is a superb opportunity for those wanting to develop