New website Hotel & Spa Tech Live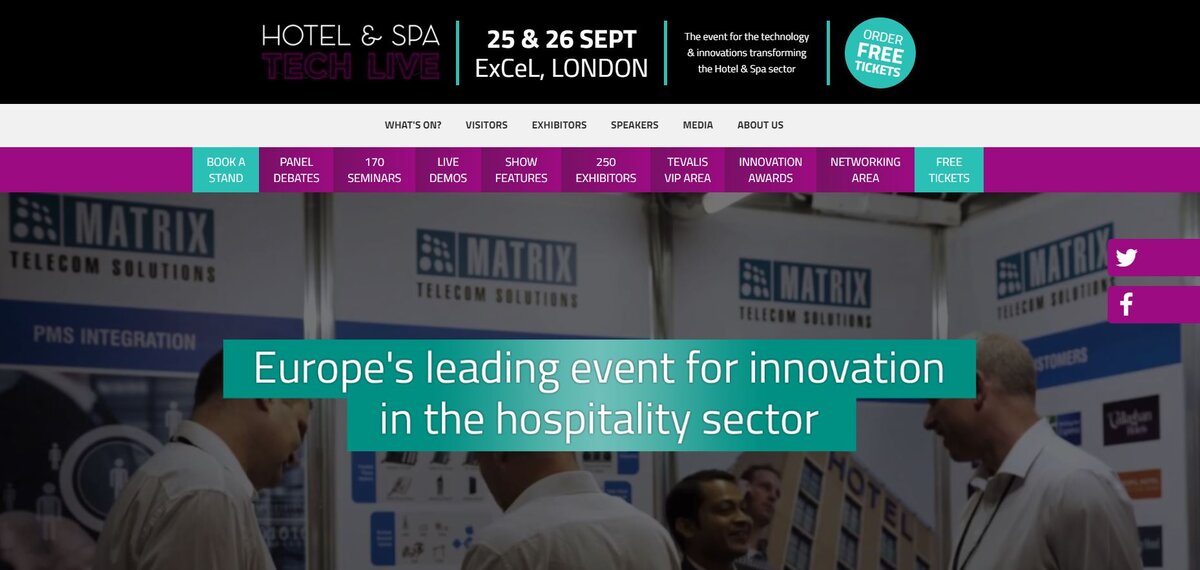 Summer is an incredible time of the year. The sun comes out, the days get warmer and longer and most importantly, people take time off to relax. Whether going for a nice relaxing spa break or a trip away from everyday life to a nice hotel, summer is a time where people take a pause to revive. Our partners at Hotel & Spa Tech Live however, have made the most of their time off to work on completely reviving the show's brand ahead of the 2018 edition. The team behind the event have spent countless hours working to provide their visitors with an incomparable experience…
It all starts with their brand new website. The new layout of Hotel & Spa Tech Live's web page gives you an exclusive first look at the show's latest logo, which captures the excitement of new technological advances all while keeping glimpses of vintage hotel styles. New technology in the hotel and spa sector are a key aspect in the rebranding of the show and, as such, the new website boasts various features displaying some of the most forward-thinking products available on the market. With its bright arrangement of colours, the website highlights the exciting futuristic designs that are making their way into the industry. The new Hotel & Spa Tech Live website offers a much more interactive platform which makes it easier to access all of the information about the show. This innovative web page offers a unique experience from the moment it appears on your screen, foreshadowing what to expect from Hotel & Spa Tech Live itself. Have a look now and check for yourself! Go to www.hoteltechlive.co.uk now!
There's more! The rebranding crosses over every aspect of the show including a completely revamped Hotel Business Insider e-magazine; however, the most significant facet of the new brand is the green and environmentally friendly approach that Hotel & Spa Tech Live has adopted. The show is looking to give back to the environment through partnerships with eco-friendly organisations such as Green Earth Appeal, who have promised to plant one tree for each exhibitor at the event, counterbalancing their footprint on the environment. In their quest to reduce food wastage, the show has joined forces with Too Good To Go, a revolutionary app that has helped hotels, restaurants and food stores "save" over 2.5 million meals already. Their partnership with the Soil Association encourages the setup of organic and ecological principles in the way people farm and eat. These are just some of several initiatives that Hotel & Spa Tech Live have taken in order to promote sustainability, which will be a key theme at the show this year.
With a new look and a brand new way of doing things, Hotel & Spa Tech Live 2018 is set to be the most exciting edition yet; with over 250 exhibitors revolutionising hotels and spas across the UK, 170 game-changing seminars held by the sharpest minds of the industry, unique networking opportunities with top-decision makers, industry-altering panel debates and plenty more features. This year marks the beginning of a new eco-friendly wave for Hotel & Spa Tech Live. Join us, on the 25th & 26th of September at the London ExCeL, at the future of the hotel and spa industries, go see the brand new website and register for your FREE ticket now!