THE LAUNCH OF THE PLYMOUTH GIN GARDEN AT THE WIGMORE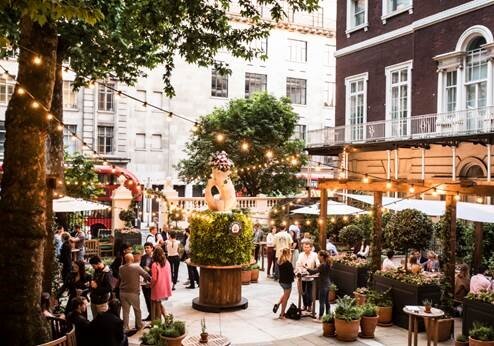 This summer, The Wigmore, a modern British tavern on Regent Street by The Langham, London, has partnered with Plymouth Gin to transform its courtyard into a botanical gin garden featuring climbing plants, self-garnish pots on tables and interactive masterclasses.
 Nestled within the garden, visitors will find the Plymouth Gin Garden bar, serving refreshing summer cocktails including the Plymouth Fruit Cup cocktail, a blend of the newly-launched Plymouth Gin Fruit Cup, a hand-crafted combination of Plymouth Gin and premium fruit liqueurs that boast a delicious stewed fruit flavour, with Ginger Ale.  This new terrace coincides with launch of the brand new recipe of Plymouth Gin Fruit Cup in the UK. 
The famous 'Glug Jug' fish will also be a prominent feature of the Plymouth Gin Garden at The Wigmore, after being used by the navy and as a vessel for Plymouth Gin since the latter half of the 19th Century, shaped like an open-mouthed fish, the Glug Jug possesses an endearing quirkiness. When liquid is poured, it produces a gurgling sound and has become a famous serving jug for Plymouth Gin. Visitors will be able to order the Garden Glug Punch to share, which will include Plymouth Gin, apricot, jasmine green tea, cucumber and Perrier-Jouët Champagne.
The Plymouth Gin Garden at The Wigmore will also be hosting Botanical Lab masterclasses throughout the summer. Taking place on the first Wednesday of each month, the classes will take guests on an interactive journey where they will learn about the history and botanicals of Plymouth Gin and be able to blend their very own gin using the seven botanicals that Plymouth Gin has been known for since 1793-
Address: The Wigmore, 15 Langham Place, Regent Street, London W1B 3DE
Opening dates: 23rd  May until September 2018, Wednesday – Friday 5pm-10pm
Botanical Lab masterclass: Will be hosted on 11th July, 18th July, 25th July, 1st August at 6pm
Price: Drinks start from £10
Bookings: Call 020 7636 1000 or visit www.the-wigmore.co.uk