Ibiza in June | weather, what's on, cool things to do and more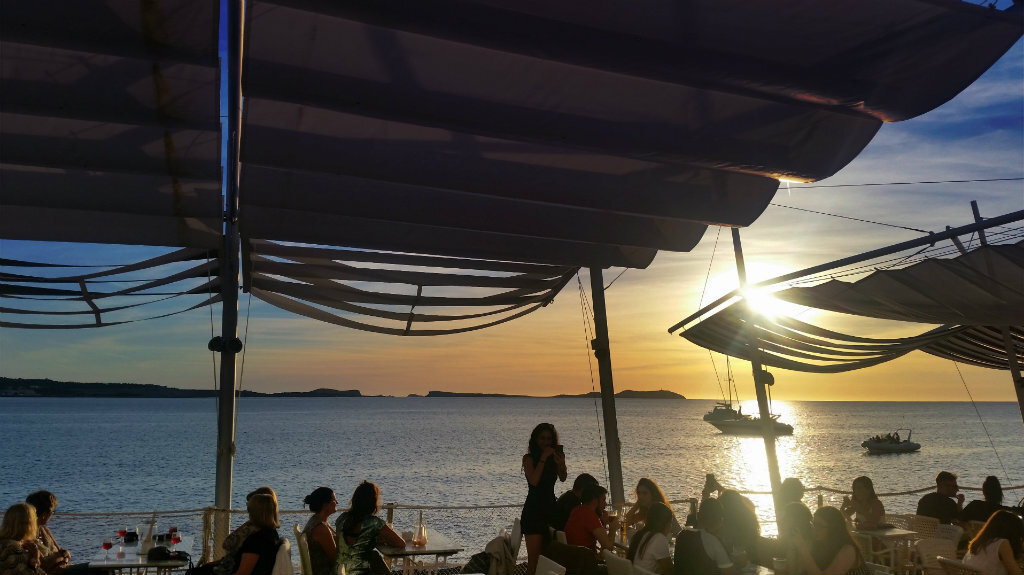 Ibiza in June can be summed up in just one word.
Bliss.
But, seeing as you're here, let's get into it in a bit more detail, shall we?
Good!
Let's go ?
What's the weather like in Ibiza in June?
Would it come as an almighty shock if we were to say…drumroll…absolutely beautiful?
Nah, didn't think so.
Joking aside, it's true to say that the weather in Ibiza in June is somewhere near perfect. The days are beautifully warm and sunny, and you can expect around 13 hours of glorious sunshine per day.
Woohoo!
Average daily temperatures range from 22 – 26C with hardly any rain. Little more is needed during the day other than swimwear or loose-fitting tops and shorts. Late evening, you might want to cover up with a light shirt, cardigan or shawl.
The average sea temperature, at around 21C, makes swimming during this month divine.
So, what to do on these blissfully balmy June evenings in Ibiza?
Well, one great suggestion would be a Tuesday night open-air movie at the magical Amante Beach Club in Cala Llonga.
Picture this…
Chilling in a comfy full-length bean bag with blankets thoughtfully provided just in case it gets a bit nippy.
The sea gently lapping away to your side.
A fairy-tale setting, complete with floodlit rocks and palm trees.
A glass of Cava.
As much popcorn as you can eat.
And all this while watching a fab movie under the stars.
Kinda puts Odeon cinemas to shame, doesn't it? ?
How are prices?
In June, we are still not quite in peak season so flights remain fairly reasonable.
On average, you can probably expect to pay around €150 for a return flight. That said, amazing deals of less than €100 can often be found.
Without too much effort, you can still bag a great deal on villa rentals this month, especially if there's a group of you to share the cost. Many companies around this time have some nice early-season offers on, so take some time to shop around.
Once here, it's no secret that Ibiza is not the cheapest place in the world.
And by June, the clubs, the boat parties, the swanky beach clubs are all in full flow.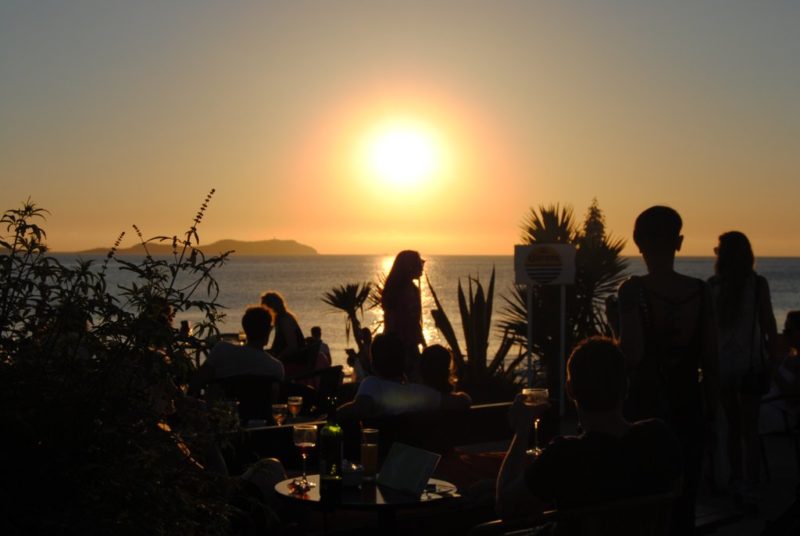 And that means more temptation to spend, spend, spend.
But, if you are travelling to Ibiza without a bottomless wallet, fear not. As seasoned Ibiza residents for many years, we know it is more than possible to make a visit to the White Isle more than affordable.
Our top tip here is to be selective where you eat. Avoid the tourist traps and seek out the local bars where you can enjoy a 3-course set menu-del-dia for as little as €10. This goes a long way to saving you loads of dosh…and gives you a glimpse into traditional Ibiza life into the bargain.
Boom!
Which beaches are best?
Figueretas beach, less than 1km from Ibiza Town, is a great beach to visit in June.
Extremely popular with people of all nationalities, ages and walks of life, Figueretas tends to get very busy, but checking it out before the chaos of high season will not leave you disappointed.
For a start, there is a staggering variety of bars, cafes and restaurants serving anything from Paella and seafood, burgers and fish & chips, Sushi & Chinese, snacks and ice-cream. There is certainly something to suit every palate and budget here.
The beach itself boasts lovely, pale, soft sand with pretty islets dotted in the twinkling sea, and Formentera visible in the distance. There is a wide, picturesque palm-tree lined promenade and stunning views of Ibiza Town and the walls of Dalt Vila.
Popular with families and groups of friends alike, Figueretas, with its bustling cosmopolitan vibe is definitely worth a visit.
If you fancy something a little more rustic, we'd say head to the north of the island to Pou des Lleo, just a ten-minute drive away from San Carlos.
Pou des Lleo is one of the smallest and most peaceful of Ibiza's beaches and, even in June, it remains relatively quiet.
Surrounded by a dramatic coastline, with red cliffs and traditional fishermen's boat houses, Pou des Lleo offers spectacular views of the island of Tagomago. The water here is sparklingly crystalline with some impressive rock formations, the beach a mixture of soft sand and pebbles.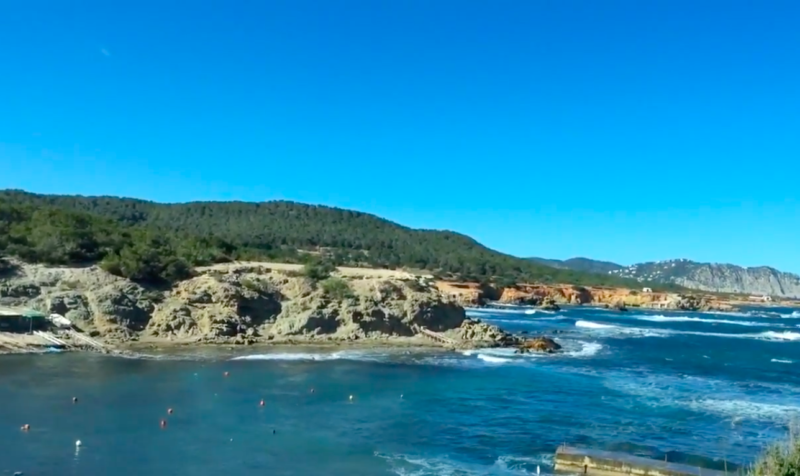 Trust us, it's absolutely gorgeous.
You'll find a couple of restaurants and a cute chiringuito (beach bar) where you can enjoy reasonably priced drinks and snacks.
Pou des Lleo is the place to go if you're looking for tranquility. Its sheltered horse-shoe shaped cove makes it a firm favourite with the locals and it's not unusual to find people sunbathing in the nude.
Don't say we didn't warn you!
What's the countryside like?
As the Ibiza summer season starts to rev up, the island's villages and their local inhabitants remain stoically and charmingly nonplussed.
Even when the towns and resorts are swarming with visitors, life in the Ibiza countryside carries on as normal with a "tranquilo" attitude and an unwavering dedication to the traditions of this beautiful island.
And one of the best Ibiza traditions takes place in June!
We're talking about the San Juan Fiesta.
Ibiza's northernmost, uber-quaint village, San Juan celebrates its annual festival day on 24th June.
As with most of the village festivals, celebrations include processions, displays of traditional Ibiza folk dancing, competitions and games, music and live entertainment. Along with lashings of food and drinks, of course.
But there is a certain something that sets San Juan fiesta apart from the rest.
The village's patron saint is St John the Baptist. A key figure, of course, in Christianity, famed for his practice of baptism to forgive sins.
This is symbolized on the night of the fiesta by the lighting of fires. Daring souls then jump through the fires or walk on hot coals to drive away evil spirits and welcome in re-birth and purification.
Drumming, dancing and fireworks all add to the vibrant atmosphere of this incredible fiesta.
An experience never to be forgotten.
What's going on in the towns?
By June in Ibiza, the towns are quite simply buzzing.
Pretty much everything is open now and the vibe in the towns is one of joyful, early-season excitement. The summer workers are settling into their jobs. Holiday-makers are now arriving in droves. Bars, restaurants, shops and businesses are in full summer mode, all of which adds to the happy holiday atmosphere.
Simply put, whichever town you find yourself in, there will be something going on and you are not going to be bored.
But if you're looking for something a little bit different to do, you might want to head to Ibiza Town and "Baluarte de Sant Pere".
This is a fascinating audio visual display of the building of the fortified walls of Dalt Vila in old Ibiza Town.
Running every day except Monday during June, you can catch this display at regular times throughout the day and evening.
What's the clubbing scene like in June?
Banging!
All of the major clubs are now open and there is no shortage of choice whether you're looking for glamour & glitz, deep house and techno, gay-friendly, boat parties, secret cave raves. You name it, Ibiza's got it going on in June.
Pacha, Amnesia, Privilege, Benismussa Park, Eden, Es Paradis, Hï, DC10 & Sankeys are all game on & there are still lots of opening parties as individual promoters kick off their summer seasons. Think Elrow, Glitterbox, Music On, Cocoon, The Zoo Project, Hed Kandy, Ants and many, many more.
On a lightly lighter tip, during this month Pikes Hotel begins its full-time summer schedule of daytime pool parties and more decadent nighttime events.
And kicking off on Friday 29th June, BBC Radio 2 has teamed up with Hard Rock Hotel's Children of the 80s for a weekend of classics and, no doubt, oodles of nostalgia.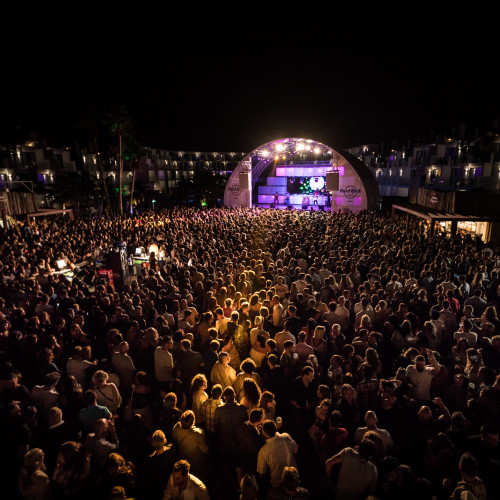 A range of special programmes, live performances, interviews and 80s hits are promised, along with live broadcasts from Pikes Hotel on Saturday 30th June from 3pm. Zoe Ball and Scissor Sister Ana Matronic will be on the airwaves with many special guests, celebrating the music that has become synonymous with Ibiza for the past three decades.
A guaranteed spine-tingling trip down memory lane, for sure.
Which restaurants are great to visit in June?
This time, our vote for top restaurant of the month goes to the fabulous Es Caliu, situated on the outskirts of Santa Eulalia.
This Mediterranean restaurant is a rustic country house which is over 200 years old. Guests can dine either inside or on the beautiful outdoor terrace where the fruit trees are strung with fairy lights and it all just feels so…well…magical.
Sigh.
Here you can enjoy traditional Ibiza cuisine at its very best, served with style and elegance by the super-friendly staff. Whilst Es Caliu's signature dishes are undoubtedly grilled meats and BBQ (cooked on an open fire right there on the terrace), there is an impressive range of imaginative options for vegetarians, too.
And it gets better.
Most of the fruit and vegetables served here come from the restaurant's own ecological country garden.
Right from earth to plate.
Let's face it, it doesn't get much fresher or more natural than that.
Another of our favourite Ibiza restaurants is right over on the other coast of the island across in San Antonio.
We're talking about the legendary Kumharas Ibiza.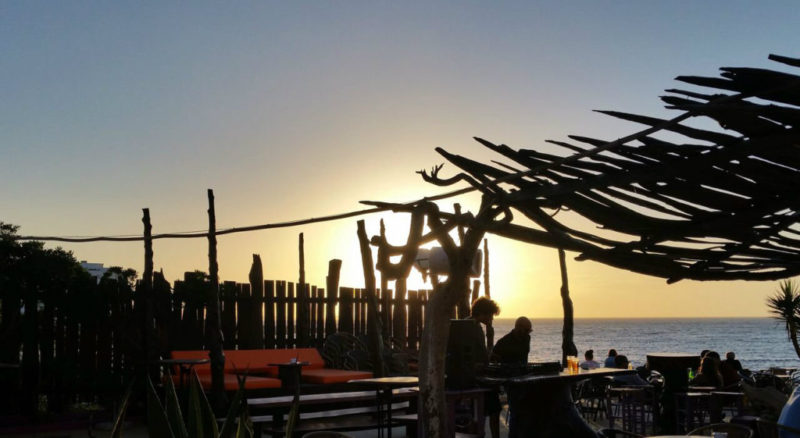 A popular venue for watching one of Ibiza's famed sunsets, Kumharas is a multicultural, India-inspired, hippy, exotic kind of affair.
It boasts a rich and varied menu of international cuisine, live performances, attentive service and even a hippy market.
But I don't need to tell you all this.
Ibiza Villas 2000's very own restaurant reviewer paid Kumharas a visit last year, so I'll let him take over from here.
Special events in Ibiza during June
We'd like to give a shout out to Ibiza's little sister island, Formentera, who is hosting a very special event in June.
Like Ibiza, Formentera is an island that has long since been a source of creative inspiration for many of her residents and visitors. Pink Floyd, Bob Dylan and King Crimson are amongst the many musicians who have found inspiration on her shores.
To honour this unceasing creativity, the Formentera Jazz Festival will be taking place from 31st May to 3rd June.
A unique musical event in a unique and beautiful corner of the Mediterranean.
Smokin'!
Stuff for families to do
June in Ibiza is an absolute smorgasbord of family-friendly stuff to do.
One of our favourites, which sounds like a whole heap of fun, is "Circus classes for children." This takes place at the Circolar circus tent over in Cala Llonga.
Kids can try their hand at tightrope walking, juggling, trapeze, acrobatics and craft-making, amongst with a whole host of other exciting stuff.
Doesn't that sound amazing?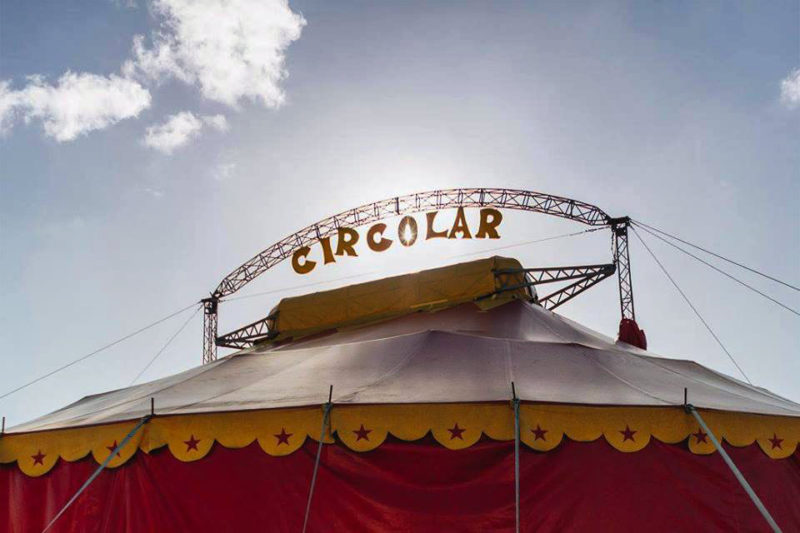 The "Circus of Summer" starts this year on 25th June and will take place Monday to Friday from 09.00 – 14.00 hrs.
More details can be found on their Facebook Page here.
Psst: there are some real cool activities for adults too – acrobatic types might want to check it out!
Another favourite family day out is Surf Lounge Ibiza.
Situated right in the heart of San Antonio Bay, this beach sports club offers a good range of activities for the whole family to enjoy.
You can learn to paddle surf.
Or have yourselves an invigorating game of volleyball.
Swim in the pool.
Browse around the shop.
Eat yummy food.
But the thing that really sets Surf Lounge Ibiza apart from the rest is the fact that it is home to The Flowrider.
The what?
The Flowrider! Ibiza's only artificial, static wave machine.
Here, you can learn to surf in under an hour with no past experience necessary. Flowrider can accommodate up to 20 riders at a time and is suitable for all surfing experience levels.
All necessary equipment is provided and teachers and monitors are on hand to ensure safe fun is had by all.
A truly unique and invigorating Ibiza family day out!
Transport
Well, nothing much has changed when it comes to transport on and around Ibiza in June. Disco buses are on a full schedule & public transport is as good as it gets!
It's still pretty easy to get a taxi. Car hire is still fairly cheap too. But traffic jams have already started to become a regular feature on main routes and finding parking in towns and popular spots can take a while during busy periods.
Tip? If you need to get anywhere for a specific hour during peak times, leave considerably earlier than you think is necessary! Peak times are generally from 10.00-14.00 and then again from 17.00-21.00. If you're heading to catch the sunset on San Antonio strip, expect 5-15 min queues going into town (pre-sunset) and the same leaving (post-sunset).
For more general transport tips, check out last month's round-up, Ibiza in May.
And that's Ibiza in June in a nutshell, ladies and gents! We hope you find it useful. We'll be back soon with the next installment of our monthly Ibiza guides – Ibiza in July.
Words | Jinny Throup