ERIC VAN BEEK FROM NETHERLANDS WINS 10th BACARDÍ® LEGACY COCKTAIL COMPETITION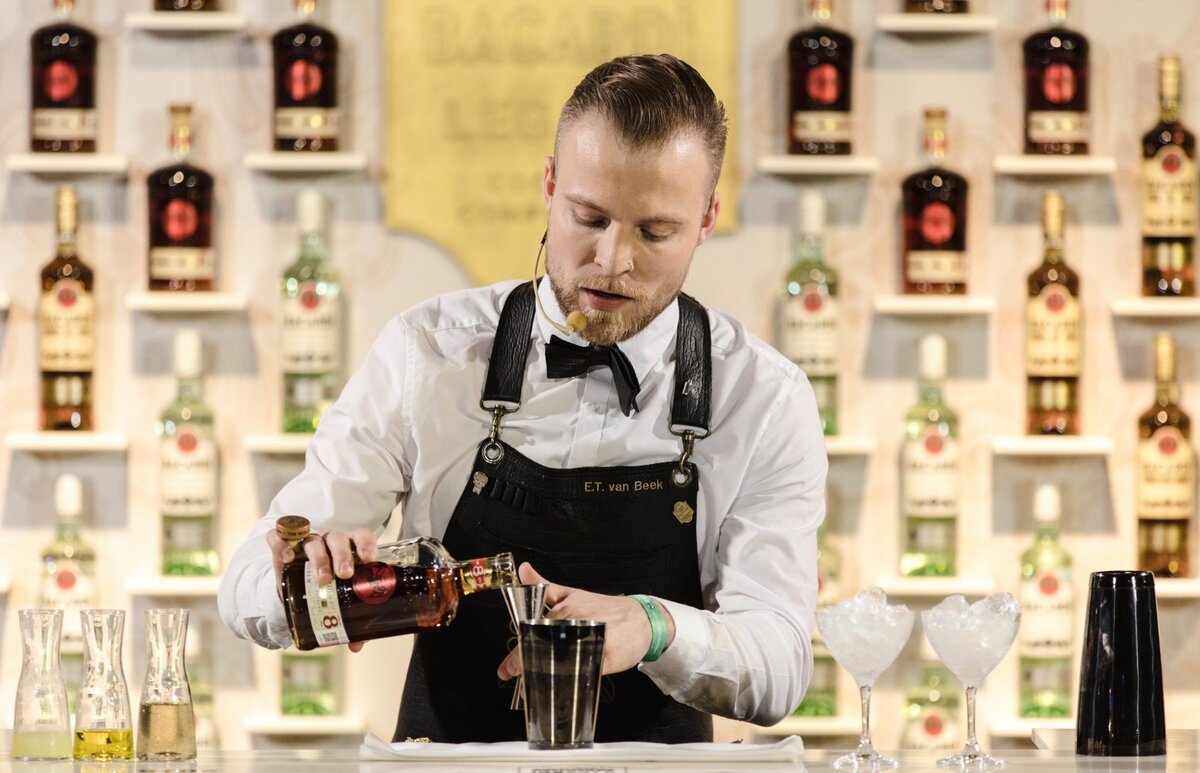 Bartender takes home trophy as Cariño is declared the BACARDÍ 2018 'Legacy' cocktail.
 The BACARDÍ Legacy Cocktail Competition 2018 concluded last night when Eric van Beek from Netherlands lifted the trophy to become the tenth global winner. His winning cocktail triumphed in a closely contested final held at the Museo Numismático Nacional in Mexico City in front of 400 guests.
Eric, who works at Bar TwentySeven in Amsterdam, won the competition with Cariño, a shaken cocktail combining BACARDÍ Reserva Ocho rum with Yellow Chartreuse, Greek yoghurt, vanilla syrup and lemon juice, which beat an incredibly strong field of original drinks created by bartenders from 34 countries.
Having been a bartender for only two and half years, this is the second year running that Eric has competed to represent his country in the BACARDÍ Legacy Cocktail Competition. His drink Cariño was inspired by the term of love and endearment 'te tengo cariño,' which refers to love and fellowship. He expressed his drink's story on stage through spoken word rhyme, claiming that 'love doesn't always come from familiar faces, sometimes strangers can take you to higher places.' Eric's sentiment was echoed by his 33 fellow competitors, who stormed the stage to celebrate with him when he was announced as winner, having spent six days together in Mexico City forming bonds that will endure long beyond this competition week.
"So, I just won the tenth edition of BACARDÍ Legacy and it feels absolutely amazing; it's such an honour now to be one of only ten people who have won this competition," said Eric. "This whole week has been incredible, I've met a lot of people, I've learnt a lot about myself and collaborated with others; it really has been an insightful week. When they announced I was the winner I was thinking 'this is a dream come true, this is not happening.' Everybody was mobbing me and shouting 'Cariño' – it's an indescribable moment, but I will cherish it."
Alex Kratena, founder of P(OUR) and former Head Bartender at the multi-award winning Artesian, one of the judges of the night, said of the winning drink "Cariño was a winner for obvious reasons; it is a drink which has ingredients we all know but, when combined together, they bring something new, exciting and most importantly delicious. I think he has done a great job creating something with a smooth and silky texture that is also refreshing whilst retaining all the aromatics; it's a very complex drink yet very easy drinking."
Fellow judge and co-owner of Brooklyn's Leyenda Ivy Mix agreed, saying "For me the drink was so unique, with ingredients that really aren't that unique, but that beautifully showcased the rum and allowed it to shine through. It was meant to win because it is so unusual but super delicious. In his presentation it was very clear to me that his level of dedication was above and beyond; I think Eric is a real example of what you can do if you truly put your heart and soul into it."
The BACARDÍ Legacy Cocktail Competition began as a UK competition, which was first won in 2008 by Ago Perrone of London's Connaught Bar, and has since grown into one of the world's largest cocktail competitions, attracting thousands of entries. Competitors this year were joined in Mexico City by seven of the last nine winners, who served their Legacy cocktails at a 10 year celebration party during the week. Carinõ becomes the tenth cocktail to join this prestigious stable of Legacy cocktails; honoured for their simplicity, replicability and timelessly delicious blend with BACARDÍ rum.
As Eric's prize, BACARDÍ will offer year-long support to further his career as a bartender by creating experiences tailored to meet his career goals, gain worldwide recognition for his drink and provide a platform from which he will serve Cariño at some of the finest bars in the world.
Thirty four exceptional bartenders from around the world travelled to Mexico City this week. Each has spent several months working to perfect and promote their Legacy cocktail in the hope it would be declared worthy to stand shoulder to shoulder with BACARDÍ classics such as the Authentic BACARDÍ Mojito, the Original BACARDÍ Daiquirí and the Original BACARDÍ Cuba Libre.
BACARDÍ hosted the finalists at a range of educational workshops, delivered by drinks industry legends and tailored to hone their skills, before they presented their own original interpretation of a modern BACARDÍ Legacy cocktail in the competition. Eight competitors were selected to go through to the Grand Final and present their drink in front of an audience of invited guests and a judging panel representing some of the most influential names in the international bartending and spirits community: Maestro de Ron BACARDÍ José
Sanchez Gavito; founder of P(OUR) and former Head Bartender of London's Artesian, Alex Kratena; co-owner and Head Bartender of Brooklyn Bar Leyenda, Ivy Mix and Ran Van Ongevalle, who won the competition last year.
Dickie Cullimore, BACARDÍ Global Brand Ambassador, said of tonight "The announcement of Eric as our tenth Legacy winner rounds off what I can only describe as the perfect week here in Mexico City. We have been immensely privileged to host these thirty four exceptional bartenders, who have each brought their 'A' game and given us one of the best ever BACARDÍ Legacy Cocktail Competitions. Eric is a hugely popular and worthy winner, and Cariño is a fresh, elegant and velvety cocktail that superbly showcases BACARDÍ Reserva Ocho and will become a classic for our times. I can't wait to get started planning with Eric where we will take him over the next year to help him bring this delicious drink to the world!"
The two runners up in tonight's final were James Irvine from Australia and Ana Alicia Herrera from Mexico.
WINNER – The BACARDÍ Legacy Global Cocktail Competition 2018
Carinõ
 by Eric van Beek
 2 parts BACARDÍ Reserva Ocho
⅕ part Yellow Chartreuse
1 ⅕ parts Greek Yoghurt
⅘ part vanilla syrup
⅖ part lemon juice
 Method:
Shake, serve over a large ice cube
 Glassware:
Coupette
The following 34 finalists took part in the competition and eight (in bold) were selected by a judging panel to go through to the grand final tonight:
| | | |
| --- | --- | --- |
| Country | Competitors Name | Cocktail Name |
| Australia | James Irvine | Bocado |
| Austria | Harald Grobl | Wayfarer |
| Argentina | Juan Ignacio Quijano | Magno |
| Belgium | Didier Van Den Broeck | Mr Dogma |
| Brazil | Ernesto Lara Elizondo | El Imigrante |
| Canada | Sabrina Mailhot | Séquito |
| Chile | Juan Zambrano | Pana Pana |
| China | Casper Huang | Robin |
| Colombia | Gonzalo Marin | Asere |
| Cruise Ships | Shekhar Grover | The Royal Legacy |
| Cyprus | Constantinos Kazelis | Back in Black |
| Finland | Henri Halonen | Herencia |
| France | Jimmy Cassar | L'Aristocrate |
| Germany | Damien Guichard | Amandita |
| Greece | Antonis Mantzaridis | Semilla |
| India | Akhilesh | Eternal Spirit |
| Ireland | Tony Barry | Hug from Mary |
| Israel | Irene Benjamin | Back to Basics |
| Italy | Davide Mitacchione | Adelante |
| Japan | Akira Abe | Tales of 8 |
| Mexico | Ana Alicia Herrera | Devil Woman |
| Netherlands | Eric van Beek | Cariño |
| New Zealand | James Millar | La Familia #2 |
| Norway | Carl Wiman | El Lingüista |
| Portugal | Rafeal Silva | Equilbrium |
| Singapore | Sim Sze Wei | Golden Eight |
| South East Asia /Thailand | Noppasate Hirunwathit | Nostalgia |
| Spain | Emmanuel Otero | 1300 Millas |
| Sweden | Carl Marcus Erlandson | Theobroma |
| Switzerland | Kacper Dylak | Las Raices |
| UAE | Marco Corallo | Superhero |
| UK | Leon Back | Queen Street Cocktail |
| USA – Washington DC | French Scott Marshall | Coki Beach |
| USA – Boston | Moe Isaza | Poderoso |
https://www.facebook.com/BacardiLegacyGlobalCocktailCompetition
https://twitter.com/bacardilegacy
http://instagram.com/bacardi.legacy/
#bacardilegacy