Jägermeister Celebrates Big Nights With Friends.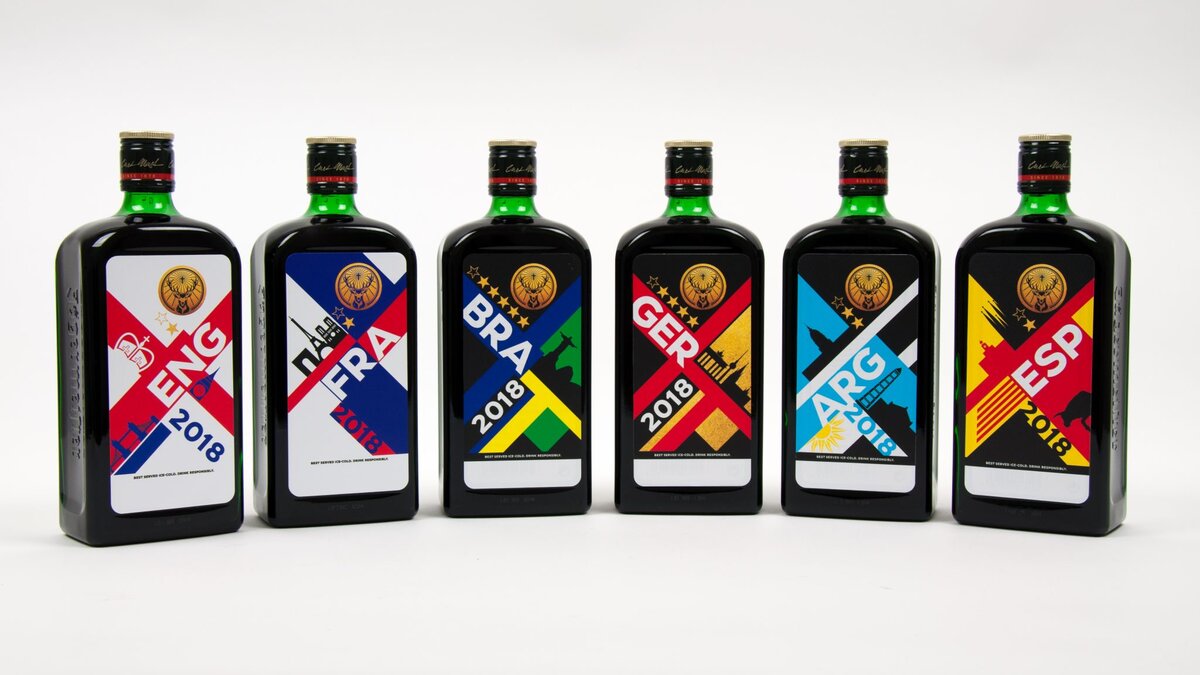 This June, Jägermeister will be launching a series of six limited-edition bottles, each emblazoned with eye-catching flags from famous footballing nations: England, France, Brazil, Germany, Argentina and Spain.
Synonymous with big occasions, it has been reported that 51% of consumers drink Jägermeister on a big night out with friends (Millward Brown usage research 2017). This year's big summer of sport is a key opportunity to drive incremental sales for both the on and off-trade.
35,000 70cl flag bottles will be available across the on-trade, including free-trade and managed outlets and 80,000 bottles will be available across the off-trade, including multiple grocers and convenience stores.  The bottles will help to drive incremental sales across both channels, encouraging consumers to get behind their team and celebrate the 2018 summer of sport.
The launch follows a successful on-trade trial coinciding with the 2018 Six Nations Championships in February. All outlets merchandising the limited-edition bottles experienced a boost in sales, with some seeing an increase to 30%.
To further amplify the herbal liqueur's presence across the on-trade, this summer will also see the return of Jägermeister's 'Jägerettes' floor staff wearing their distinctive Jägermeister uniforms. Starting with the main football matches, the Jägerettes will be providing the perfect serve of ice cold shots straight to table and taking the pressure off the bar staff in key venues across the UK.  The Jägermeister field sales force will support the implementation of the floor selling programme as well as the limited-edition flag bottles in outlets and venues nationwide.
The off-trade will benefit from the launch of the Yard of Jäger flag pack, an eye-catching pack featuring 10 x 2cl bottles. Launching in May this is the ideal product for fans to enjoy in a group setting at home.
Jonathan Dennys, customer marketing & insights controller, comments:
"Jägermeister is often associated with big occasions and with this summer being packed with major sporting events it is the perfect time to get together with friends for that 'Jägermeister moment' whether at home or in-venue.
"It is an opportunity for Jägermeister to be put at the fore of this summer's offering and for both on and off-trade to think beyond the typical category sales of beer and cider and consider spirit brands like Jägermeister which can offer huge prospects to drive incremental sales."