Reasons to consider solar lighting this summer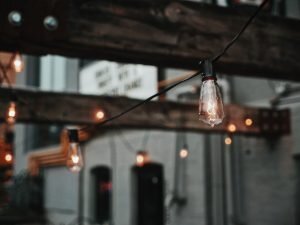 Outdoor lighting comes in many forms, and exists to fulfil many different functions; from decorative lighting to security, there's much more to lighting than just illumination. One thing that almost all lighting has in common is that in order to work, it needs to be connected to a mains power supply – no power; no light. However, there is an alternative option, in the form of solar lighting. And with summer just around the corner, there's no better time to consider this environmentally friendly lighting solution for your hospitality business.
Powered by daylight
As the name suggests, solar lights utilise energy from the sun in order to function. Through absorbing natural daylight via a panel of photovoltaic cells (more commonly known as a solar panel), the energy is converted into an electrical current and stored in a rechargeable battery. As a result, solar lights possess a constantly recharging power supply that costs nothing to run. This is obviously great for reducing energy bills, not to mention carbon footprint.
Most solar lights also now come equipped with PIR motion sensor technology, which maximises efficiency by only triggering illumination when motion is detected – this is particularly useful for low footfall areas where illumination isn't a constant requirement. Another feature present in many solar light fittings is dusk to dawn sensor technology – this simply means lights will come on at dusk when night falls, and switch off again at dawn when sunlight is detected.
Another major benefit of solar lights is their flexibility. Because solar lights are not tethered to a mains supply, they're incredibly mobile, making them a great option for hard to reach spaces, out buildings, or far away areas like driveway entrances and car parks. Plus, when the lights are no longer required, they can simply be packed away.
 The huge range of solar lights available today means there's a fitting to meet every outdoor lighting requirement, including:
Utility lighting – In most cases, lighting exists to fulfil a practical function, be it illuminating walkways, a path or drawing attention to signage. Solar bollard lights provide an easy to install, low maintenance option for marking driveways and paths, while solar wall lights provide all the practical benefits of their hard-wired alternatives, without the need of an electrician for installation.
Decorative lights – Decorative lighting such as fairy lights, festoons, and creatively positioned spotlights can completely transform the look and feel of an outdoor space, be it a small patio area or large lawn. The major benefit of solar lights is that they can be moved around to reflect seasonality and weather.
Security lighting: Outdoor security lights provide a sense of safety and security for both business owners and their guests, as well as helping to deter intruders when buildings are unoccupied. Solar security lights come in a range of styles, including flood lights, motion sensor (PIR) lights, and dusk to dawn lights.
So what's the catch?
Despite the many benefits of solar lighting, the technology will never be able to match the sheer power of mains-powered lighting, at least not for sustained periods of time. Solar technology is constantly improving, with some lights more than capable of providing 12 hours or more of illumination from a single charge, but no matter how powerful the batteries are, at some point, they will need recharging. For this reason, solar lights aren't the best option when a round-the-clock light source is required, but should be more than adequate for most other tasks.
Another consideration is that solar lights require daylight to charge, and this can be affected by seasonality, weather, and placement of the solar panel. Because days are shorter during winter months, there's less daylight to be absorbed, and as such lights are unlikely to function to the same level as they would during bright, summer months. Charging efficiency can also be impacted by obstacles causing shade, as well as debris such as fallen leaves, dirt and grime which may block the photovoltaic cells from the sun.
For hospitality businesses looking to upgrade their outdoor lighting, solar is more than worthy of consideration. For advice around selecting the right solar products for your establishment, we'd advise speaking to a lighting expert, who will be able to recommend the best fittings for your specific requirements, and provide advice for getting the most from the lights all year round. For more information please visit https://www.lyco.co.uk/
Author bio
Michael Eccles is Technical Service Manager at Lyco. Regularly advising on complex lighting projects – including LED conversions within international restaurant chains – he has developed an unrivalled methodology for delivering LED conversion projects with a transparent payback model. For more information visit https://www.lyco.co.uk/outdoor-lighting/solar-lights.html