Pukka Herbs launches NEW natural metabolism-boosting tea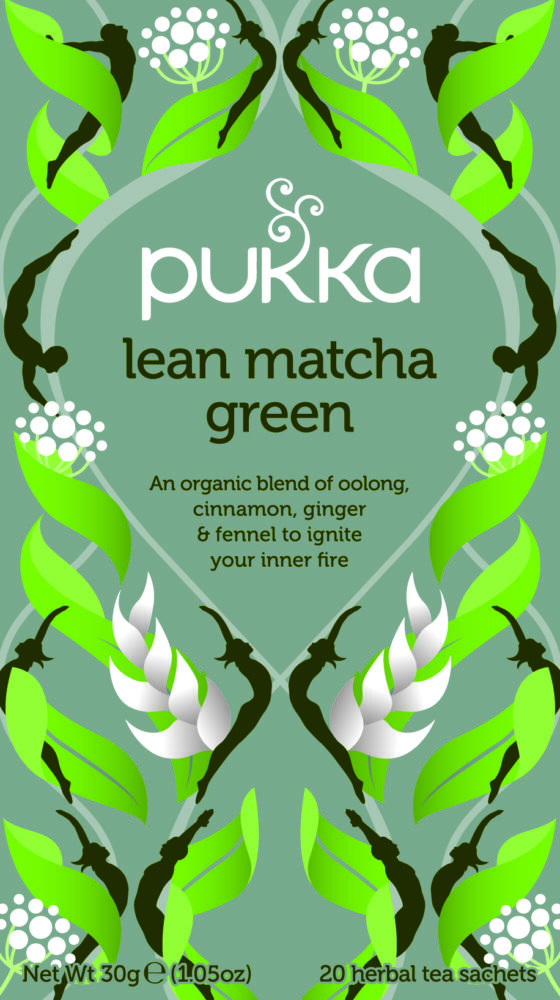 Pukka Herbs has just announced it is launching Lean Matcha Green, a new tea to naturally boost metabolism, balance blood sugar levels and help maintain healthy body composition.
Lean Matcha Green is blended with organic medicinal-grade herbs including metabolism-boosting, thermogenic (fat-burning) ingredients such as oolong tea and matcha tea.  This new blend in Pukka's green tea repertoire also includes spices such as cinnamon which helps to balance blood sugar levels and turmeric which acts as an anti-inflammatory, reducing any irritation, heat or pain within the digestive tract. The result is a warming cup of organic bliss with strong notes of fennel, ginger and black pepper.
Lean Matcha Green will be available from January 2018, from www.pukkaherbs.com and independent health food stores at an RRP of £2.79.
Expertly blended
This new addition to Pukka Herbs' range of organic herbal teas has been expertly blended by Pukka Herbs' co-founder and very own Master Herbalist, Sebastian Pole.
"Lean Matcha Green has been blended to lend metabolism a helping hand by naturally boosting it, whilst supporting digestion.  We think that every Pukka cuppa should not only be good for us, but should taste good as well. That's why Lean Matcha Green is made using the finest FairWild, organic herbs to create a deliciously bold and boosting cup of herbal bliss."
The herbal heroes in Lean Matcha Green:
Aromatic Oolong tea – high in polyphenols (antioxidants) which help to increase metabolism.  Oolong is the greatest of all teas for activating thermogenesis (fat burning) and is known in Asia as a great tea for naturally supporting weight loss.
Uplifting Matcha tea – high in EGCG, a polyphenol, which boosts both energy and metabolism.
Sweet Cinnamon – controls insulin and helps to balance blood sugar levels as well as benefiting a sluggish digestion and increasing metabolism.  It also helps to curb sugar cravings given its wonderfully sweet and pungent flavour.
Fiery Ginger – naturally supports digestion and increases digestive metabolism. The volatile oils also possess antiviral, antimicrobial and anti-fungal properties which have made ginger valuable in the treatment of digestive problems.
Sweet & bitter Fennel – moves congestion and encourages movement within the digestive tract as well as stimulating the metabolism.  Fennel also supports natural detoxification and helps to suppress sweet cravings.
Spicy Turmeric root –high in antioxidants and is an anti-inflammatory, reducing any irritation within the digestive tract to maintain a healthy gut.  Its spicy nature stimulates the digestive metabolism and particularly the metabolism of fats and cholesterol.
Stimulating Triphala – an age old ayurvedic recipe combining amla, haritaki and bibhitaki. Revered as a decongestant for the digestive system, soothing and mildly stimulating the bowel.  It is also used to cleanse the blood.
Fairly Sourced
All of Pukka Herbs' products are certified organic, Fair for Life and FairWild.  FairWild certification guarantees that all of the herbs used in our products have been harvested sustainably and that the growers have been paid fairly for their work.  Fair for Life is one of the fairest, most equitable and transparent fair trade systems in the world.  It guarantees that everyone who Pukka touches, from crop to cup, across the globe is treated fairly, equitably and transparently.