PORTOBELLO ROAD GIN LAUNCHES WORLD'S FIRST PECHUGA GIN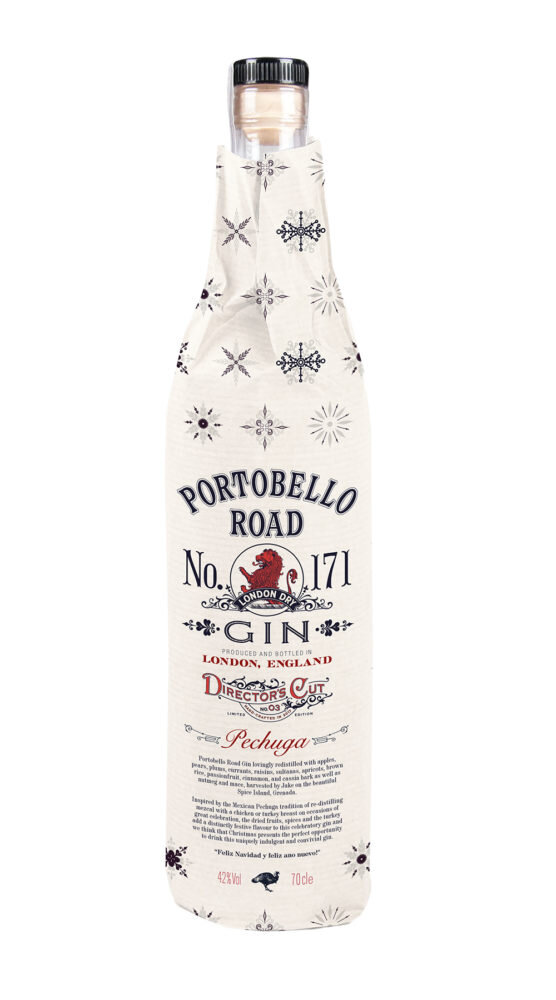 Artisan gin brand launches its third limited edition Director's Cut gin created by master distiller and renowned gin historian, Jake F Burger.
Borrowing distillation processes from Mexico's mezcal producers, the small-batch gin is distilled with turkey breast resulting in what is believed to be the world's first Pechuga Gin.
The Pechuga Gin contains nutmeg and mace harvested personally by Jake on the Spice Island of Grenada, as well as dried fruits and spices resulting in a distinctly festive flavour.
Purveyor of London spirit, Portobello Road Gin, has launched the world's first Pechuga Gin for the third instalment of its annual Director's Cut limited edition gin.
Created by master distiller and director, Jake F Burger, the small-batchDirector's Cut No:3 Pechuga Gin pays homage to a unique distillation process used by Mexico's artisan Mezcal producers whereby a chicken or turkey breast – or pechuga as it translates to in Spanish –  is suspended over the still, cooking in the slowly emanating vapours, adding subtle yet distinct flavours to the spirit.
To create the Pechuga Gin, Jake redistilled Portobello Road Gins signature 171 blend in a 400l copper alembic still with organic turkey breast and a flavourful combination of 13 botanicals: apples, pears, plums, currants, raisins, sultanas, apricots, brown rice, passion fruit, cinnamon, cassia bark, as well as nutmeg and mace that Jake harvested personally on the beautiful Spice Island, Grenada.
The Pechuga Gin will be distilled on October 25th at Portobello Road Gin's The Distillery. Jake is inviting industry figureheads to join in the steep over and help create what is believed to the world's first Pechuga Gin. The gin will go on sale from 1st November 2017 and will be available to purchase from Portobello Road Gin's website, as well The Distillery's Bottle Shop located on their namesake road.
Traditionally, Mezcal De Pechuga is imbibed on occasions of great celebration such as baptisms, marriages and quinceañeras. The combination of dried fruit and spices in Director's Cut No:3 results in a distinctly festive flavour; making it the perfect drink to toast the celebratory Christmas season.
The Director's Cut limited-edition is a small-batch gin, launched every year to mark the birthday of Portobello Road Gin and it's founding director Ged Feltham. These unique blends allow the gin's directors to flex their creative muscles and introduce discerning drinkers to more unusual flavours and distillation processes. Previous Director's Cut blends include: a smokey gin created by Ged Feltham which was flavoured with juniper berries that were hand-smoked in Irish peat and a quintessentially English gin created by Paul Lane made using asparagus sourced from Cambridgeshire.
While bottles of Mezcal De Pechuga typically retail between £100 and £200, in keeping with the season of the goodwill bottles of Director's Cut No:3 will retail at £35.
Jake F Burger, master distiller and director at Portobello Road Gin, says:
"My love for gin is matched equally by my passion for tequila and mezcal; and so for the third installment in our Director's Cut series it was a natural choice for me to look across the atlantic and take inspiration from our Mexican spirit producing brothers and sisters.
"As the alcohol vapours pass through the turkey breast during distillation they add something almost indefinable to the gin. You wouldn't really say it was turkey flavoured gin as the flavour is very subtle, and whilst it adds it also takes away, absorbing some of the more intense fruit flavours and stopping them from overwhelming the taste of the gin.
"With its warming spices and dried fruits, this poultry-infused potable develops a distinctly festive flavour and we think that Christmas presents a perfect opportunity to drink this very special and uniquely indulgent gin."
"So with the launch of what we believe to be the world's first Pechuga Gin, as well as one of the most festively flavoured spirits, I wish you a Merry Christmas –  or 'Feliz Navidad' as they say in Mexico."
Director's Cut No.03 The Pechuga Gin will be available to purchase from November 1st at www.portobelloroadgin.com , www.the-distillery.london and The Distillery Bottle Shop at 186 Portobello Road. The bottle numbers start from 2000-3000. RRP £35