Award-Winning Elephant London Dry Gin Launches to Marks & Spencer Nationwide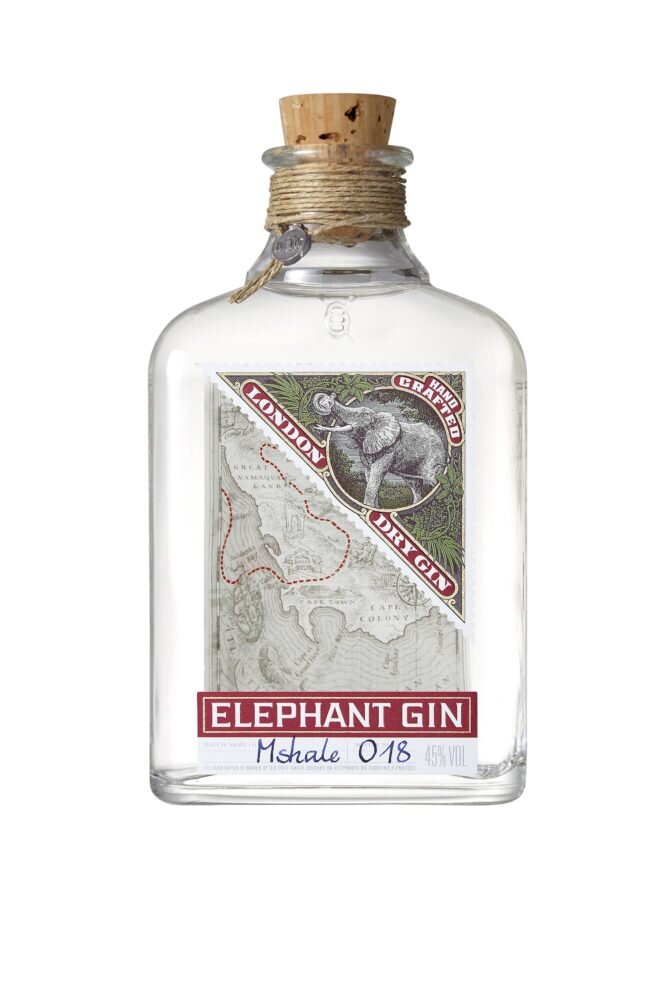 Elephant Gin (www.elephant-gin.com) is a premium handcrafted London Dry Gin of 45% alcoholic volume, made with carefully selected ingredients that capture the spirit of Africa. September 2017 will mark Elephant Gin's expansion into the UK high street with its launch to select Marks & Spencer stores nationwide.
Inspired by the traditional sundowner experience after a day out in the African bush, Elephant Gin is produced for wildlife adventurers and urban explorers alike. Handcrafted in Germany with high quality production standards, the gin is distilled using fourteen botanicals, including rare African ingredients to create the gin's distinctive flavour profile.
The company also gives back to what inspired the gin in the first place – Elephant Gin contributes 15% of all proceeds to two African elephant foundations to support the preservation of the African wildlife and to help ensure that future generations will also be able to explore these magnificent landscapes.
Made in small batches, Elephant Gin is produced using the traditional method of copper still distillation. The botanicals include the savannah's "superfruit" Baobab, the extraordinary Buchu plant with a flavour similar to blackcurrant, and the African Wormwood introducing a sharp floral note. Locally sourced spring water, fresh apples and other select ingredients enhance the purity and smoothness of the gin's finish.
The gin's distinct nose first yields a subtle juniper aroma, with an undertone of mountain pine and other herbaceous notes. The taste is complex but strikingly smooth, encompassing floral, fruity and spicy flavours, which can be enjoyed both straight and in a cocktail.
Elephant Gin's bottles are custom-made, adorned with hand-written labels, embossed with a crest and sealed with natural cork. Each batch is named after past great tuskers or elephants that Elephant Gin's partners currently help to protect.
The team behind Elephant Gin were inspired to create the gin following their own travels as well as their work supporting foundations in South Africa. With a vision to conserve the wildlife they feel so passionate about, the couple decided to launch a product that would help conservation trusts. They strongly believe that this generation has a responsibility to support the African wildlife today, so others can continue to enjoy it in the future.
Tessa Gerlach, Co-Founder of Elephant Gin comments, "We're incredibly excited to be expanding Elephant Gin to Marks & Spencer as we applaud their excellent reputation for quality and are keenly aware that they are very selective with bringing in external brands, so it's an honour to be listed. It also comes at a great time, with Christmas fast-approaching, we anticipate the gin faring very well with those looking for a unique gift and a beautiful gin for festive cocktail parties."
Bar Stockists (a selection)
Hix Group, Marks Bar, Hixter Bankside, Mr Foggs, Balthazar, Dukes Hotel Bar, Oriole, Brown Cow and Nightjar
 About Elephant Gin
The founders were inspired to create Elephant Gin following their own adventures in Africa. They strongly believe that this generation has a responsibility to support the African wildlife today, so others can continue to enjoy it in the future. With every bottle sold, Elephant Gin contributes 15% of bottle profits to Big Life Foundation and Space For Elephants Foundation that are devoted to the conservation of the African elephant.
In 2013, they developed the award-winning Elephant London Dry Gin (45%) that uses rare African botanicals and focuses on resolutely artisan production methods. Since December 2015, the company has complemented its portfolio with an aromatic Elephant Sloe Gin (35%) and in March 2017 introduced a full-bodied Elephant Strength (57%) with more innovative launches to come before the end of the year.
About Elephant Conservation 
Every year more than 35,000 elephants die because of uncontrolled ivory poaching; that is one every 15 minutes. Elephant Gin donates 15% of its profits to two inspirational African elephant foundations:
Big Life Foundation is an anti-poaching organisation, which protects two million acres of wilderness in the Amboseli-Tsavo ecosystem of East Africa (biglife.org). Elephant Gin's contributions go toward one outpost to fund 30 rangers' salaries, rations & equipment (e.g. tents, rucksacks, sleeping bags).
Space For Elephants is focused on restoring the old migratory routes that were lost when game reserves were fenced, and aims to give freedom to thousands of elephants to range freely across Africa (space4elephants.org). In addition, Elephant Gin has funded an education centre that is due to open in Q4 2017.
Further Information: www.elephant-gin.com