Huge anticipation as Cumbria's first 'music lounge bar' is set to open its doors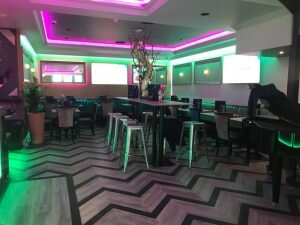 One of the North-West's most renowned hospitality entrepreneur's, Stephen Hargreaves, is to set to launch his next exciting venture.  'Baha', based on Ash Street in Bowness-on-Windermere, will be Cumbria's very first 'music bar' and will be opening its doors at the end of July to a specially invited audience.  Huge anticipation surrounds Hargreaves' new unveiling, following the unprecedented success of champagne bar, The Fizzy Tarté, which he opened to huge acclaim in 2016.  Together with Managing Director, Kay Harrison-Mann, Hargreaves identified a 'gap in the market' for an upbeat, on-trend establishment with a cool vibe which will appeal to tourists from all over the world; Baha will fulfill this need.

The luxury establishment is set over three floors, with a lounge bar on the ground floor providing live music from renowned artistes such as Spencer Read, whose piano and singing skills have been utilised by the likes of Richard Branson on Necker Island; he has performed all over the world, from New York to Europe and will tailor his performance to the crowd.  He will be in residence at Baha for its first seven weeks after opening.  The lounge bar will offer a contemporary menu, in a relaxed environment to suit all, including sharing dishes and city-style brunch; the bar will also specialise in quality gins, vodkas, rums and craft beers.
The first floor, opening in mid-September, will provide a tasting house, grill and fish selection, with international-themed dishes and an extensive wine list complimenting the menu.
The top floor will open in late 2017 and will comprise an exclusive space for private hire, using the latest technology in music, AV and lighting.  This space will be unique in the North of England, with users creating their own bespoke environment.  Cocktails mixed by expert mixologists will be available on the top floor.
Hargreaves' offerings have become celebrated for their plush interiors – present in all his venues – and Baha will be just as lavish.  Sumptuous furnishings, high-tech lighting, technology by EPIXX , and TV screens on the ground floor linking into social media, are just a few of the luxuries available to customers, in a project that has cost more than £3 million and taken more than 18 months to realise.  In typical Hargreaves-style, it's different and will surely put the Lake District on the map once again, in addition to boosting the local economy, as he explains:
"I am really excited to launch Baha, which has been almost two years in the making to ensure it's absolutely perfect.  Once again, Kay and I had very clear objectives in its creation and were keen to offer a music bar with a sophisticated city-vibe at sensible prices, but with very personal touches such as bespoke live music.  We are also thrilled to have attracted the very best staff in the industry and very special artistes like Spencer."
"We're creating jobs, something exceptional and drawing people to the area, which can only be good for the county as a whole.  Ultimately, Baha will be on-trend, unique and exciting and I'm delighted to be able to bring that to the Lake District."
"I would very much like to thank Kay, who has been working 100 hours for the past eight weeks to get Baha launched on time.  Together with a dedicated team behind the scenes, she has enabled the vision of our next venture to be realised."
Looking ahead, Hargreaves, who is also CEO of the Cranleigh Boutique, The Hideout and the Boutique Church Suites, will be launching a new, luxury boutique villa, Vonvivant, sleeping six and located moments from the centre of Bowness.