The Pornstar Cocktail™—A Star is Reborn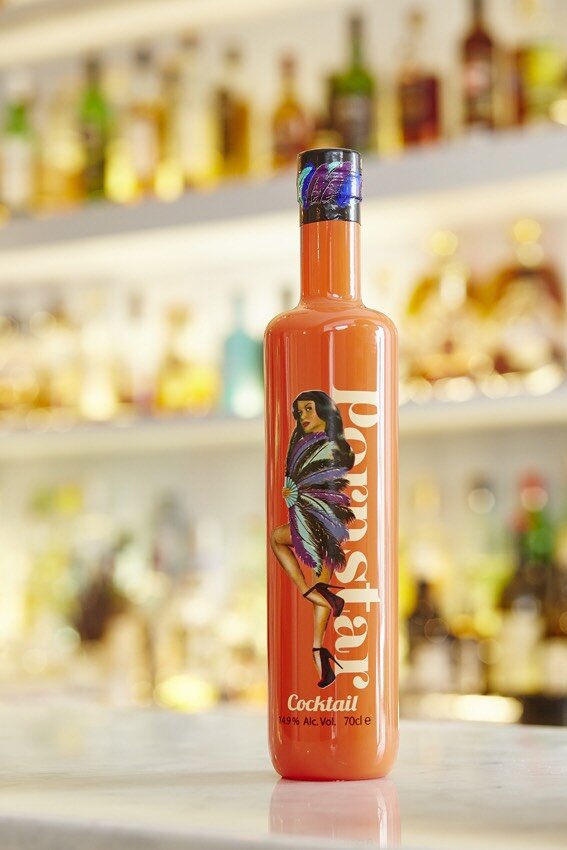 The iconic Pornstar Martini created by world renowned mixologist Douglas Ankrah, is now available as the Pornstar Cocktail™, a remastered bottled version of the much loved classic.
In 2005, Ankrah created the Porn Star Martini, and since then it has reigned as one of the most popular drinks by cocktail lovers and industry professionals alike. Perfectly capturing the flavour profile of the original Pornstar Martini, the bottled version (made with natural grain spirit and 100% passionfruit pure) allows fans to enjoy the cocktail at home, eliminating the need to buy expensive fruits and juices. Available for purchase now, the Pornstar Cocktail™ starts from £19.95 and serves up to 14 drinks – perfect for any Summer party.
Understanding the changing industry demands of cocktail service, Douglas wanted to create a ready to serve version of his original masterpiece cutting down the preparation time from 3 minutes to just 30 seconds.
Heighten your Pornstar Cocktail™ experience with a shot glass of champagne, prosecco or cava- bars can even up-sell with a bottle. Perfect on the rocks and with a shot glass of Champagne, Douglas has recommended some other simple ways to serve the Pornstar Cocktail™:
Pornstar Cocktail™—The Classic: Float one half of a fresh passionfruit over your glass of Pornstar Cocktail™ and dust with vanilla sugar.
Pornstar Cocktail™—The Spritz: Fill half a glass with Pornstar Cocktail™ then fill to the brim with your choice of bubbles.
The Pornstar Cocktail™ can be refrigerated for up to 3 months—and if the contents begin to settle, a simple shake of the bottle restores its 'sassy' allure. Whatever your taste buds desire, the Pornstar Cocktail™ is the ultimate Summer treat. Pornstar Cocktail™
* Douglas Ankrah is an award winning mixologist, founder of the London Academy of Bartending, co-founder of LAB Bar Soho, Townhouse and Knightsbridge, and best-selling author of 'Shaken & Stirred'.
For press enquiries please contact The Supernova PR
[email protected] / +44 (0) 7377394122
The Pornstar Cocktail™
Price: £21
14.9% All. Vol. 70cl.
Available from: The Drinks Supermarket, The Whiskey Exchange, and Amathus Drinks.