UEFA Champions League and Europa League matches available to pentahotel guests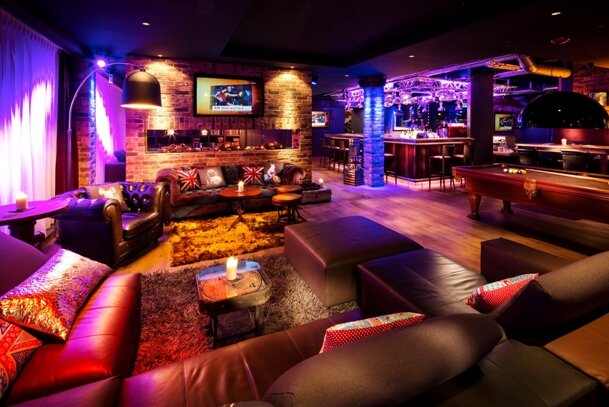 Be ahead of the game with Pentahotels –
Frankfurt am Main, 7 February 2017 – With pentahotels, you are always ahead of the game. Right on time for the next round of the UEFA Champions League, the neighbourhood-lifestyle brand is announcing a deal with BT Sport, allowing them to broadcast BT Sport in the stylish pentalounge and every guest room, so that you can enjoy all the UEFA Champions League and Europa League matches.
This new deal with BT Sport is just another sign that makes the unique brand stand out, positioning themselves as an innovative and key player in the industry's lifestyle segment. In a relaxed atmosphere, guests can enjoy the full entertainment package at all hotels throughout the UK.
A lively meeting point, the pentalounge offers the perfect location for locals and guests to cheer on their favourite team and to enjoy a pint or two. And just like you would in your local pub, why not treat yourself to freshly made burgers and prime steak? At pentahotels, you can even order fresh food 24/7.
Praising the forward-thinking cooperation with the stylish hotel brand, Bruce Cuthbert – Director Commercial Customers, is delighted to announce the brand new partnership: "With pentahotels, we found the perfect partner who has seen the benefit of providing their guests with access to BT Sport both in-room and in the bar. With a comprehensive line-up of sports including the all-important mid- week European football fixtures, pentahotels has inanimately combined access to premium sport within a stylish and contemporary setting." pentahotels represents a new generation of hotels.
pentahotels' Managing Director Alastair Thomann is equally thrilled about the sport cooperation:
"This cooperation with BT Sport truly sums up our vision for the brand's entertainment factor. Our guests, neighbours and penta-friends can come together for an evening of high level football matches in our unique pentalounges or even in their rooms. On top of that, we serve the best burgers in town 24/7 to all our sports enthusiasts and entertainment lovers."
Known for its unique interior design and "neighbourhood" feel, the lifestyle brand stands for true innovation in the industry's four-star segment. With 27 hotels across seven countries on two continents, pentahotels offers individual and business travellers comfort and style in a relaxed atmosphere. The hallmark of the hotel chain is the pentalounge – a combination of lounge, bar, café and reception – that stands out with its "living room" look and feel. For further information and bookings, please visit www.pentahotels.com. Follow us on facebook.de/pentahotels for our latest news