Sky Sports wins live rights to competitive England games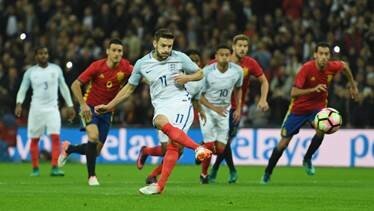 Sky Sports has won the exclusive live rights to show competitive England matches in the brand new UEFA Nations League, as part of a new deal for European national team football including qualifiers for UEFA Euro 2020 and FIFA World Cup 2022.
The agreement offers pubs up to 900 live matches between 2018 and 2022 and further strengthens Sky Sports as the unrivalled home of live football. It means that Sky Sports will be the best place for pub goers to follow the qualification progress of all of the Home Nations for the next six years.
Under the new deal, Sky Sports venues can enjoy:
UEFA Nations League for first time, with England exclusively live
Home Nations qualifiers for Euro 2020 and World Cup 2022 live, plus England highlights
Up to 900 live international games
Sky Sports has won exclusive live rights to all Home Nations for the inaugural staging of the UEFA Nations League, which will be split into four leagues based on UEFA rankings with the best teams playing the best teams across September, October and November 2018.  The four group winners will enter the knockout final four in June 2019, with semi-finals and final to determine the UEFA Nations League champion. The Nations League will determine the seedings for the qualifiers for UEFA Euro 2020 and FIFA World Cup 2022.
David Rey, managing director of Sky Business said: "Sky Sports' exclusive rights to the UEFA Nations League means that pubs will be able to show their customers 16 England matches over a 4 year period. And that's alongside Home Nations qualifiers for Euro 2020 and World Cup 2022 as part of up to 900 live international games. That's a huge line-up of international football fixtures to drive value and revenue for our customers, and yet another fantastic addition to Sky Sports' unrivalled line-up of the sports and games that matter."
Sky Sports showed every UEFA Euro 2016 qualifier featuring Scotland, Wales, Northern Ireland and the Republic of Ireland with three of those nations taking their place at the tournament in France, and Wales reaching an historic semi-final in their first ever UEFA European Championship finals appearance.
Sky Sports is also the only place for pub goers to watch those same teams try to reach Russia and the FIFA World Cup 2018. The live coverage of up to 250 matches across Europe leading up to the tournament next summer also includes highlights of every England qualifier.
Extending the coverage of live international football further underlines the unrivalled breadth of coverage offered by Sky Sports. Sky Sports has recently added The Open, even more Premier League matches and extended agreements with Formula 1® and La Liga as Sky continues to provide its pub customers with more choice than ever before.