Carpet at the ready from Wilton Carpets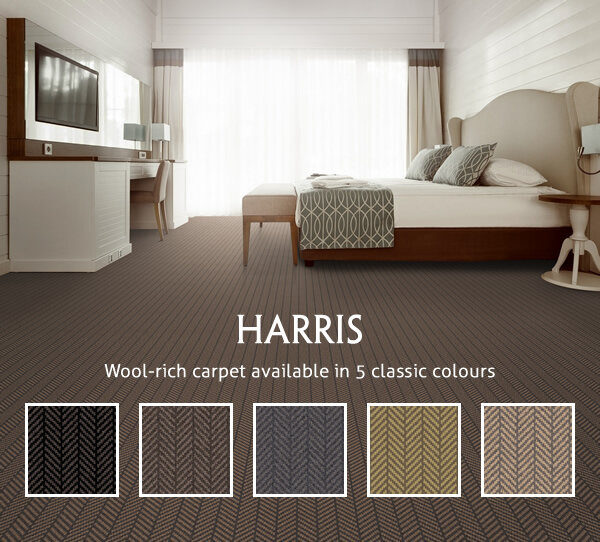 Famed for creating beautiful bespoke carpet in everywhere from luxurious boutique hotels through to bowling alleys and racecourse grandstands, Wilton Carpets is one of the UK's most exciting carpet manufacturers. In fact, it really is proving something of a modern day manufacturing success story and has just completed installation of a state-of-the-art Van De Wiele loom. Costing £1.5m and increasing capacity five-fold over the traditional machine it replaced, the loom brings a new level of speed and flexibility to Wilton's capabilities.
This innovation is equalled by Wilton's heritage, the town of its name a home for carpet weaving since 1690, and the company still has machinery dating back over 100-years in daily use. A blend that delivers the very best in wool-rich luxury and fine quality, these carpets are not exclusive to bespoke projects and the manufacturer has also recently improved its Ready to Weave service, making semi-bespoke carpets even more accessible. Available in Our Design and Your Design variants, the service makes full use of the new loom and is the fastest of its kind in the country, bringing creative freedom from just 100m2 and in only 28-days.
In Our Design, users are invited to work with any of Wilton Carpets' library of designs, with the option to use existing colour combinations or create a unique twist by selecting any of 12 colours from a pre-determined palette. In Your Design, any library pattern can be recoloured, or custom designs realised, but in this case colours can be selected from any one of three permanently loomed palettes. In both Our Design and Your Design, qualities from seven to 10-row can be selected depending on the demands of the location.
Then of course, there is a formidable In Stock collection comprising tufted carpets and selected axminster qualities.  Drawing on Wilton's huge back-library of designs, as well as modern creations such as the neo classical geometrics of Labyrinth and heritage tweed of Harris, the UK-made tufted carpet collections are the ideal for bedrooms and lighter-use areas. Each design is served in a purposeful colourway that will suit a broad spectrum of interiors.
From bespoke through to semi-bespoke with Ready to Weave and the In Stock collection, all carpets uses the finest British wool blended with high-performance nylon yarn for a floor that's not only beautiful, but enduring and easy to care for too. Made right here in the UK, these carpets have been proven in hospitality locations right across the country.
With ambitions to commission another two new looms, Wilton shows no signs of slowing down and is showing all the hallmarks of a manufacturer that really is at the very top of its craft. Samples can be ordered straight off the Wilton Carpets website.
For further information contact Wilton Carpets on 01722 746000 or [email protected]