DRINKING HELPS: LEMONAID AND CHARITEA RAISE £1,000,000 FOR GLOBAL SOCIAL PROJECTS WITH ITS RANGE OF DELICIOUS SOFT DRINKS & ICED TEAS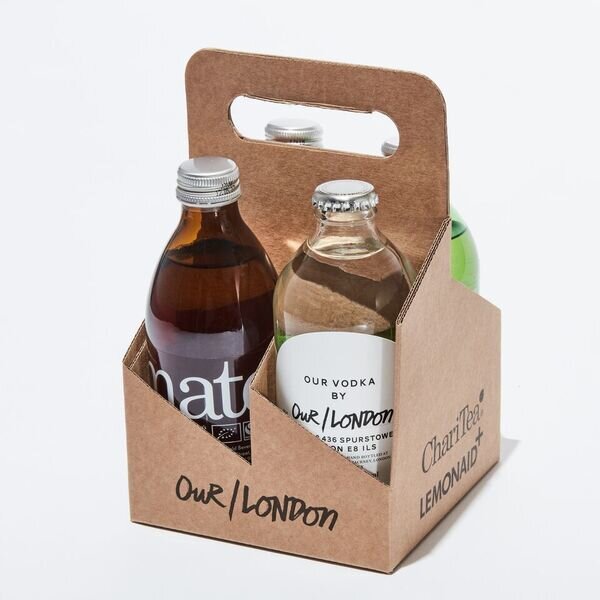 You've heard of drinking responsibly, it's high time to drink socially responsibly.  Lemonaid (www.lemon-aid.com) and ChariTea (www.charitea.com) is a project that pioneers a new take on social drinking; the range of seven soft drinks and ice teas not only taste good, as a social enterprise, they also do good.
Lemonaid is a trio of truly sustainable soft drinks and ChariTea a range of equally ecological iced teas – the ingredients are organic, vegan and are sourced from small-scale farming cooperatives in Sri Lanka, Paraguay, Mexico and South Africa. Lemonaid & ChariTea are committed to Fairtrade: they pay higher prices for their raw ingredients and, vitally, they support a fair and humane agriculture.  With help from the Fairtrade Bonuses, local farmers can improve their living conditions and initiate community projects.
Every bottle of Lemonaid & ChariTea that is sold also contributes to a higher cause., having just raised £1,000,000 for development aid projects, including education, childcare, mental health and infrastructural initiatives. The brand is dedicated to supporting local projects that improve social, ecological and economical structures in those parts of the world that global economic developments have placed at a significant disadvantage, donating five pence for every bottle sold to the not-for-profit charitable organization Lemonaid and ChariTea e.V.  As an example, in return for sourcing rooibos tea from the post-apartheid Heiveld alliance in South Africa, the brand finances a solar power system that now supplies the villages with electricity.
UK Founder Julian Warowioff comments: "We started the Lemonaid & ChariTea project with the vision of turning the for-profit sector on its head. Being firm believers that businesses should not merely benefit their shareholders, we set out to prove that a soft drink can be a successful means to fundraising. Whilst the Social Enterprise is quickly growing, we stay true to our principles of immediacy and transparency, visiting the social projects annually and building long-lasting and mutually beneficial relationships with the farming communities. As an example, we are currently working with our rooibos tea growers in South Africa to co-finance the expansion of their cultivation area, allowing them to increase their yield and providing more members of the co-operative access to partake in organic rooibos farming.
We are incredibly proud to announce today that we have reached the mark of £1m raised for our charity's projects and would like to thank all our supporters and customers that have joined in on our journey to date. With an ever-increasing demand for ethical, organic beverages from international markets and our donation scheme directly linked to the sale of each bottle, this is just the beginning of what we believe can become the most impactful social business in the global food and drink industry."
Totally free from preservatives, artificial sweeteners and flavourings, Lemonaid's lightly sparkling organic soft drinks are made from the very best fresh juices and are sweetened with cane sugar, using up to 50% less sugar than regular soft drinks; choose from the thirst-quenching and zestfully refreshing Lemonaid Lime, Lemonaid Passion Fruit and Lemonaid Blood Orange.
ChariTea's clean-tasting, uplifting organic iced teas are made from freshly brewed loose leaf tea, which is refined with pure fruit juices and lightly sweetened with natural sweeteners, agave syrup or honey.  Choose from ChariTea red (Rooibos tea with passion fruit), ChariTea green (Green tea with ginger and honey) and ChariTea black (Black tea with lemon).

Perhaps the most innovative in the range is ChariTea's, Great Taste Award winning, mate: lightly carbonated, real brewed ice tea from fullyerba mate leaves.  A natural caffeine boost, mate is a great alternative to sickly sweet energy drinks; ChariTea mate contains twice as much caffeine as a Coke and with no added sugar (natural agave
syrup is used to sweeten) and just 17 kcal per 100ml, it's a delicious and wholesome alternative to a Red Bull.
Called "the drink of the gods" by many indigenous South Americans, Yerba mate is a traditional brew that's been said to offer the "strength of coffee, the health benefits of tea, and the euphoria of chocolate".  The elixir has also become an essential component of hacktivism, club culture and the tech scene across Berlin and Hamburg.  It provides a more mellow and enduring caffeine fix than coffee and is rocket-fuel when supped at the bar, topped up with a dash of dark rum.
Whether paired with food or guzzled on their own, Lemonaid & ChariTea are excellent thirst-slaking options for on-the-go drinking, as an appealing alcohol-free option or as a versatile mixer for your favourite spirit.  Try the Sipsmith Lemojito – fresh mint leaves muddled with sugar, topped with lime wedges, Sipsmith London dry gin and Lemonaid Lime or the Stormy ChariTea – rum, lemon juice, freshly grated ginger and agave syrup, shaken with ice and topped with fresh ginger and ChariTea black.
Launched into Whole Foods, Selfridges, Planet Organic, As Nature Intended and a raft of deli and health foods stores across London; Lemonaid & ChariTea are currently lining up further national stockists and wholesalers, along with on-trade stockists including restaurants, bars and cafés.