Welcome to MANATHAI SURIN PHUKET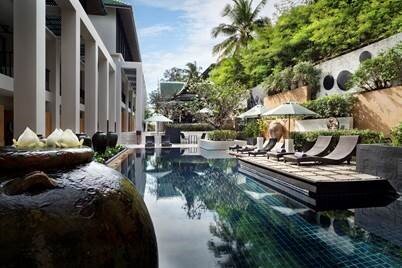 MANATHAI Surin Phuket opened on November 1, 2015 this popular new hotel is located just on the edge of the white sands at Surin Beach on Phuket's charming west coast. The stylish and chic 66-room boutique resort lies a convenient thirty minutes from Phuket International Airport with easy access to the buzzing atmosphere of town and its range of upscale restaurants and cafes as well as shopping and entertainment venues.  MANATHAI Surin Phuket offers guests affordable luxury without the A-list eye-watering price tags.
Step inside the hotel – and it's a total sanctuary.  With its aromatic lotus ponds being a defining feature, a delicate floral fragrance wafts inside and out. Colourful handicrafts and plush silk fabrics contrast against smooth dark wood. Inspired by Thai passions, textures and flavours. A decadently indulgent spa and a restaurant with an array of delicious food made from recipes passed down through generations.
MANATHAI Surin Phuket will be the fourth property of the independent Thai hospitality group, the other three situated in Hua Hin, Khao Lak and Koh Samui, as the group makes good its promise of unveiling four resorts in its first year of operations following its launch at World Travel Market in London late last year.
A sense of local authenticity is found in particular in the way the resort is designed, with Thai textures, fabrics and flavours featured extensively in the resort's modern facilities. Materials used include rattan and carved wooden Thai motifs, offset by vibrant local silks under the high ceilings of the public areas. Rooms will also be enriched by this approach with terracotta flooring and fashionable fabrics and hangings.
In a very Thai touch, lotus ponds will grace the resorts' pool and outer areas, which are enclosed by three-metre high hedges, creating a calm and naturally cloistered open space that ensures absolute privacy and a peaceful retreat-like ambiance.
Cuisine features prominently in the experience for all guests. The pool bar offers light fare while signature restaurant Pad Thai features the iconic Thai dish and a range of other traditional Thai food cooked with authentic precision. Pad Thai serves breakfast before seguing into an all-day dining restaurant in the day and a specialty Thai experience for dinner. Cooking classes are also available.www.manathai.com