Coconut water is dead – long live the Watermelon!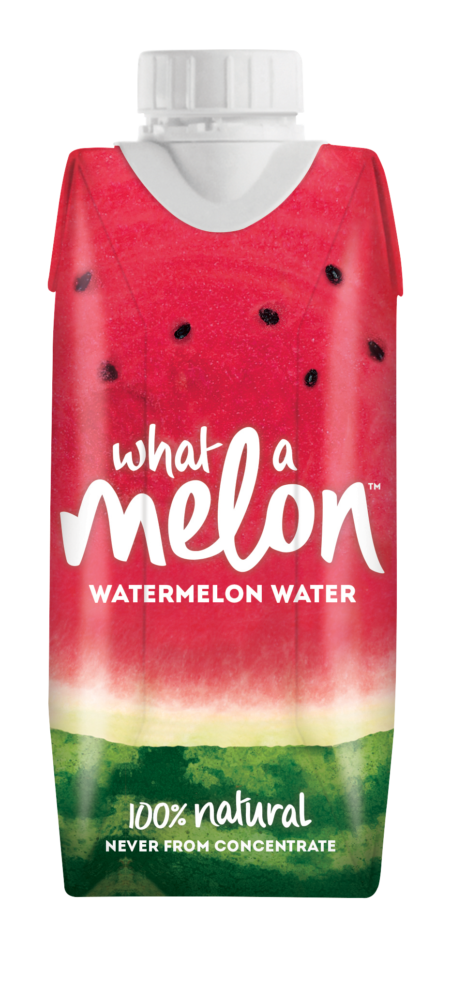 What A Melon water launches in the UK and is set to challenge coconut water as the drink choice this summer
 Solution Sciences, the makers of health drink Alibi, is launching What A Melon watermelon water throughout the UK, and its tipped to become the 'new coconut water' of 2016.
What A Melon water not only tastes like biting into a fresh slice of watermelon but it contains all the health-boosting electrolytes found in coconut water. In addition it also contains the antioxidant Lycopene and is packed with potassium, making it an extremely effective hydrator and the ideal everyday summer thirst quencher.
Unlike coconut water, Each 330ml tetra pack sku contains the amino acid Citrulline which aids in muscle recovery and increased endurance. This is one of the key ingredients the brand will be focusing on to also position itself firmly within the health and fitness arena as the perfect post-workout rehydration drink.
Available from Whole Foods, Planet Organic, Nuffield Wellness Centers and London independents, the brand is also currently in talks with Waitrose and plans on retailing directly through its website soon. What A Melon has an RRP of £2.00 and contains no added sugar, preservatives or additives apart from a dash of lemon juice to lengthen shelf life.
Oliver Bolton, founder of Solution Sciences commented: "We are extremely excited to launch What A Melon to the market.  Not only does it taste better than coconut water, but also given its nutritional properties we believe it stands tall in the health drinks category against its main competitors. Our focus here is not to create a war with coconut water, but to use a lighthearted rivalry borne from a pure love of watermelon to catapult What A Melon into the consumer conciseness"
Solution Sciences is proud to be a certified B Corp company*, one in over 1,600 from 42 countries and over 120 industries working together toward one unifying goal: to redefine success in business.
What A Melon is available from http://whatamelonwater.com/ RRP £38 x 18. Also available from specialist retailers including Wholefoods, Planet Organic and London independents.
http://www.nuffieldhealth.com/