Discreet high performance air conditioning for hospitality applications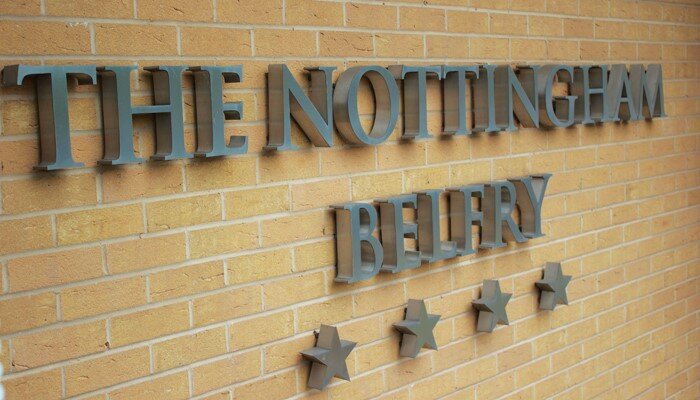 Condenserless air conditioners that require no outdoor units are proving ideal for many applications in the hospitality sector – as evidenced by recent installations for QHotels and Whittlebury Hall.
 Nottingham Belfry – http://www.qhotels.co.uk/our-locations/the-nottingham-belfry/
The new Nottingham Belfry 120 room conference hotel, for instance, is the first hotel operated by The QHotels Group to be fitted with Powrmatic Vision 2.3 condenserless heat pump air-conditioners. The project took advantage of the ease and speed of installation of the Vision 2.3 to ensure there was no downtime of the rooms.
The Nottingham Belfry boasts stylish contemporary interiors in both public spaces and rooms, so it was important that the air conditioning should complement the décor, internally and externally.
This was facilitated by the packaged design of the Vision 2.3, which requires no outdoor units – thereby also ensuring no interference with the clean lines of the hotel's facades. Internally, the slim profile of the Vision 2.3 units is the perfect complement to the room décor, combined with low noise levels that ensure non-intrusive performance.
The benefits of the Vision 2.3 are derived from their condenserless design, which uses 'monobloc' technology to avoid the need for an external condenser, instead requiring just two 162 mm diameter holes connecting to discreet self-closing grilles on the outside.
Powrmatic Vision 2.3 units are also fully compliant with the latest European regulations and provide Class A efficiency in line with new energy labelling regulations. As a result, users are able to reduce their energy costs and carbon emissions without compromising on comfort levels.
"The Vision 2.3 is the perfect solution for our hotels," explained Rob Reeves, M&E consultant to QHotels. "We installed 45 units in under two weeks whilst still having the rooms occupied; they look great, simple to install and extremely quiet – which allows our guests to have a peaceful and comfortable night's sleep," he continued.
The Vision 2.3 units will be rolled out to the remaining rooms in the Nottingham Belfry as well as to other QHotels in a three-year re-fit programme. Where existing wet heating systems are being replaced, these will use the Vision 2.3 LTHW low temperature hot water model.
See the full case study here: http://www.powrmatic.co.uk/products/air-conditioning/case-studies/view/case-study/qhotels-nottingham-beflry/
Whittlebury Hall – http://www.whittleburyhall.co.uk/
The Vision 2.3 also proved ideal for a major refurbishment of Whittlebury Hall Conference, Training Centre and Hotel, close to the Silverstone circuit in Northamptonshire. The Vision 2.3 units were selected for their ability to meet key criteria relating to internal and external aesthetics as well as speed of installation and ease of use.
Ease of use by both staff and guests is assured by the intuitive touchscreen display on the unit and on a remote controller. If required, the controls also enable the temperature set point to be pre-set to prevent or minimise further adjustment by guests to help save energy.
Speed of installation was also important at Whittebury Hall to ensure rooms were fully ready for the 2015 Silverstone Grand Prix, as many drivers and team crews using it as their base during the event. The second phase of the refurbishment will see all of the remaining 159 rooms fitted with Vision 2.3 units during the course of 2016.
In order to retain the clean, uncluttered lines of Whittlebury Hall's facades, the external grilles were painted dark red for this project at Powrmatic's Somerset manufacturing facility to match the external brickwork.
"We are very pleased with the Vision 2.3 units, in terms of their performance and the ease of control they offer our guests through the touchscreens, as well as their discreet appearance from the outside of the building," said hotel manager David Munson. "We were also impressed that the units could be installed so quickly, with no downtime for rooms and within a tight schedule to ensure readiness for the Grand Prix," he added.
See the full case study here: http://www.powrmatic.co.uk/products/air-conditioning/case-studies/view/case-study/whittlebury-hall-hotel-spa/
Complementing high-end design
The sleek design of the Vision 2.3 is proving to be the perfect complement to many applications where there is no room for compromise on aesthetics. This was certainly the case when specialist air-conditioning installers Cool You UK needed to provide heating and cooling for a luxury apartment in Knightsbridge, London.
"We selected Vision 2.3 units because of their slim contemporary design, stated low noise levels and advanced features," explained Julian Peyser, Managing Director of Cool You UK. "The fact that they do not require an unsightly condenser on the outside wall was also a key factor in this up-market area of London. "The units are well-engineered and manufactured, and the installation and commissioning was seamless. This was the first time we had used these units but on the basis of that experience have already carried out further installations with them," he added.
Read more about how to select the best air conditioning technology for your hospitality project.
Technical details
The awards-recognised Vision 2.3 incorporates the following technical features:
Nominal cooling capacity 2.3 kW
Nominal heating capacity 2.25 kW
Seasonal Energy Efficiency Ratio (SEER):
2.71 in cooling mode
3.1 in heating mode
Latest generation DC fans.
Advanced controls for optimum performance.
Self-closing external grilles when unit is not operating.
Low carbon heating (heat pump) at ambient temperatures as low as -10°C.
Constant warming of drain pan in heat pump mode to avoid freezing of condensate drain.
For more information on the Vision 2.3 click below: http://www.powrmatic.co.uk/products/air-conditioning/browse/view/product/vision-2-3/
For further information and helpful tips on hotel air conditioning click here:
http://www.powrmatic.co.uk/blog/meeting-the-needs-of-hotel-air-conditioning-with-condenser-less-units/