Michael Caines to leave Gidleigh Park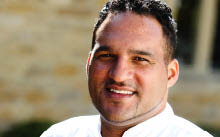 Celebrity chef Michael Caines has announced that he will be stepping down as the executive chef of renowned Gidleigh Park in Chagford, Devon, to pursue other ventures.
The two-Michelin-starred chef that his last kitchen service will be on 3 January 2016.
Just last year, Caines' left his role as food and beverage director at Andrew Brownsword Hotels to focus on other initiatives, which include his first overseas restaurant, Pearls by Michael Caines, within the 382-bedroom Jumeirah at Etihad Towers, Abu Dhabi, as well as two Michael Caines restaurants; one at at Kentisbury Grange hotel in Devon and the Townhouse, Oswestry in Shropshire.
Caines joined Gidleigh Park 21 years ago in 1994 when the hotel was owned by Paul and Kay Henderson before it was purchased by Andrew and Christina Brownsword, who Caines had worked with at the Royal Clarence hotel, Exeter.
He said: "I leave Gidleigh Park with the fondest memories of one of my favourite places on earth, served by an excellent and caring team.
"I'm proud and confident that we have created a lasting legacy and that whoever takes over from me will be able to build on the fabulous platform that we have created."
Caines will also focus on the development of Courtland House in Lympstone, Devon, which he has acquired with the help of outside investors, into a luxury 21-bedroom hotel and fine-dining venue.
Caines is also known to work with the William F1 team on the Formula One motor racing circuit.
Gidleigh Park has been awarded two Michelin stars every year for the past 17 consecutive years. In 2007 Caines was AA Chef of the Year, a year after that he was awarded an MBE.
Andrew Brownsword said he wanted to thank Caines for 'a wonderful 12 years working together'.
He said: "Since we met in Exeter more than a decade ago, we have been on a journey to keep exceeding our guests' expectations and I am proud of what we have achieved. Today, Gidleigh Park is considered one of the finest country house hotels in the UK, and chefs that have trained with Michael now head up the kitchens at our sister hotels, including Michelin-starred Sam Moody at the Bath Priory and Robby Jenks at Amberley Castle".
The 24-bedroom hotel, will announce a new executive chef later this month.