RUGBY WORLD CUP: HOW TO KICK EXPENSIVE HOTELS INTO TOUCH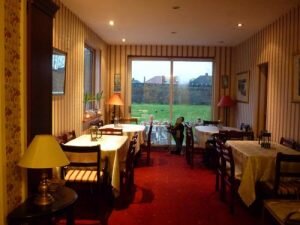 B&Bs and small hotels hold the key to avoiding big players' predatory price hike
With an estimated 2.5m stadium visits expected across the duration of the Rugby World Cup, the traditional scrum for last-minute accommodation has kicked off with many prime location hotels nearing full capacity. Additionally, sport fans will be knocked for six after learning that hotel operators are making the most of the opportunity by putting their prices up to rake in maximum profits – with little to no regard for fans' wallets. In some cases, prices have skyrocketed by a dizzying 230%!
However, research by eviivo – the UK's leading provider of booking management apps for independent hotels and B&Bs – suggests that fans could be missing out by overlooking B&Bs and small hotels, which still have over 60% availability at venues close to the thirteen hosting stadiums. In fact, further investigation revealed that an astonishing 9,472 rooms were still available, which is close to filling the capacity of Sandy Park based on single occupancy.
More so, B&B owners are bucking the trend and championing value with the large majority keeping their prices consistent during the six-week tournament – saving fans hundreds of pounds. Delving deeper, comparisons of B&Bs and small hotels close to hosting stadiums found that room rates are actually nearly 5% cheaper compared to the previous month.
Michele Fitzpatrick, CEO, explains: "The Rugby World Cup attracts fans and tourism from across the globe and as such large hotel groups view this as an opportunity to fleece the consumer. B&Bs and small hotels on the other hand remain true to their routes as the backbone of British hospitality where service and value is paramount.
 "eviivo works closely with over 5,500 B&Bs and small hotels across the UK, helping them to manage their bookings smoothly. As such, we have access to a wide array of data and our analysts have confirmed that whereas big hotels are going for predatory price hikes, B&B owners not only have plenty of availability but are also close to 5% cheaper compared against August's rates.
 "The Rugby World Cup provides an international stage for us to showcase the best of Britain to which the B&B is an iconic national treasure. Alongside value, operators aim to provide a memorable experience, delivering that personal touch that makes their stay extra special despite whether their team wins or loses." 
For fans struggling to find accommodation, eviivo has pulled together a guide of B&Bs, guesthouses and small hotels located within 5 miles of each Rugby World Cup stadium that still have a selection of rooms available at reasonable prices. Some of those include:
Wembley
The Boat Hotel – average rate: £55
Euro Hotel Arrow – average rate: £81
Beech croft Guest House – average rate: £63
Twickenham
Civic Guest House – average rate: £67
Kew B&B – average rate: £115
Stratford
Leslie Road Accommodation – average rate: £95
All can be booked with ease via toprooms.com.