WYLD COLLABORATES WITH CLAIRE BARROW FOR FIRST MUSIC-REACTIVE UNIFORM COLLECTION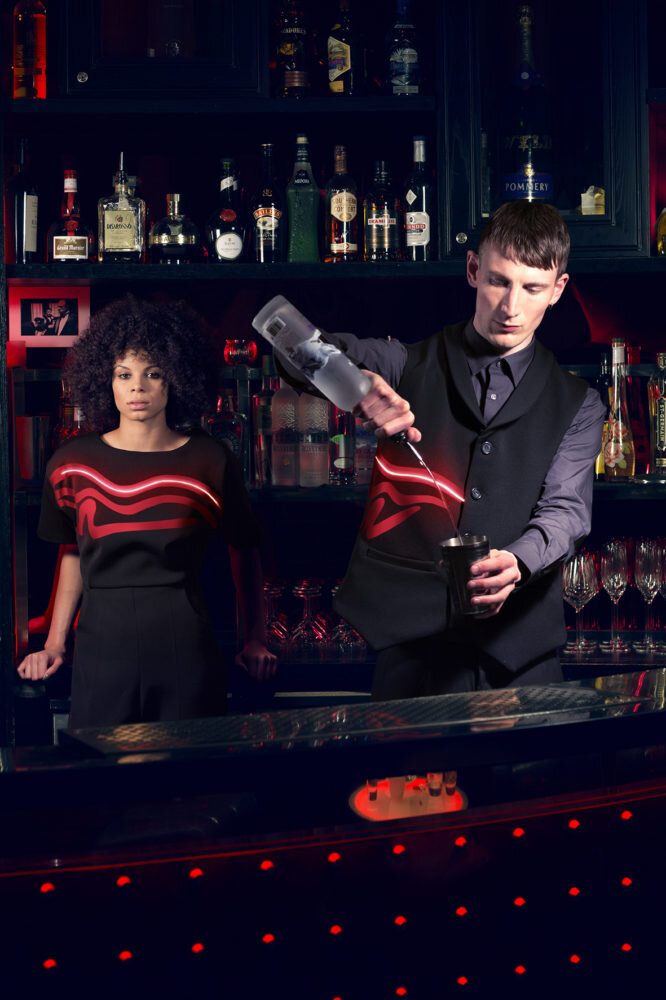 The stunning new look for W London – Leicester Square's nightclub talent incorporates latest wearable technologies to create unique visual experience for guests
Soho's hottest hang-out, W London – Leicester Square has teamed up with the rising star of British fashion, Claire Barrow, and 'smart clothing' pioneers Glofaster to design bold new uniforms for the hotel's nightclub, Wyld.
 The new ground-breaking uniform collection features integrated LED technology that pulsates to the beats of the club's resident DJ.  Part of Wyld's recent transformation, the launch of the tech-enabled garments follows the unveiling of W London's innovative keyless check-in technology – SPG (Starwood Preferred Guest) Keyless. Committed to supporting emerging British fashion talent, the hotel's collaboration with Claire Barrow also follows previous partnerships with designers Sister by Sibling and William Tempest.
Designer Claire Barrow is supported by NEWGEN, a scheme set up by the British Fashion Council and TOPSHOP, which recognises and nurtures growing talent. Since 2013 she has been showing on-schedule at London Fashion Week and her illustrative designs have collected a number of celebrity fans including Rihanna and FKA Twigs. Her creations for Wyld feature reactive strip lighting, made by Glofaster, within a W screen-printed design that was influenced by the club's glowing red neon lights. Both male and female uniforms also boast Barrow's signature embroidered motifs, with designs that take inspiration from Wyld's renowned oversized disco ball and London's vibrant night scene. The bespoke garments combine Barrow's chic 'Do It Yourself' approach to design with Wyld's rock and roll aesthetic.
The uniforms will offer music lovers a new immersive way to enjoy Soho's hottest nightclub and have been unveiled to coincide with the club's re-launch, complementing the new interior design.  Highlighting W London's passions for fashion and music, the uniforms will also give guests a preview of what is new and next in the worlds of fashion and technology. Responsible for the unique technology in the designs, Glofaster is a company renowned for its production of 'smart fitness clothing' that engages with its user. The company also appeared on BBC's budding entrepreneur show, Dragons Den.
Claire Barrow, designer said: "My designs for Wyld's new uniforms were influenced by the décor of the nightclub. I wanted the wearer to feel confident and enjoy working in the garments, so we created timeless tailored pieces for men and women. Glofaster and I wanted the uniforms to feature smart capabilities that would accentuate the design, making the staff stand out from the crowd and ultimately support them in their role".
Coen Van Niersen, W London's General Manager, said: "W London is a passionate supporter of music and fashion so we are thrilled to have partnered with emerging designer Claire Barrow and forward-thinking technology brand Glofaster. Celebrating the best of British talent, Claire has perfectly captured Wyld's personality and individuality in the design, and Glofaster has added unique dual functionality to the garments, which will wow visitors to the night club".
Simon Weatherall, Founder of Glofaster, said "We were delighted when W London approached us with this project, as it is a fantastic opportunity for us to showcase how our range of smart clothing can be incorporated into fashion designs. We are also incredibly excited to be the first brand implementing this technology in the hospitality industry".
The new Wyld uniforms will be unveiled on 20th May 2015. To see the designs visit Wyld, open Wednesday – Sunday from 10pm. Add your name to the guest list by emailing [email protected]. For more information visit the website www.wlondon.co.uk/wyld.