Jean Christophe Novelli re-opens White Mare at Beckermet following £400K refurbishment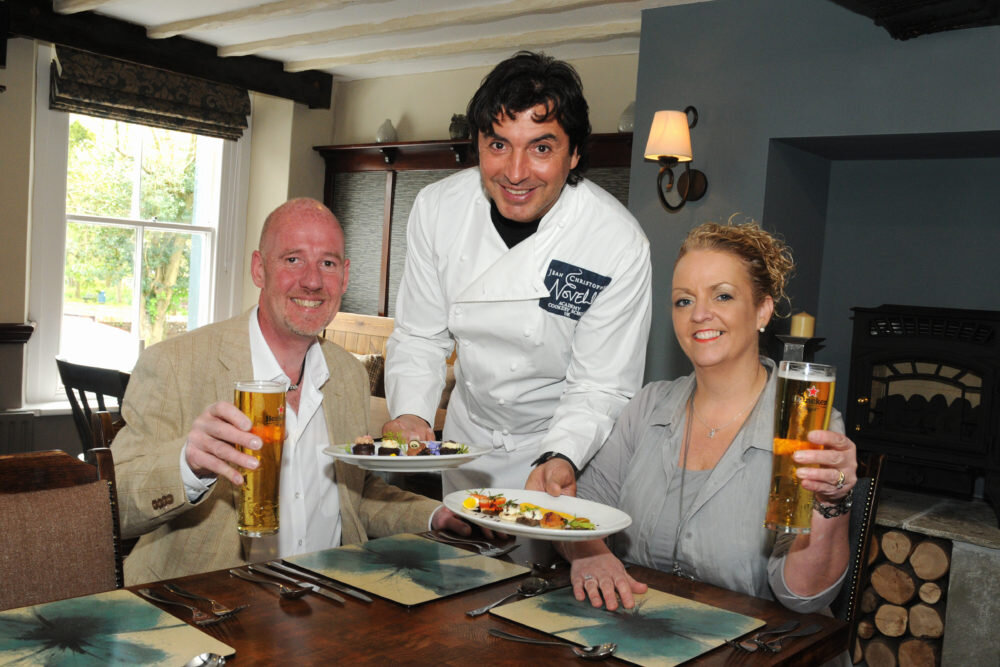 The White Mare at Beckermet benefited from a touch of French glamour when celebrity chef, Jean Christophe Novelli joined locals to celebrate the opening of the picturesque pub following a £400K refurbishment of the pub by Star Pubs & Bars and new lessee, Dianne Irving.
The pub which had been closed for six weeks, had undergone a transformational refurbishment to turn it into what Star believes will be one of the prettiest and best food and accommodation pubs in the area offering great cask ale and coffee.
The work involved a complete overhaul of the interior and exterior of the pub to create a light modern country pub including opening up the trading area to increase dining capacity by 30% as well as further 10% outside. An open kitchen was installed to showcase the cooking skills of the kitchen team and a new bar area was created. 
The outside of the pub was also totally redecorated with landscaping and a new sheltered patio added to create a new look and feel to the pub.
New lessee, Dianne knows the pub of old as she who once taught at Beckermet School and brought her children up in the area. Iain, her husband, is General Manager of Nuclear Management Partners and has worked at Sellafield since they moved to West Cumbria in 1990.
Dianne said of the pub: "I am really excited about my new venture at the White Mare. When my daughters were growing up, we used to bring them regularly for Sunday lunch.  It was such a lovely atmosphere for families and couples to enjoy and we want to bring the pub back to its former glory. I want to provide Beckermet and West Cumbria with hospitality the way it should be and give the village a focal point to be proud of.
"The opening was a great success with over 300 people attending.  We were busy all day with people shoulder to shoulder till closing time."
The food offering at the White Mare will also be transformed, with Dianne promising "something of a different quality" to the average pub meal.
Says Chris Jowsey, trading director of Star Pubs & Bars: "We're delighted that Dianne, who knows the area well, has taken on the White Mare, which will be one of our flagship pubs in Cumbria.   The White Mare needed investment and someone with passion to take it on.  It now has both and with its new look and ability to offer great quality food, drink and accommodation will do well as it is a picture book perfect looking pub in an idyllic location."