Fortnum & Mason Champagne Bar opens at Heathrow's Terminal 5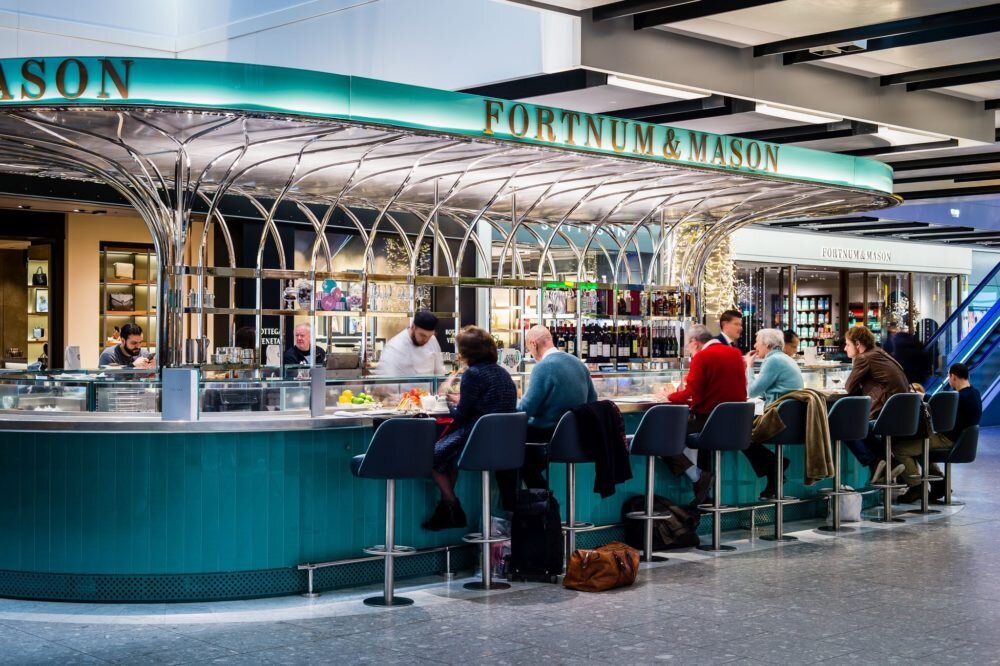 The bar has just opened next to the store which opened in October last year. Both spaces were designed by Universal Design Studio, the architectural arm of Barber & Osgerby. www.universaldesignstudio.com
The store carries an edit of products from Fortnum & Mason's flagship store in Piccadilly, with a strong focus on food gifting – an international trend that continues to gather pace. It will sell a number of Fortnum & Mason's iconic hampers, as well as a range of its most popular teas and preserves (including jams, marmalades and honeys) and confectionery items. There is also a savoury counter offering a selection of chilled products, including smoked salmon and caviar.   At the Champagne Bar travellers can sample delights from an exquisite range of fresh, seasonal food and drink, celebrating the very best of the Fortnum & Mason's famous Food Halls at Piccadilly. Charcuterie plates, hams, caviars and smoked salmon  all feature, alongside an extensive collection of the best champagnes, wines and sherries put together to complement the food offering. 
The T5 store references recognisable elements  from Fortnum & Mason's home on Piccadilly through the clever use of craft, pattern and storytelling which are a feature of the brand's 300 year history. Fixtures have been designed specifically for each Fortnum & Mason's consumer product, using lighting and materiality to bring out the nature of each product such as the honey wall.  A rich palette of materials includes stained hardwoods, brass, bronze, felt and Portland stone that ties the scheme back to materials used in Piccadilly.
Universal Design Studio commissioned a series of unique pieces for the store, including a contemporary chandelier that used original moulds of Fortnum & Mason's unique teaspoons, to provide  a focal point for the store.
'The Bar' by Fortnum & Mason provides a moment of respite for the traveller within the busy terminal. Fortnum & Mason have a reputation for high quality service for travellers and their famous hampers have carried luxurious food and drink around the world for the last 300 years.
The stunning freestanding canopy structure which shades the length of the bar references English silverware, providing shelter and intimacy within the hectic airport. The canopy is self supporting and uses nickel plated steel.  Other materials include: nickel, pressed ceramic tile, polished pewter, velvet, leather and glass – all of which are custom throughout and surrounded by the eau de nil colour synonymous with the brand.