First PUB15 opens and pulls in a roaring trade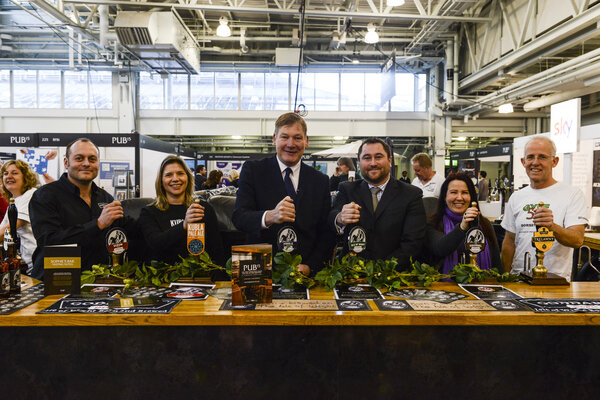 PUB15, the only dedicated show for the UK pub industry, kicked off this morning at London's Olympia with a visible buzz that was echoed in the words of Community Pubs Minister Kris Hopkins MP, who opened the show.
Showing his passion and support for the pub sector, Hopkins offered words of encouragement to exhibitors and operators about their vital role as champions of an industry that is so valuable to the UK economy.
"It has a £22 billion impact on the UK's economy and some 900,000 people are employed directly or indirectly. The government wants to support and continue to support the industry. It's a key part of our long-term economic plan. We've worked on business rates and under this government, beer is 8p cheaper and that's something we should celebrate.
"The pub is a treasured part of British life. People come from around the world to visit Buckingham Palace and they'll come and see the House of Commons, but they also want to come and see the pub. We treasure that and should make sure that we sell it as part of our great heritage."
With day two still to come, featuring a star-studded line-up of pub sector luminaries and innovators, Luke Perry, PUB15 show director, says: "We've got 150+ exhibitors and over 4,000 publicans who've registered their intention to attend the show, so PUB15 is full of energy and we're looking forward to welcoming even more publicans and entrepreneurs through the doors tomorrow for day two. Come and join us, discover new products and emerging trends and unearth some of the secrets of success behind the country's most profitable operators."
PUB15 is on now at Olympia, London. There's still time to register at www.thepubshow.co.uk and follow all the action on twitter @PubShowUk #Pub15