Dive into a Glass of Veuve Clicquot Champagne at Andaz Liverpool Street, London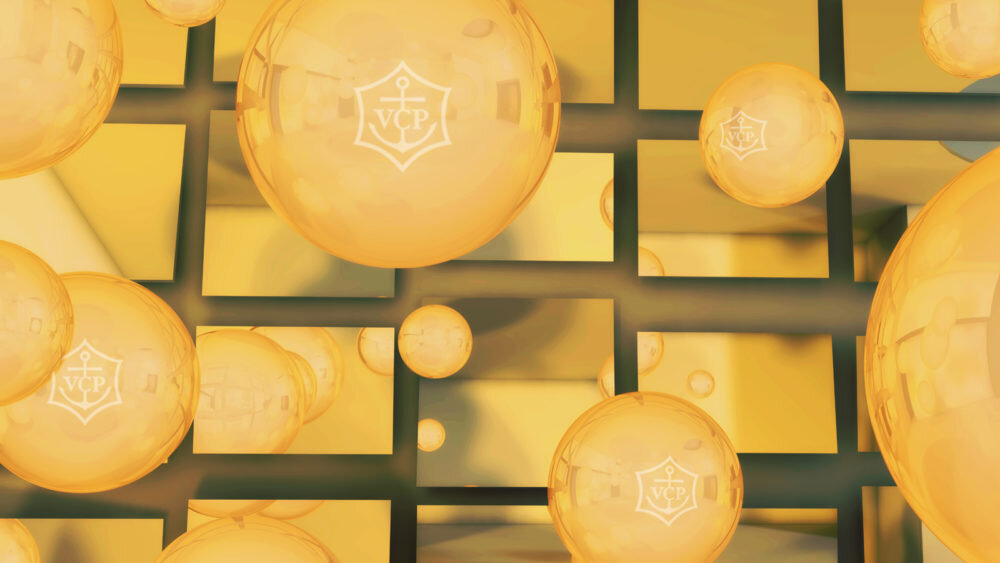 Five star boutique hotel teams up with Veuve Clicquot and innovative designers Harvey & John to create a unique installation.
"How would it feel if we could shrink ourselves to become so small that we could dive into a glass of Veuve Clicquot Champagne?" This is the question that inspired the latest project from cutting-edge designers Harvey & John, who have teamed up with Andaz Liverpool Street hotel and Veuve Clicquot to create a very unique new installation for the new year.
In an attempt to capture the sensation of floating in a glass of Champagne, Harvey & John have developed giant, glowing spheres that will appear to move up and down in the Lounge (lobby) of the hotel. Creating the illusion of bubbles in a glass of Champagne, guests will feel as if they have been immersed in a giant, effervescent glass of Veuve Clicquot. The Dive into a Glass of Veuve Clicquot Champagne installation will premiere on 10th February and will be open to guests and the public on a complimentary basis until early April 2014.
More than just an object of observation, the multi-sensory light installation is responsive to the audience, with the spheres glowing brighter when they are touched or squeezed enabling guests to fully engage with the soothing and hypnotic nature of the piece. Guests of Andaz Liverpool Street can relax among the stylish installation with a crisp, complimentary glass of Champagne in hand, courtesy of Veuve Clicquot.
Harvey & John is an experimental and innovative design studio and the product of a life-long friendship between Richard Harvey and Keivor John. The creative duo invent living sculptures that interact with the audience in thought provoking ways. Each project aims at leaving the audience with a sense of innocent wonder, reminiscent of the childhood discovery of something new and remarkable.
Keivor John of Harvey & John says of the project, "Harvey & John are always searching for interesting and exciting people to work with so this is precisely the sort of project that thrills us. Collaborating with Andaz Liverpool Street & Veuve Clicquot is a real pleasure as they truly value and champion creative people and ideas."
Christina Jesaitis, Senior Brand Manager of Veuve Clicquot, Moët Hennessy UK Limited says of the collaboration, "Veuve Clicquot are delighted to have the opportunity to collaborate with Harvey & John at Andaz Liverpool Street. Harvey & John are some of the most exciting, next-generation design talent in Britain and Andaz Liverpool Street, with its passion for design, provides an excellent platform. The 'Dive into a Glass of Veuve Clicquot Champagne' installation perfectly brings to life our shared values, including innovation, audacity and of course, 'zeste de folie!'"
Commenting on behalf of Andaz Liverpool Street is the hotel's General Manager, Tim Flodin, who says of the partnership: "At Andaz Liverpool Street, we pride ourselves on working with brands and artists that we feel align with our creative ethos. The Andaz team and I are very excited about collaborating with Veuve Clicquot and Harvey & John who also share our inspirational vision. We hope our guests will find this unique installation as enthralling as we do."
Accommodation rates at Andaz Liverpool Street hotel are available from £330 including VAT per night on weekdays (Sunday to Thursday night) and £180 including VAT per night on weekends (Friday & Saturday) in an Andaz Queen room. Room rates include complimentary Wi-Fi, non-alcoholic minibar and local landline phone calls.
For further information about Andaz Liverpool telephone 0207 961 1234 or visit www.andaz.hyatt.com