PizzaExpress is proud to be an omnichannel brand – offering dine-in (360+ pizzerias in the UK&I + a global estate), dine out (with all three major delivery aggregators and an owned platform) and a retail business. All of which enable PizzaExpress to uniquely reach consumers with great pizza, regardless of where and how they want to enjoy it.
Retail is a critical component of the brand's strategy to drive access and enable more customers to reach great pizzas through more touch points and all of the channels (including retail) are connected by the unique PizzaExpress Club (customers can redeem pizza loyalty stamps no matter which channel they use).
The retail business is a substantial part of the brand (c.£110m retail sales value) and PizzaExpress was the original casual dining player in the supermarkets launching over 20+ years ago in Sainsbury's.
The brand has featured consistently in the top 100 grocery brands list and sells 45m items annually across the total range including pizzas, Dough Balls, salad dressings etc.
Today, PizzaExpress is sold in over 4,000 supermarkets across all major outlets with Tesco the biggest partner.

Tesco customers benefit from not only the most extensive range, but they can collect both PizzaExpress loyalty stamps and Tesco Clubcard points. The Tesco Clubcard points can be redeemed in PizzaExpress restaurants through Clubcard Boost and PizzaExpress is the most popular partner in the Tesco Boost programme.
This Autumn the PizzaExpress retail range has undergone a complete transformation – its first in eight years and the biggest ever for the brand.
This 18-month transformation working with expert partners is a major change for the brand and incorporates:

New & improved recipes with clearer tiering for customers (utilising PizzaExpress' iconic 'house of brands' from the American to the La Reine)
New packaging designs
A new approach to marketing, including refreshed displays in store.
All of which enable the brand to deliver their 'mealtimes with flair' proposition as part of the brand's wider focus of offering uplifting meal occasions for families, mates & dates across multiple channel touchpoints (using the over-arching brand line 'let there be flair').
New Recipes
Critical to the transformation, PizzaExpress' pizza range has been reset with clear tiering which currently focuses on the improved everyday 'Icons' pizzas and the new premium 'Restaurant Favourites'.

Icons – These three loved 9" pizzas (American, Margherita & Sloppy Giuseppe) are at the core of the supermarket range. Each recipe has been improved to be closer to the restaurant recipe.
Restaurant Favourites – These new premium 11" pizzas have been created with quality & taste top of mind. They use restaurant quality ingredients to bring customer favourites to the supermarket shelves (Margherita Formaggi, Pollo ad Astra, La Reine, American Hot, Hawaiian, Pollo American).
New Packaging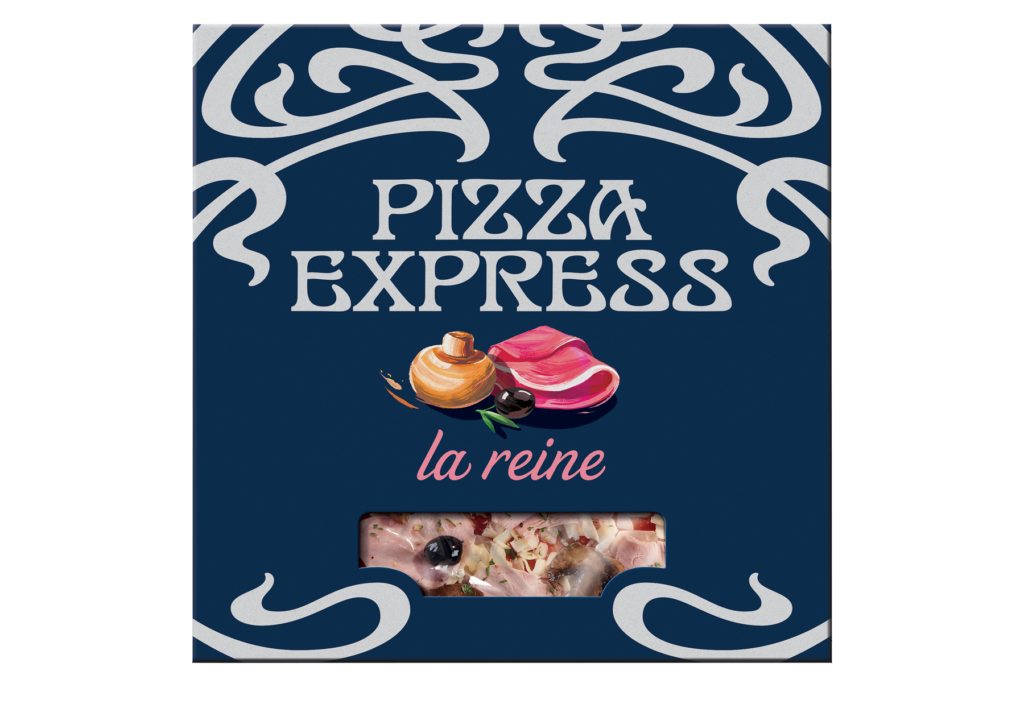 The packaging has been updated & optimised across all products (including pizza, Dough Balls, pizza dough, dressings etc.) with a bold & confident approach reflecting the new PizzaExpress brand world.
All packaging now incorporates the iconic filagree, a distinctive brand asset, which consumer research has shown clearly helps customers identify a PizzaExpress product when they're browsing busy shelves.
Alongside the filigree the PizzaExpress logo represents quality and is a critical beacon brand in the category.
New Marketing
As part of the relaunch PizzaExpress has invested in its biggest retail marketing push to date – from updated photography to social media to appearing on Tesco smart screens. Specifically, PizzaExpress has:

Enhanced instore merchandising & visibility, investing into vertical merchandising (so product stands up), point of sale and digital smart screens.
Invested in using posters & digital screens across 150 outdoor locations in close proximity to key retailers. Over the rest of 2023 this will reach over 2m customers nearly three times each.
Upweighted PR and social support, kicking off with an extensive customer survey which has found we're a nation of pizza lovers with some unconventional eating habits!
Upweighted and sustained visibility through the brand's extensive owned platforms including directly contacting the nearly two million loyalty members, CRM base etc. – all part of the omnichannel strategy.

Throughout the marketing, customers will see the refreshed look & feel of the wider PizzaExpress brand with the tag line 'Dinnertime, Showtime'. This is all part of the wider PizzaExpress strategy to have a more distinctive & consistent 'look & feel' across all channels. The marketing also uses the lines 'bigger, tastier, fancier' to promote the restaurant favourites range and 'bring the pizzeria home' to emphasise the overall quality of the supermarket recipes.
PizzaExpress' Retail Director Rich Mills said, "For over 20 years we've been selling pizza with pizzazz in supermarkets across the UK and Ireland with a range that uniquely taps into nearly 60 years of restaurant heritage and allows shoppers to enjoy our iconic recipes at home. Our chilled pizzas are purchased by millions of customers every week and transforming the range offers our customers clearer choice and better quality – with premium ingredients used throughout that are closer than ever to our restaurant recipes.  For the first time we're also showing up to our customers more cohesively in line with our wider brand – better utilising our distinctive assets – from our flavours (we literally invented the 'American' pizza), to our iconic filagree – we'll be standing up & standing out on the shelves. Whilst we might be the original branded pizza in stores, we have no intention to stop innovating and delivering for our customers, with our omnichannel focus offering us more opportunities to grow the PizzaExpress brand."