In response to customer demand, Lolly, the hospitality technology specialist, has launched a new charity payment functionality. The new system, which runs across all Lolly PoS, self-serve and app functions enables hospitality providers to support multiple charities, as opposed to being restricted to only one.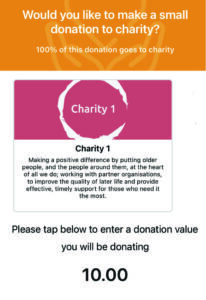 The hospitality provider is able to create multiple charities for the customer to choose from, providing the charity's title, logo and description.  The parameters include round-up, open donation and percentage, where retailers can select one or all of them.
At the end of the sale, the customer is prompted to donate to the nearest value or to select how much they would like to pay. Within the Lolly app there is a direct donation feature, where customers are able to donate their selected amount, without performing a sale.
All charity donations and payments are then reported in the Lolly back office, for hospitality providers to gauge how popular the functionality is, and which charities are performing particularly well.
Peter Moore, CEO at Lolly, said: "Our focus is to provide cutting edge technology for our clients which enhances the customer experience. We want them to provide the most comprehensive offering to their customers.
"Often when you go to process a payment with the option of a charity donation, you are restricted to the number and type of charities. With this new system we aim to widen the net – offering greater choice and autonomy for the customer. We think it will be well-received."
About Lolly – the integrated digital solution 
Lolly is a hospitality technology specialist. Delivering innovative PoS, payment and smart data technology for the hospitality industry, Lolly serves businesses of all sizes across the UK – from large corporate caterers and stadia, to pubs, restaurants, coffee shops and festivals. Their mission is to take state of the art technology and make it accessible, simple and highly agile.
Lolly's end-to-end, cloud-based solutions make the point of sale simple, efficient and dependable, every time. Providing a complete digital solution from payments, EPoS and self-serve kiosks, to loyalty and pre-order applications, all integrated in real-time to a powerful back-of-house management system complete with smart data applications.
With their flexible, bespoke offering, businesses simply upgrade as they grow, removing the need for costly installs as business needs become more complex. Lolly takes care of the technology, giving clients the time and the tools to run their business.
Lolly employs proactive measures, implementing robust cybersecurity practices, to ensure the company is mitigating the risks posed by possible cyber-attacks.