There is a definite art to loading a dishwasher if you are looking to achieve the perfect clean. Everyone will have their own way of doing things, but Miele Professional has developed a guide to help everyone ensure that they are able to achieve the best results every time by stacking the dishwasher in the right way.
The Do's and Don'ts of Stacking
Some of these might sound obvious but it's surprising just how often they are done incorrectly resulting in crockery and glassware that needs to be cleaned for a second time.
Do
Do ensure that everything you put in the dishwasher is dishwasher safe
Do remove large scraps of food from the crockery before loading
Do separate items properly giving space for the water to flow and to reach all surfaces
Do ensure there is nothing obstructing the spray arms inside the machine
Do face the dirty side of all crockery and pans to the middle of the machine to increase exposure to cleaning
Don't
Don't place cups and bowls in the right way up otherwise water will collect in them, and it will remain there post clean
Don't store sharp knives vertically to avoid injury
Don't put wooden spoons in the dishwasher as the heat and excess moisture will cause them to warp, crack and even break
Don't put non-stick items in a dishwasher as it can degrade the non-stick surface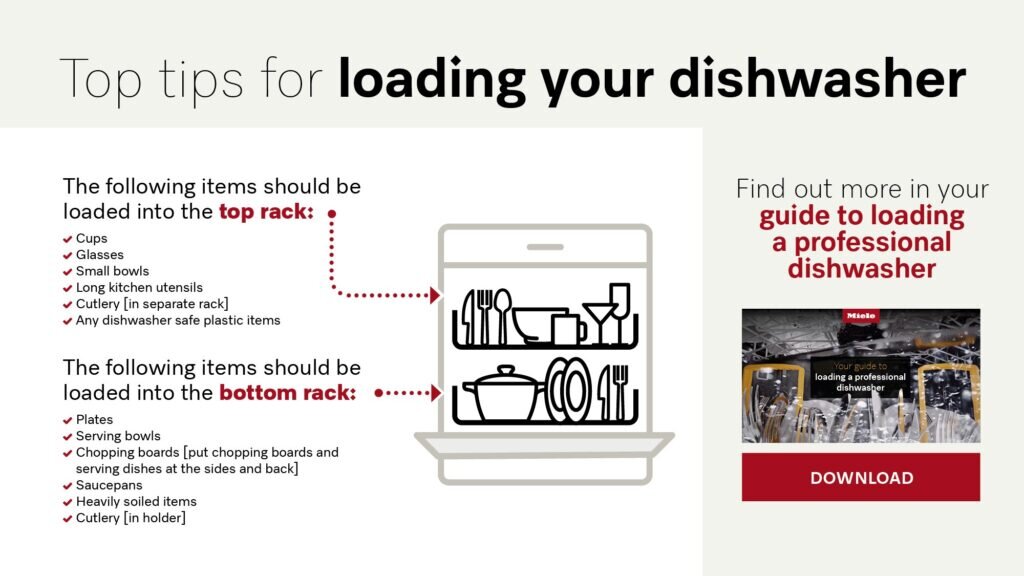 Loading the dishwasher
Always load the bottom stack first and start with the heaviest items – pots and pans, ceramics – anything that won't fit comfortably in the top rack. Put chopping boards and serving plates at the side and the back to keep as much space as possible available for your other items. Heavily soiled items should also be placed on the bottom rack where they are closer to the water jets to help ensure they are washed thoroughly. Cutlery should be placed in a holder and placed on the bottom rack. One really useful tip is to alternate the cutlery face up and down to increase exposure of all surfaces to cleaning.
The top rack should be used for glassware, cups and mugs, small bowls, long handled kitchen utensils and any plastic items (to keep them further away from the heat source even if they are dishwasher safe). If your machine has a plastic safe programme on it, then this can be used to ensure that the plastic equipment you are washing remains pristine.
To make your life easier there are a broad range of accessories available for dishwashers. These include bottle baskets, cutlery baskets, baking tray inserts, specialist glassware holders, and a range of other specialist inserts. Keep your eyes open for adjustable upper baskets too as these can help to provide additional space where needed.
Detergent
Almost as important as how you stack a machine is the detergent that you wash with. Ensure that you are using the detergent recommended by the manufacturer of your dishwasher. This is because they are designed to produce the best possible results for your wash every time.
When purchasing detergent, make sure it is suitable for the type of washing you will be doing. Some detergents are better for persistent soiling (such as tea, coffee, protein and starch) whilst others are particularly suited to glassware.
Finding your perfect dishwasher
When you are looking to purchase your first professional dishwasher or replace an existing machine, there are eight things you should be looking out for:
Load flexibility: look for loading flexibility as well as a way of holding all items securely in place
Range of programme choices: determine the types of programmes you need and then review machines based on this. Do you need hygiene programmes as well as a short turnaround?
Short turnaround times: in a busy bar or kitchen area it's important to have short turnaround programmes that get items clean as quickly as possible
Sustainability: look for machines that are durable, are recyclable as well as ones that reduce energy and water consumption
High rinse temperature: a final rinse temperature of 80o or above will be needed for a hygienic clean
Stain removal technology: look for programmes that help to remove stubborn stains such as tea, coffee and lipstick
Intuitive controls: to make things simple for your team look for a dishwasher that has a display that is easy to understand and can be used in multiple languages if needed
Connectivity: most machines today offer full connectivity to put you in control of the programmes and interface with servicing requirements
Summary
Getting the cleaning of crockery and glassware is incredibly important to the reputation of any organisation. Nobody wants to be eating off plates or drinking from glasses that don't look clean so it's important that anyone responsible for loading a dishwasher understands how to do this properly to get the best possible results. If you want further guidance, you can download the Miele Stacking Guide here. www.miele.co.uk