Avo Flaming Good Time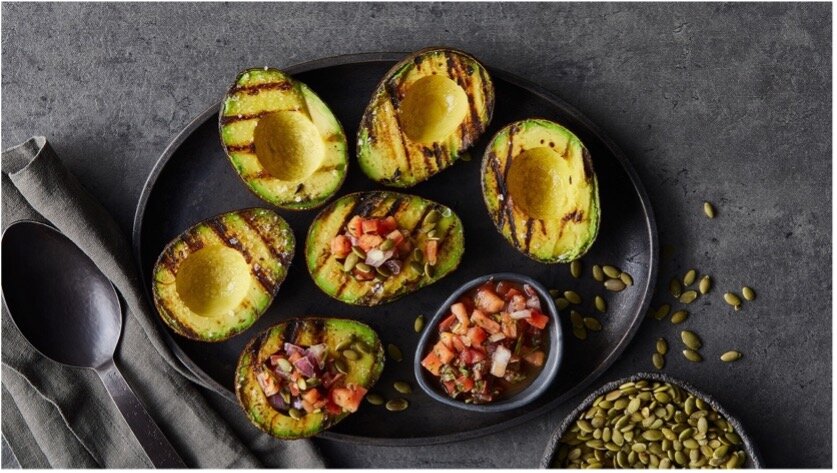 With Summer approaching, checkout these great ways of including Avocados, one of the healthiest superfoods, into your BBQ.
As the warmer months approach and barbecuing becomes a popular pastime, the World Avocado Organization (WAO) is encouraging consumers to try barbecuing avocados for a unique and delicious twist on the traditional barbecue menu.
Barbecuing avocados is a simple process that can add a new level of flavour and texture to any meal. Simply cut the avocado in half, remove the pit, and brush with a little bit of oil. Place the avocado halves flesh-side down on the grill and cook for a 3-4 minutes until grill marks appear. Then, flip the avocado over and fill the cavity with your favourite toppings such as grilled shrimp, salsa, or cheese.
As well as being super tasty, avocados are also packed with heart-healthy monounsaturated fats, fibre, and essential vitamins and minerals, making them a nutritious addition to any meal.
Don't like the sound of grilling your avocado? Don't worry, there are plenty of other ways you can enjoy it alfresco.
Slice it and add it to your burger
Chop it and toss it into a salad
Smash it and make a delicious dip
Or why not try replacing your burger bun for a healthier alternative?
Why not check out these awesome recipes, so you can add a bit of green to your next barbecue.
Grilled Shrimp and Avocado Veggie skewers
Recipe and image courtesy of Fresh Avocados Love One Today®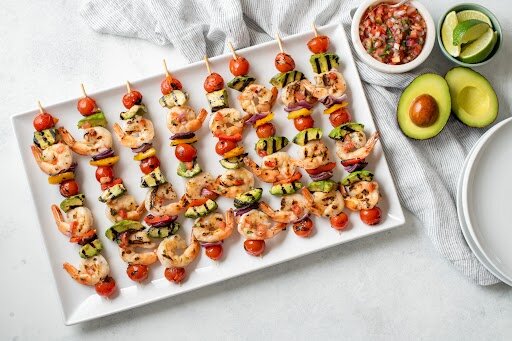 Ingredients
24 medium or large shrimp, uncooked, peeled, deveined
3 firm, avocados, halved, pitted, peeled and cut in 24 pieces
1 small red onion, cut into 16 (1-inch) pieces
1 medium yellow or red bell pepper, halved, seeded and cut into 16 (1-inch) pieces
24 cherry tomatoes
1/2 cup salsa fresca, homemade or store-bought, divided
1 Tbsp. fresh lime juice
1 Tbsp. olive oil
Equipment
Barbecue
8 Wooden or metal skewers
Knife
Chopping Board
Method
1 – Preheat broiler or grill. Arrange three shrimp, three pieces avocado, two pieces onion, two pieces pepper and three tomatoes on each skewer. Repeat to create eight skewers.
2 – Combine 1/4 cup salsa, lime juice and olive oil. Brush over skewers to coat.
3 – Cook 8 to 10 minutes until shrimp is cooked through and vegetables are tender, turning occasionally.
4 – Transfer to serving platter and serve with remaining salsa.
Grilled Avocado with Fruit Salsa
Recipe and image courtesy of Fresh Avocados Love One Today®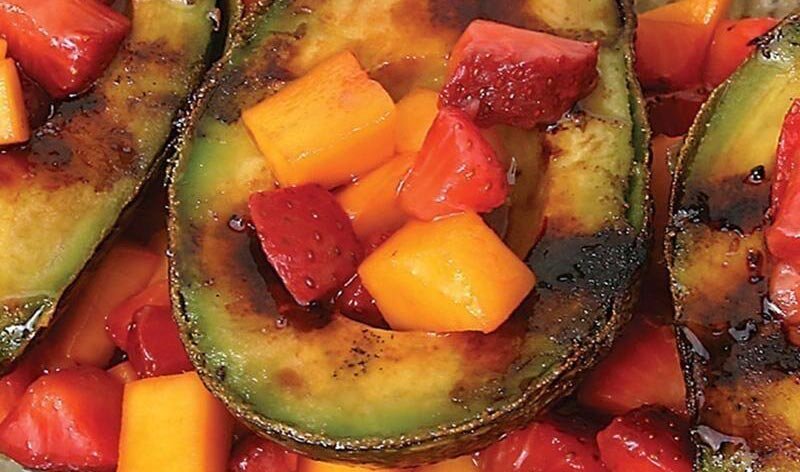 Ingredients
4 firm, ripe, fresh avocados, halved, pitted and peeled
1/4 cup honey (59 mL)
1/4 cup olive oil (59 mL)
1 mango, peeled, pitted, cut into 1/2-inch (1 cm.) cubes
1/2 lb. strawberries (277 g), cut into 1/2-inch (1 cm.) cubes
1 Tbsp. balsamic vinegar (15 mL)
1/3 cup orange juice (79 mL)
2 Tbsp. lemon juice (30 mL)
lettuce leaves (for serving)
Equipment
Barbecue
Knife
Chopping board
Method
1 – Preheat the barbecue to medium-high (300 degrees F to 400 degrees F), making sure the grill is well oiled.
2 – Slice the avocados in half lengthwise and carefully remove the seeds. In a small bowl, mix together the honey and olive oil. Brush the exposed flesh with the honey-olive oil mixture, cover with plastic wrap and set aside in a cool place (do not refrigerate).
3 – In a medium bowl, combine the mango, strawberries, vinegar, orange juice, and lemon juice. Let sit for at least 20 minutes, stirring occasionally, so the flavors can blend.
4 – Grill the avocados, skin side down, for 2 to 3 minutes, or until the skin begins to lightly char and take on grill marks. Brush the flesh side of the avocados again with the honey-olive oil mixture and place them flesh side down on the grill for 2 to 3 minutes.
5 – With a spatula, carefully remove the avocados from the grill and place them on beds of lettuce on warm serving plates, 2 halves per person. Fill the seed cavity of each avocado half with the mango-strawberry salsa. Serve with spoons to scoop out the avocado flesh and salsa.
For more information, visit avocadofruitoflife.com.