Delphina Hotels and Resorts are quickly becoming the go-to destination for couples seeking a romantic getaway in Sardinia, fondly known as the 'Caribbean of Europe'. Rivalling long-haul destinations for engagements, honeymoons and anniversaries, Delphina hotels and resorts offer bespoke 5* and 4*plus Romance packages and feel-good experiences to suit every couple in serene, picturesque settings, all just a two-hour flight from the UK.
British lovers can choose from an Emotion package, giving them an authentic taste and feel of Sardinia together, the Intense package offering an extensive range of personalised and unforgettable moments, or the 'à la carte' service where they can choose their own bespoke and unique itinerary with the ultimate freedom and luxury. Some of these special experiences include: private candlelight meals in the room, poolside or on the beach, couples SPA experiences, a private helicopter transfer with a panoramic flight, exclusive boat charter, a private driver, canoe tour with an exclusive expert guide along the coast with the chance to swim in a secluded bay or dedicated tour guide to discover the many cultural and archaeological wonders of Sardinia. As an extra special treat Delphina also offers gifts to any couple celebrating their wedding or anniversary, such as a welcome bottle of sparkling wine in their room, a souvenir gift and a silver Sardinian wedding ring, depending on which hotel they are staying at.
For couples looking to relax and feel well together, Delphina specialises in the ancient art of Thalassotherapy, healing through heated jets of seawater, available at the many SPAs.
Couples can enjoy a customised Thalassotherapy programme for two to pamper themselves and invigorate their bodies improving circulation, skin and mindset. Health and wellbeing are also promoted with the use of certified organic ingredients found naturally in Sardinia with numerous treatments including hot stone massages and facials.
Delphina's Thalassotherapy and Spa centres offer Sardinian Signature products and treatments using locally sourced ingredients including myrtle, grapes, sea salt, helichrysum and eucalyptus. These treatments include:
Fragrances of Gallura BIO ritual – an aromatic scrub with salt flowers and Sardinian massage with Mediterranean oils
"Health elixir" massage with essential oil of Sardinian grapefruit – A typical Sardinian endemic citrus fruit with anti-inflammatory, antioxidant, antibacterial, cicatrising and anti-stain properties
Salt body scrub with typical Sardinian plants and essences – scrub with salt and sea mud
"Mirto" hydromassage baths with salt flower whirlpool and BIO myrtle gel
"Elisir di giovinezza" facial treatment using Cannonau grapes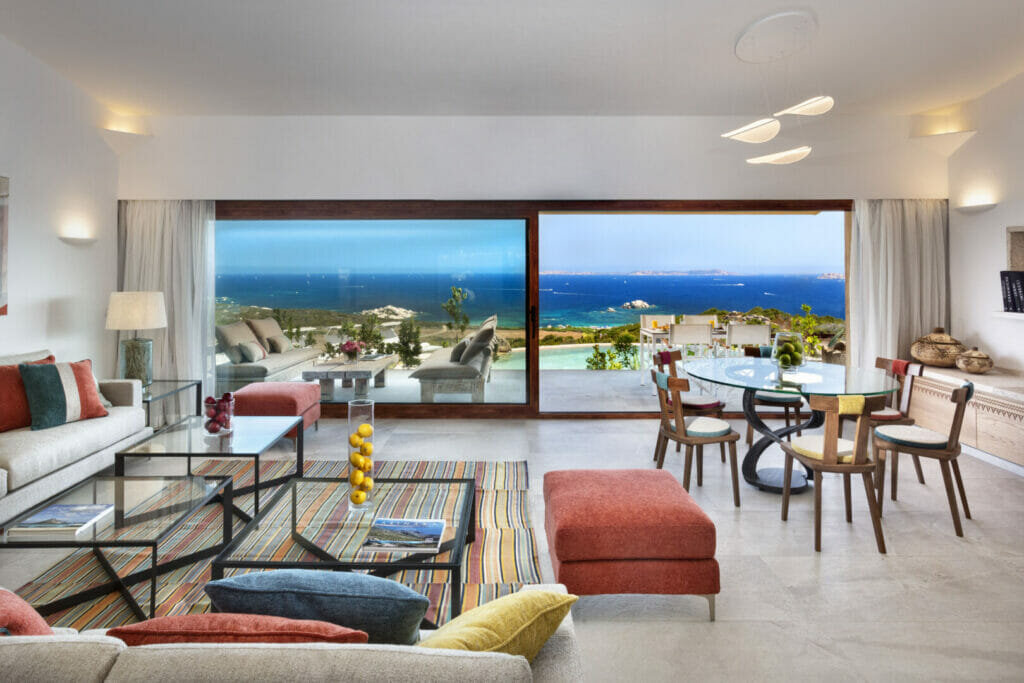 Couples have a wide range of choices when it comes to choosing where to stay at Delphina hotels and resorts, in particular the exclusive 5* Capo d'Orso Hotel, Thalasso & Spa is arguably the most romantic property recommended for adults and couples. Capo d'Orso features many private jetty's, hammocks and vistas for two dotted amongst the olive and juniper trees facing the stunning La Maddalena Archipelago. Couples are serenaded daily with a live harpist at breakfast and can eat dinner 'floating' over the sea at Ile Flottante.
The romantic Hotel Relax Torreruja, Thalasso & Spa is a charming 4-star superior hotel in Isola Rossa, Sardinia. Enjoy breath-taking views of the sea, characteristic red rocks of the Costa Rossa coastline and the unspoiled natural beauty of the Mediterranean maquis, with splendid beaches and naturally formed swimming pools with sandy bottoms set amidst crystal-clear transparent waters.
Couples can indulge in authentic food and delicious dishes at two excellent restaurants along with relaxing and rejuvenating at the prestigious Thalasso Wellness Centre & SPA with sea water swimming pools at different temperatures, and personalised Thalasso circuits.
The Delphina collection also includes elegant and sophisticated villas in the North of Sardinia with panoramic views over Isola Rossa and the Golfo dell'Asinara, for guests to create unforgettable holidays by the sea.
The villas at Resort Cala di Falco are elegantly located in the heart of Cannigione, a short walk from the beach and close to the town centre of the little town on the Gulf of Arzachena. Some Villas at Torreruja have private pools creating the perfect romantic atmosphere for couples overlooking the crystalline sea of the Gulf of Asinara to admire breath-taking sunsets. Guests can relax in the hotel's panoramic swimming pool or on reserved wooden platforms over the sea, equipped with mattresses and beach umbrellas. Along with experiencing the exclusive Venere Thalasso Centre & SPA and the restaurant with its view of the suggestive Aragonese Tower are open to villa guests who want to enjoy moments of well-being or a romantic dinner by the sea. The new Asinara villa guarantees independence and privacy, perfect for couples looking for a comfortable and functional space along beaches of fine white sand and glittering blue waters.
Delphina built, owns, manages and directly markets twelve properties with 5*, 4* Superior and 4* hotels, exclusive residences, 6 SPAs and prestigious villas in the best locations in Northern Sardinia. An oasis of hospitality, all Delphina resorts are immersed in lush Mediterranean parks overlooking the sea between the Costa Smeralda, the Archipelago of La Maddalena and the Gulf of Asinara, in the towns of Cannigione, Palau, Santa Teresa Gallura, Isola Rossa and Badesi.
For more information or to book visit: www.delphinahotels.co.uk; Email: [email protected]