AMAN HOTEL NEW YORK installed three new MDT-TEX TULIP UMBRELLAS on its rooftop terrace. These stylish and practical umbrellas not only protect guests from heat, rain, and sunshine but also provide wind shelter.
Each of the three tulip umbrellas was individually designed and constructed according to the hotel's specific requirements. With reinforced poles and frames, the umbrellas are stable and can withstand the strong winds that are sometimes present on the roof terrace.
About MDT-tex Inc: MDT-tex, the company behind the innovative and high-quality sun protection systems, membrane constructions, and custom-made products for outdoor textile architecture, used PTFE, a material consisting of coated Teflon, for the membrane of the tulip umbrellas. This material is known for its resistance to heat and weather, making it an ideal choice for the Aman Hotel in New York.
MDT carries out the entire production process in its own cutting-edge factories at international locations in Germany, Switzerland, and the United States ensuring the highest quality for innovative products and ensuring absolute supply security. The installation of these MDT-TEX TULIP UMBRELLAS is a testament to the company's commitment to providing customers all over the world with the best in outdoor design and textile architecture.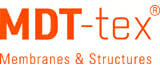 Join the conversation on social media using the hashtags #mdttex #outdoordesign #umbrella #parasol #textilearchitecture #NewYork #roofterrace #hospitality #hoteldesign #exteriordesign #hospitalitydesign #rooftops #roofterracedesign