'GOLF SPIRIT GOES PUBLIC'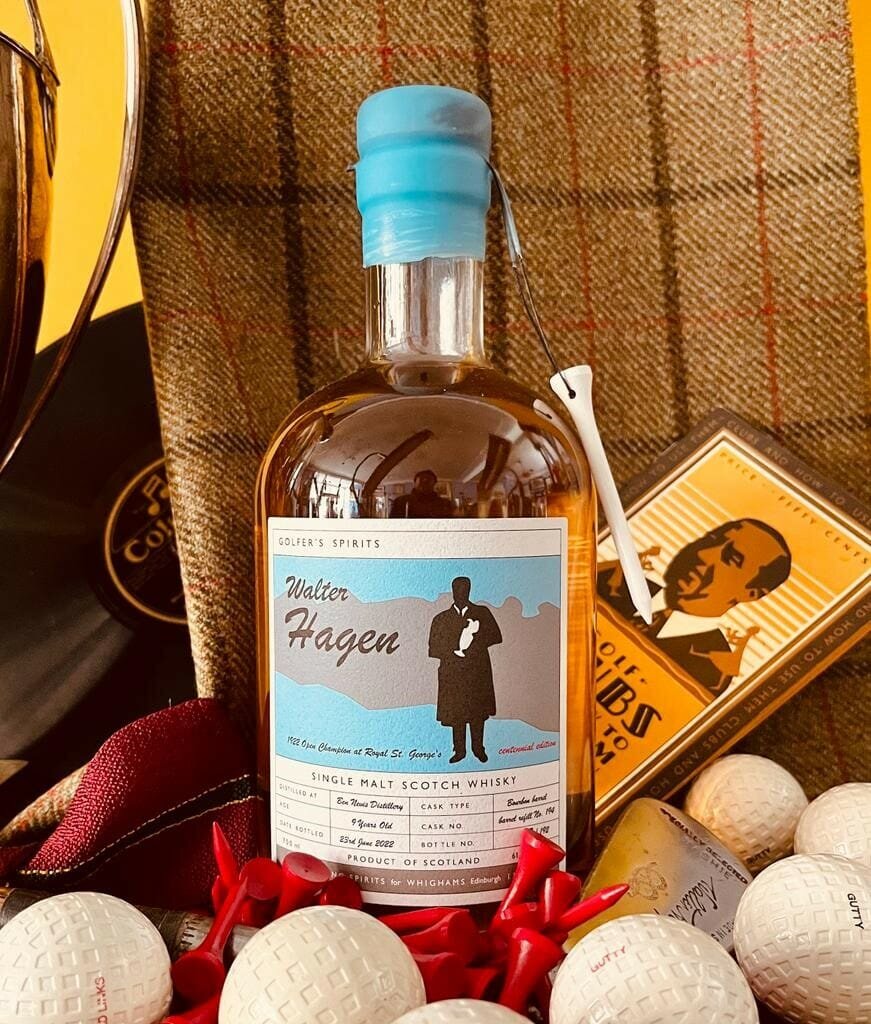 Boris Lietzow, the owner of Jack White hickory golf shop in Gullane, is delighted to announce a collaboration with Whighams Wine Bar in Edinburgh, creating a line of limited edition 'golfing spirits'.
Nicholas Henderson, owner of Whighams, a keen hickory golfer himself, is delighted to have teamed up with Boris Lietzow to produce the latest in a line of limited edition whiskies, branded as 'Golfers Spirits'.
How did this come about I hear you ask, other than both men's love of hickory golf? Well, Whighams Wine Bar is actually named after Henry James Whigham, an amateur golfer who was born in Scotland in 1869 and won the U.S. Amateur golf tournament in 1896 and 1897. Whigham was born in Scotland and graduated in 1893 from Queens College, Oxford University, where he had captained the school's golf team the previous year. Whigham and several of his fellow golfing Oxonians visited America in summer 1893 for the Chicago World's Fair to demonstrate how golf should be played.
Boris and Nicholas enjoyed playing hickory golf together and decided to commemorate golfing legends by starting bottling limited edition whisky a few years ago. Their first edition was created in 2019, on the 100th anniversary of famous golfer Walter Charles Hagen's his win at the US Open in 1919. Hagen (1892 – 1969) was an American professional golfer and a major figure in golf in the first half of the 20th century. His tally of 11 professional majors is third behind Jack Nicklaus (18) and Tiger Woods (15). Known as the "father of professional golf," he brought publicity, prestige, big prize money, and lucrative endorsements to the sport. Hagen is rated one of the greatest golfers ever.
Following on from the success of this first edition and, in line with a memorable hickory golf competition they were organising over the Braid Hills in 2020 – 'The Scottish Hickory Tour' – they decided to name the 2nd edition in commemoration of one of the greatest names in golf, James Braid, creating another limited edition spirit – the James Braid 150th anniversary edition. For those not in golfing circles, James Braid was born in 1870, a Scottish professional golfer and a member of the Great Triumvirate of the sport alongside Harry Vardon and John Henry Taylor. He won The Open Championship five times. He also was a renowned golf course architect and is a member of the World Golf Hall of Fame.
To follow on from this 150th anniversary limited edition bottle, a second Hagen edition spirit was created as an 100th anniversary commemoration to Hagen's Open win at Royal St George's in 1922. The first American born winner of The Open. As spring nears and the golfing season gets underway, now is the time to remember golfing traditions and for 'Golfers Spirit to go public'.
To find out more or to buy 'Golfers Spirits' whiskies, visit www.hickory-forever.com or purchase online at www.whighams.com. It is also available at the Old Clubhouse (Gullane).