3 Essentials Every Good Bartender Needs
What Are the Requirements to Become a Bartender? – Skills, Attitude & Knowledge
Anyone can work behind a bar, but a good bartender needs a certain level of competence and experience
Bartending is a rewarding career for anyone who enjoys working in a pressurised, fast-paced environment that's social, energetic, and requires constant interaction. Of course, there's more to the job than knowing the difference between a margarita and a mojito. Bartenders require a range of work-related and interpersonal skills that extend far beyond mixing a drink.
An Extensive Skill Set
As a bartender, most of the environments you work in are fast-paced and put you in contact with a variety of personalities. So, you need to be adaptable, dexterous, and able to think on your feet.
Good communication and people skills are essential as you'll speak to many different customers, kitchen and wait staff, and management throughout your shift.
Other skill requirements include efficiency, basic cash management skills for processing payments, good record-keeping skills for running tabs, and organisational skills that come in helpful when keeping the bar tidy and taking note of trends that affect drink demands. You'll find it helpful to have a good memory, to be flexible with your working hours, and for filling in for other staff during shifts.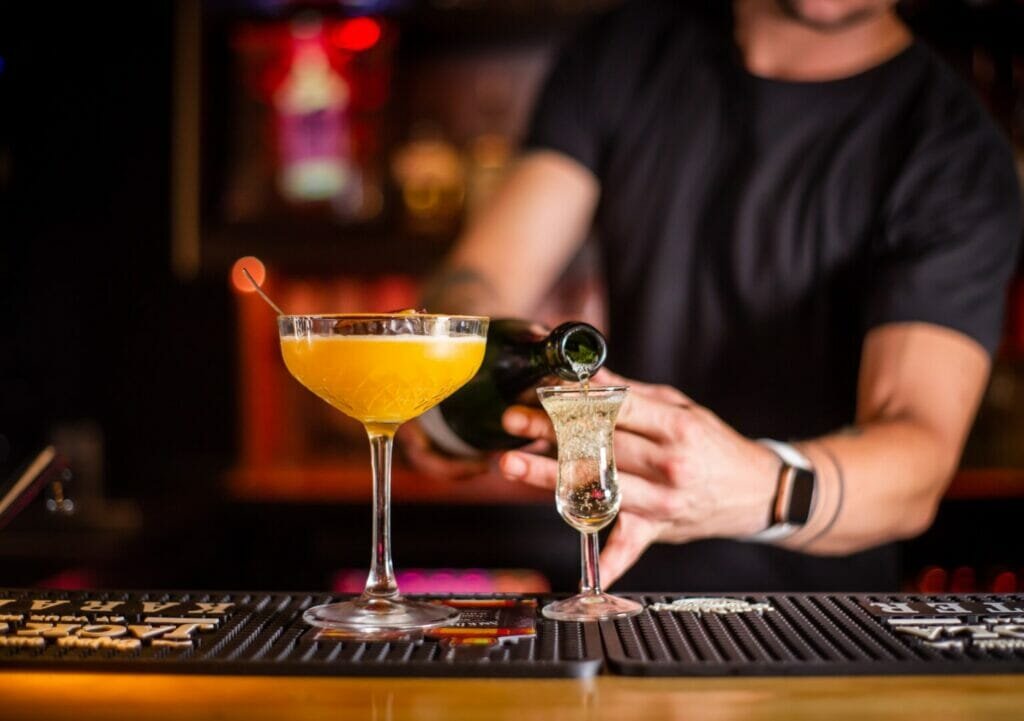 A Positive Can-Do Attitude
Bartenders need to value teamwork and be able to work as part of a team. Friendliness is essential, as your customers need to feel relaxed and welcome. Bartending can be a stressful job, so you should be able to maintain your composure when busy or helping a coworker manage a crisis.
A positive, cheerful attitude is key and will go a long way towards calming down aggressive customers causing trouble or making other patrons tense. You'll also need to be proactive and tackle any challenges with good humour.
An Ever-Expanding Knowledge Base
Bartenders learn on the job, but it's important to learn the basics before applying for a position. A short certified course will equip you with a wealth of knowledge that makes you more employable.
In addition to having a basic knowledge of beer, wine, and spirits, you need to know about obscure cocktails and trending drinks. You should learn basic mixology techniques, popular cocktail recipes, pouring precise amounts, mixing cocktails, and creating garnishes.
Having the right skills, attitude, and knowledge makes all the difference when applying for bartending positions and for transforming a job into a successful career.

If you want to become an expert bartender, EBS Bartending Academy has the best courses for anyone wanting to learn the art of this exciting profession.