FEELING FANCY? CAMDEN TOWN BREWERY LAUNCHES A CELEBRATORY NEW IMPERIAL PILSNER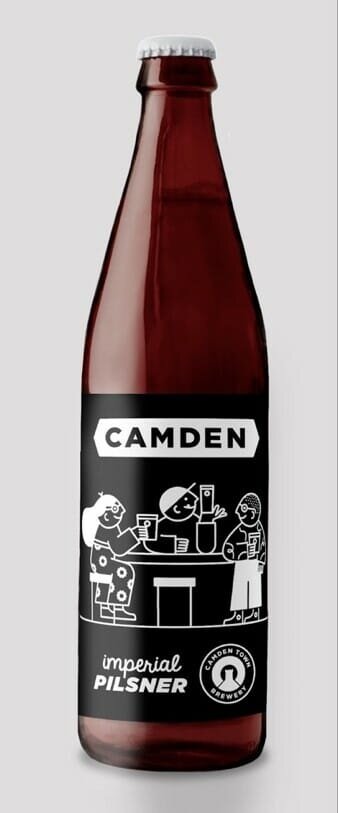 Camden Town Brewery has launched a brand-new Imperial Pilsner, an 8.5% ABV beer in a 500ml bottle that's perfect for sharing with pals at any celebration.
A limited-edition creation that puts the 'fancy' into 'fancy a beer, mate?', Camden's new Imperial Pilsner is the younger, unaged version of the barrel-aged Imperial Pilsners launched by the brewery over the last few years. This is the first-time fans will be able to try the 'younger' version of the brew, usually aged for 6-9 months, because it simply tasted TOO GOOD to keep to themselves.
Brewed with Camden's house Bamberg Pilsner malt for a full and intense bready malt character, the new Imperial Pilsner has a touch of wheat and rice to lighten the body and dry out the finish, and is fermented with our classic Bavarian Lager yeast. This keeps the higher ABV beer extremely drinkable, with the clean, crisp character that Camden beers are famous for, and perfect for sharing a fancy meal with friends this festive season.
This fancy beer has been made using the same Perle hops as Camden's iconic Hells Lager for a clean bitterness, with the addition of new German Hop Callista for complimentary stone fruit character. A Pilsner perfect for celebrating, New Zealand Nelson Sauvin hops were finally added to create fresh vinous notes in this fancy brew.
And this limited-edition launch looks as good as it tastes, with the label designed by Camden's seasonal illustrator, Martyna Makes. The eye-catching bottle design makes the new Imperial Pilsner the perfect prezzie for beer lovers, or the ultimate centrepiece for any festive dinner parties.
Chris Wheeler, Innovation Brewer at Camden Town Brewery, said: "Since 2017, we have explored different variations of Barrel Aged Imperial Pilsners for our end of year beer and have now honed our Imperial Pilsner recipe to something we are extremely proud of. Previously only the brewers got to try the 'young' version of the brew that goes into the barrels but this year, we thought it was tasting too good to just save it for ourselves and we are excited to give beer lovers the chance to finally try it."
Camden's new Imperial Pilsner has a ABV of 8.5% and is available in 500ml bottles to purchase for £5 in Waitrose stores and on the Camden webshop at https://camdentownbrewery.com/