Max Macauley, of The Locale, Glasgow, CROWNED UK PATRÓN PERFECTIONISTS WINNER 2022
Max Macauley, from The Locale in Glasgow, was crowned the UK's PATRÓN Perfectionists Winner at the national finals that took place last night (Wednesday 16th November) at Seed Library, One Hundred Shoreditch, London. 
Max Macauley and his creation The Forgotten Fruit outscored their fellow finalists across three challenges judged by a panel of esteemed judges: Simon Difford of Difford's Guide, reigning UK winner Kat Stanley-White, last year's Global Perfectionists winner Harrison Kenney and Giulia Cuccurullo, Head Bartender at Artesian and Global Perfectionists winner.
Max Macauley will be representing the UK in the global finals at Hacienda PATRÓN, Jalisco, Mexico, in March 2023.
The Forgotten Fruit created by Max Macauley was presented alongside the creations of nine other finalists:
Daniel Jonathan Selby, from The Connaught Bar in London, with his cocktail named Voyager
Chris George Elliott, from Present Company in Liverpool, with his cocktail named Mersey Beet
Aidan Tibbins, from Schofields in Manchester, with his cocktail named Rabbit Rocks
Caz Park, from Panda & Sons in Edinburgh, with her cocktail named Fáilte
Paddy Orr, from Rattlebag in Belfast, with his cocktail Two Town Tale
Lorenzo Piscitello, from Artesian in London, with his cocktail named My Way
Ed Belshaw, from World Service in Nottingham, with his cocktail named Orchard Six
Jamie Lock, from Potted Pig in Cardiff, with his cocktail named Charlie Foxtrot
Ben Guillou, from HACHA in London, with his cocktail named Tianguero
This year's national finals featured a series of challenges to test the broader skillset of bartenders, showcasing their versatility and craftsmanship. Hometown Hero, the entry challenge tasked bartenders with the development of a cocktail that blends PATRÓN tequila with their local culture, using ingredients from a prescribed list, the Pantry. This was followed by presenting their creations to a board of judges and UK Brand Ambassador, Gian Luca Pavanello Canella before finally being selected to attend the UK finals. Max'spresentation stood out for bold innovation, storytelling and perfection of execution.
The series of challenges came as the PATRÓN Perfectionists has expanded into a more holistic bartending program, to reflect the growth of the existing competition and PATRÓN tequila's long-standing commitment to inspiring and nurturing the on-trade community. The UK's winner will join the other 18 national winners and the one Wild Card winner from the four corners of the globe to compete in the global finals series of challenges taking place at Hacienda PATRÓN, Mexico, in March 2023.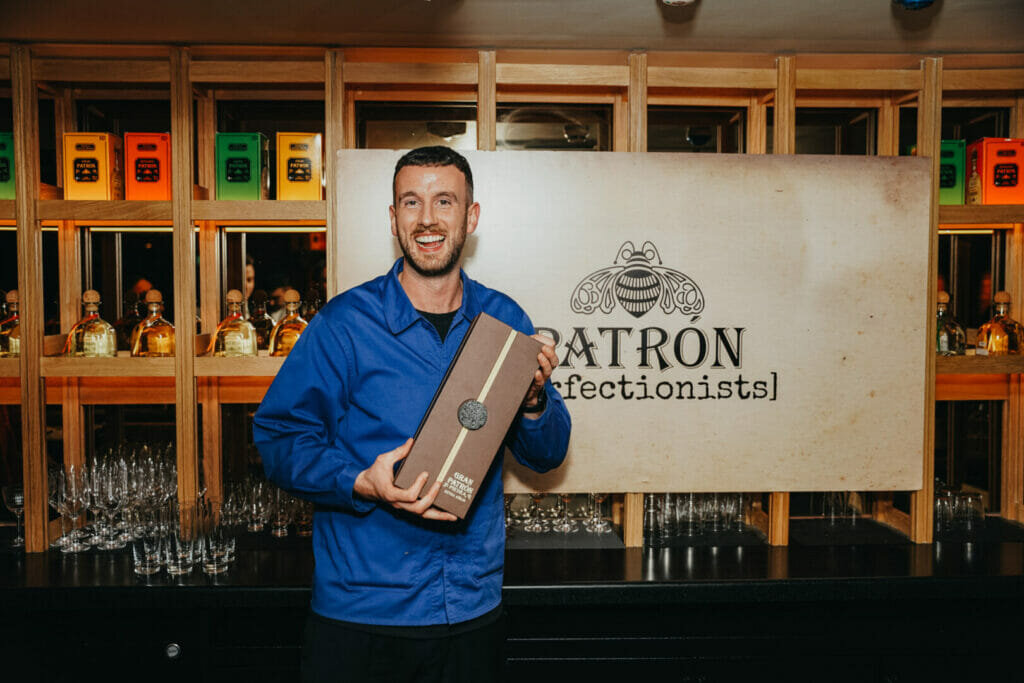 Max Macauley, of The Locale, commented: "It's a real milestone for me to be receiving this highly coveted title among such a talented group of bartenders and now friends too. I feel truly honoured to be here in London, competing in the final stages of the competition, and I'm excited to head to the Hacienda – the home of tequila – next year to see what the next challenge brings. As a group and individually too, PATRÓN Perfectionists has given us the platform to develop both our aptitude for creativity and professional cocktail-making skills. I'd like to thank the entire PATRÓN Perfectionists team for the opportunity… watch this space for what's next!"
Claire Presland, Patrón Tequila EUROC Brand Director said: "The calibre of creativity, knowledge of the brand and of tequila across the challenges were truly impressive. Congratulations to all the participants on their presentations – we are really excited by the contribution these talented bartenders are bringing to the category and to PATRÓN tequila. Max Macauley's performance was outstanding, and we cannot wait to take Max to Mexico in March to join the familia for what will be an immersive once in a life-time experience at Hacienda PATRÓN".
To stay updated with the PATRÓN Perfectionists and follow the development of the program follow www.academiapatron.com/patronperfectionists