Drinking without Drinking: The Sober Bars You Need To Visit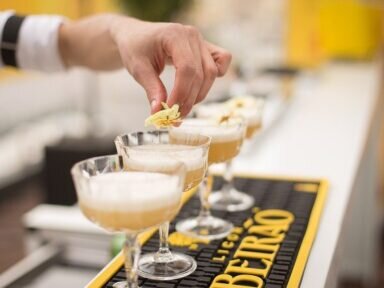 A recent report found that a third of pub visits are now alcohol free. With more brands bringing out non-alcoholic alternatives of their most popular beverages, and bars adding more mocktails to their menus, customers now have more non-alcoholic choices than ever when they don't want to drink as much.
With this in mind, Fentimans, the botanical beverage brewers, have looked at some of the highest rated sober venues on Trip Advisor you can visit across the UK and Ireland .
Café Sobar, Nottingham
Trip Advisor Rating – 4.5
Café Sobar is an alcohol-free bar based in Nottingham. As well as being an alternative to mainstream bars, this café is also helping the community it is ran by the drug and alcohol recovery charity Double Impact who help people whose lives have been touched by addiction. The café provides people helped by the charity with a place to gain work experience.
As well as a range of non-alcoholic cocktails including Mock-apolitan or a Sans-gria there is also a range of food that you can enjoy whilst also watching one of the many events they host such as live music and comedy.
The Virgin Mary Bar, Dublin
Trip Advisor Rating – 4.5
Across the Irish Sea the Virgin Mary Bar in Dublin is offering a great night out the city is known for but with a difference to the other bars, there's no alcohol. Their mission is to create a wellbeing bar, wanting people to 'drink different' through enjoying their range of mindful drinks.
As well as their own created signature and mood boosting cocktails, (which they say are bursting with natural highs), they also offer a range on non-alcoholic beers, ciders and wines. With their Dublin venue being very popular they have now opened a second bar in Abu Dhabi.
The Brink, Liverpool
Trip Advisor Rating – 4
The Brink in Liverpool is another non-alcoholic bar aiming to help those in recovery from addiction with 73% of their employees in recovery themselves. Open during the day offering a range of coffee, cake, mocktails, smoothies and soft drinks this will be the best place to go have a day drink.
As well as helping those in recovery with jobs in the bar they are a social enterprise, so all their profits go back into the community to help those suffering through addiction. So, whilst you are sipping your mocktail you will also know that you are doing some good for the area!
Proudfoot & Co, Winchester
Trip Advisor Rating – 5
Go back in time with Proudfoot & Co and drink how they used to in ancient times. By analysing old cookbooks, they have rediscovered and are using old brewing techniques and production methods to use in their mocktail recipe. As well as using ancient methods, they are also being kind to the planet by foraging for their ingredients, tap local trees for syrup and ferment in house, so many of the drinks you will be trying have no air miles on them.
Whilst there try the Hampshire Honeydew which is a tangy, mead like drink made with Anglo Saxon and Roman brewing techniques. Or try a taste of Italy with the Roman Bitters, an aperitif-style herbal tonic coffee based off Roman medicinal texts.
The Nest, Hastings
Trip Advisor Rating – 5
Using Hastings Old Town Hall, The Nest is another social space where you can find a great non-alcoholic bar which also helping the community with money going back into opportunities and support for the local area.
The Nest is a great place to grab a sober drink whilst also enjoying some entertainment in their events space, whether that be live music or one of their cinema nights.