Rotpunkt new Fenix Green answers top colour trend in 2022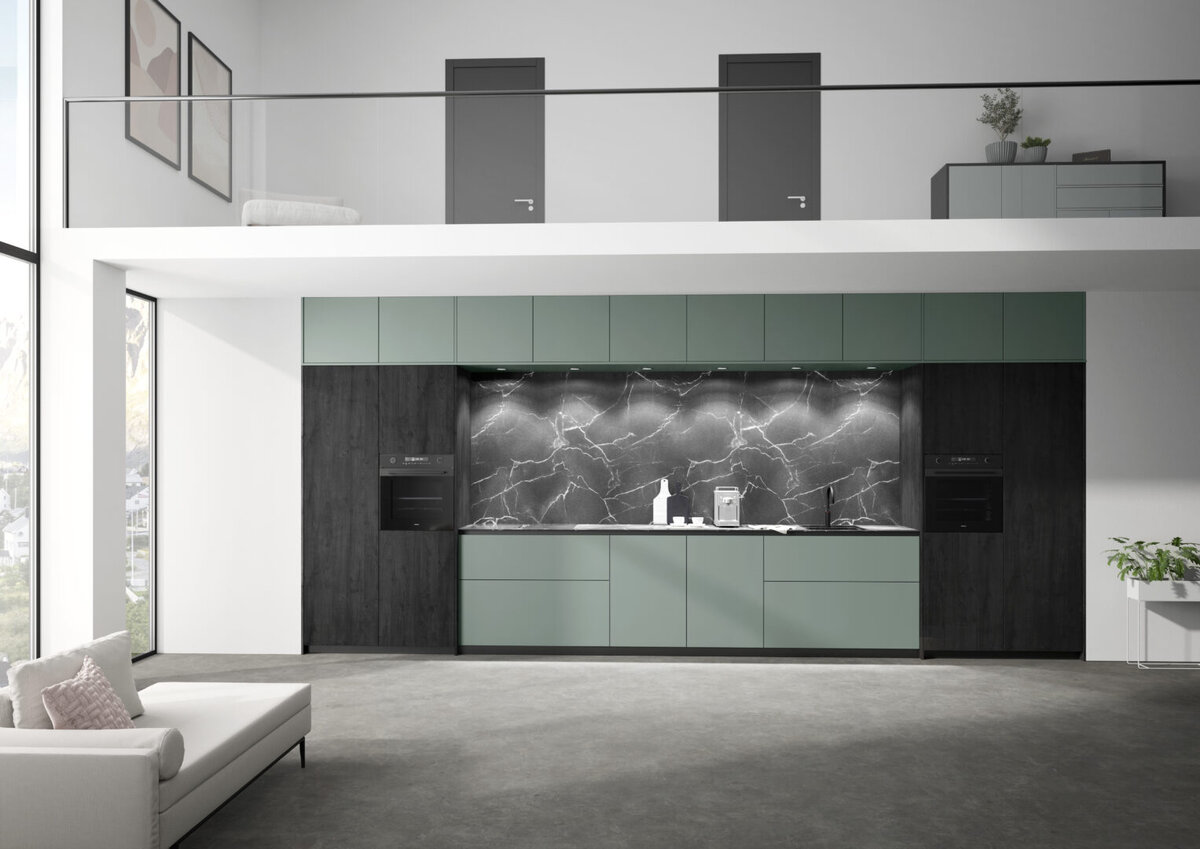 Rotpunkt, award winning designer and leading manufacturer of climate friendly German Kitchen furniture answer the top colour trend in interior design for 2022 with the launch of Fenix Green: a super-matt rich green colour boasting an easy-clean, hygienic, anti-fingerprint surface.
Fenix Green is 1 of 3 new colourways to expand the Fenix collection in 2022, with the latest new additions of Green, Red and Blue adding to Black and Grey, which first launched the range in 2020. Available for use upon the company's bestselling Zerox kitchen furniture, the Fenix door range offers a rich colour palette, which is soft to touch and extremely resilient, providing enhanced antibacterial properties so your kitchen surfaces are always protected. Advantages include:
– Enhanced antibacterial properties = inhibiting microorganisms to grow and reproduce
– Extremely matt surface = low light reflectivity
– Anti-fingerprint, soft to touch
– Resistant against scratches and minor abrasions
– Resistance to dry heat, acid solvents and household cleaning agents
Indistinguishable from real wood, Sherwood Black frames the new Fenix Green door to create a modern colour combination that evokes elements of nature with the latest nanotechnology. Built with sustainability in mind, Matt Phillips, Head of UK Operations at Rotpunkt says, "A new favourite in 2022, the colour green has previously been associated with more classic kitchen schemes, so we are delighted to bring it to the forefront of contemporary kitchen design with our new range of Fenix colours."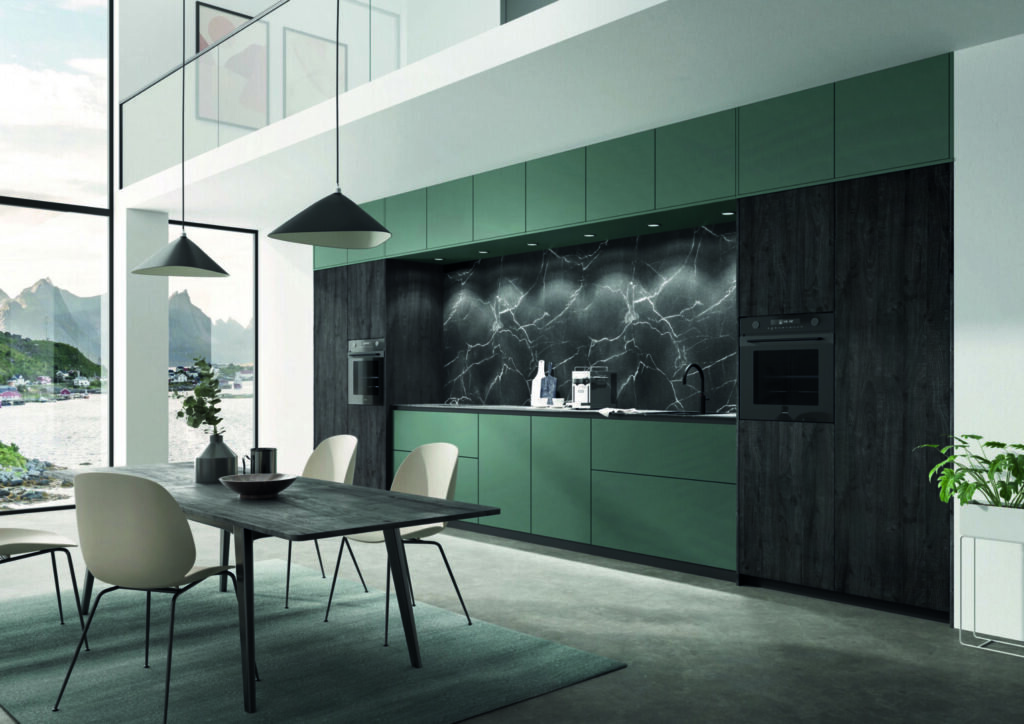 The Fenix Green kitchen concept pictured above, features the following new products by Rotpunkt:
Fenix surfaces: State-of-the-art manufacturing processes are delivering extra durable surfaces which are rich in colour and easy to clean just like the Fenix Green inset-style kitchen, which is designed to minimise its footprint in a blended kitchen living space. The graphic white veining on the Fenix Black marble-effect worktops and splashback adds a signature feel to the working zone, while enhancing the value of traditional raw materials like wood, glass, and stone. Robust undercounter cabinets in green offer a series of deep, low-profile drawers and high-profile base units to maximise storage space discreetly and efficiently. The Fenix Green fronts are available in two heights to accommodate a comfortable working environment: 1) 780mm and 2) 910mm, which increases storage by up to 16%!
XTend dimensions: Broaden your horizons with the new 2340mm height doors, which are part of the XTend range by Rotpunkt that offers a series of standard and extra-tall furniture solutions. Now you can maximise storage by enabling an extra run of top units above extra tall cabinets to make the best use of available space for a custom fit. The Sherwood Black full height doors mimic the look and feel of real wood, without the weight or porous qualities of timber to provide an ideal solution for a multiuse living space. This faux wood décor features a colour-matched 1.3mm circumferential, jointless edge, which means when placed side by side, a series of tall units will look like one complete run of cabinetry.
Smart-ready LED lighting: Integrated Moonlight downlights are set under the top cabinets to illuminate the food prep area, as well as provide another layer of ambient lighting to enhance the dining experience. Moonlight by Rotpunkt, is a simple downlight with black fittings to complement the dark marble and wood effects and is just one of 11 integrated styles available. Rotpunkt lighting is easy to adjust too, responding to voice commands via Google Assistant or Amazon Alexa on your smart device, or part of a connected smart home system.
Sustainable: All Rotpunkt furniture is designed and created under the company's new 'Together to zero' climate strategy to reduce carbon emissions at every stage of manufacture. The new Fenix Green, Red and Blue Zerox furniture is crafted from Greenline BioBoard Gen2, the sustainable, green and environmentally friendly alternative to traditional chipboards, which consists of up to 90% recycled wood without sacrificing on quality. The Sherwood Black wood décor also carries the mark of responsible forestry with it being FSC® Certified. The gold standard of eco-friendly kitchen design, all cabinets and fronts in Sherwood Black offer a greener alternative for the UK homeowner, which continues to support more sustainable product choices in the mainstream.
Matt adds, "Combining high-fashion green, which both Houzz.com and House Beautiful champion as the colour of choice in 2022, alongside realistic faux finishes and industrial-style accents is a great way to satisfy today's discerning homeowner, which demands the very best in sustainable style."
For further information on Rotpunkt UK, please email [email protected] or visit www.rotpunkt.co.uk & www.rotpunktkuechen.de/en/