Nusa Caña unleashes limited edition Batavia Arrack 'Godfather' on UK on-trade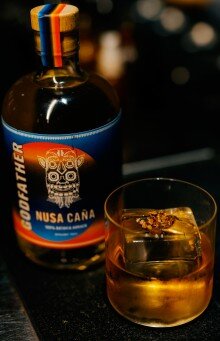 The new expression joins Nusa Caña Spiced Rum and Nusa Caña Tropical Island Rum 
Nusa Caña is launching a small parcel of its coveted 'Godfather' expression to the UK drinks sector this month. A truly rare, premium Batavia Arrack at 60 per cent abv, Godfather is crafted exclusively for the on-trade as a celebration of Batavia Arrack and pays tribute to the often-overlooked role Indonesia played in the history of rum.
Nusa Caña's mission is to bring back the forgotten story of Indonesian rum. 'Godfather' takes its name from Batavia Arrack's moniker as 'the godfather to the rum world' – an ancient rum style that pre-dates its Caribbean cousins and is considered the 'world's first International Luxury Spirit'.
With a lightly-honeyed, amber appearance from teak wood, and a pungent aroma from the arrack, Godfather packs a punch with an elegant balance and a long, spiced finish. A blend of 100 per cent pot still Batavia Arrack, it's aged for 24 month and bold in flavour, featuring subtle hints of tropical fruits, cane, molasses funk and sweet spices, allowing it to stand up to its 60 percent abv.
Co-founder of Nusa Caña, Sam Jeveons, says: "Godfather is a luxurious and rare expression which showcases the origins of, and variety of styles within, today's rum category. Sitting shoulder to shoulder with our existing rums – Nusa Caña Spiced Rum and Nusa Caña Tropical Island Rum – it's special because it expresses our heartland and what drives us forward – the reigniting the forgotten role Indonesia played in the history of rum.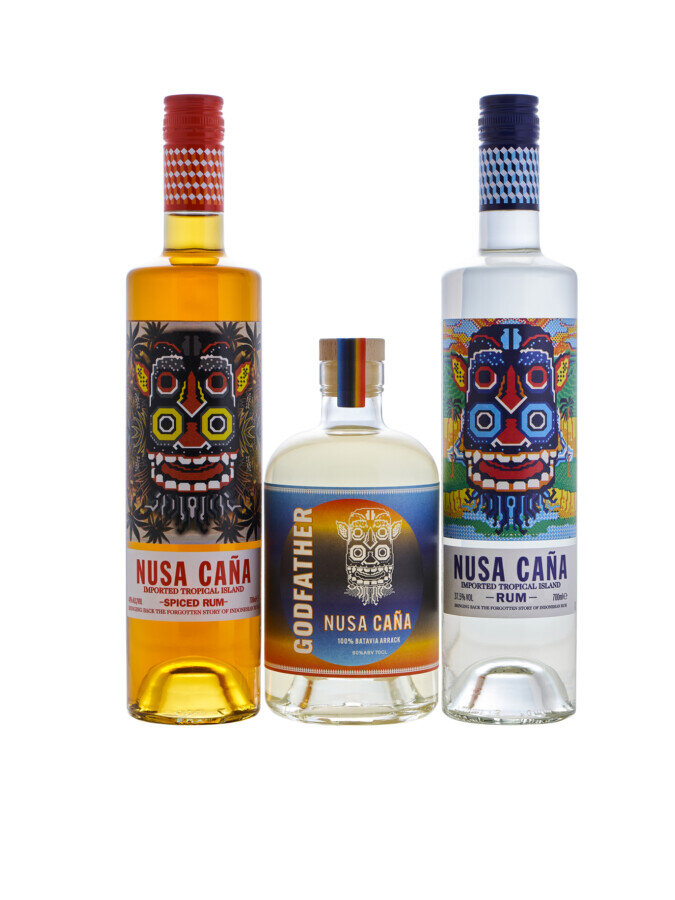 "This is a rum worthy of its spirits heritage. We know it will be recognised by those who embrace authentic rum and can appreciate its unique proposition. For this small parcel, our eyes are firmly on those that will realise its value; our friends across the on-trade ."
To create Batavia Arrack, Javanese sugar cane molasses (from the saccharum robustum cane) and crushed red rice are slowly fermented with local water. The resulting liquid is distilled twice in antique steel pot stills and aged in large teak wood barrels in the tropical growing regions of Western and Central Java, Indonesia, before being shipped to Europe for blending and bottling, following 350 years of tradition.
This powerful and exotic tropical spirit selling over five million bottles at its peak in 1862, was found in the best taverns, bars, galleys and bordellos across Europe and the New World, enjoyed in the finest punches, cocktails and high-end drinks of their time. For modern times, Jeveons says Godfather is best enjoyed "on the rocks or in a highball with a citrus twist and dry spice, in a daiquiri or arrack punch".
Becky Davies from Ten Locks says: "We are delighted to be able to bring a true authentic Batavian Arrack to the UK on-trade to really showcase where Nusa Caña comes from and the history of Indonesian rum, its different production techniques and in turn, its different profile. This exclusive expression is available to bars, restaurants and hospitality venues interested in broadening the education of bartenders in development and knowledge of the rum category and history of rum – which will remind consumers post-lockdown that the bar is a place for great cocktails and out of the ordinary drinks. This is a one-off, produced to help spread the message of the way in which Nusa Caña rum originated. It delivers value and prestige to the on-trade alongside the core Nusa Caña range, at a time when consumers are seeking heightened experiences and are more discerning about rum than ever before. We encourage bar owners, operators, drinks developers and bartenders to open themselves up to Indonesian rum."
Godfather 70cl bottles at 60 per cent abv are available to the on-trade now. To find out more about Godfather, and the Nusa Cana core range, contact Ten Locks www.ten-locks.com   Find out more about Nusa Caña at http://www.nusacana.com/