Unique, sparkling raw water kefir drinks from PiQi, now available nationwide, make a tasty, low-sugar, gut-friendly and sophisticated alternative to sugary soft drinks
In-line with the growing consumer demand* for gut-healthy and functional drinks, PiQi has created a range of delicious beverages, made using water kefir, a fermented, living ingredient famed for its powerful probiotic punch and immune-boosting benefits.
Available in four delicious, sparkling and dairy-free flavour combinations, as well as 250ml and, soon to launch, 750ml bottle variants, each PiQi drink comes packed with billions of live cultures and is bursting with naturally occurring antioxidants, vitamins and amino acids that ensure every sip is super-healthy and beautifully stylish.
Thanks to the fermented nature of water kefir, each 250ml bottle of PiQi contains up to 30 billion live cultures, which studies show have recognized probiotic qualities and can help support healthy gut microbiota, which plays an important role in digestion, weight management, and the immune system.
PiQi's founder Aksana Fitzpatrick says: "Digestive problems are a common occurrence. It is estimated that nearly 86% of all British adults suffer from some form of gastrointestinal problem. Much of this is attributed to stress and the types of foods we eat which are highly processed.
We now know that a healthy gut contributes to a stronger immune system, so we created the PiQi drinks range to provide all the benefits of a fermented drink, without the dairy or caffeine – meeting the consumer demand for naturally delicious, plant-based probiotics".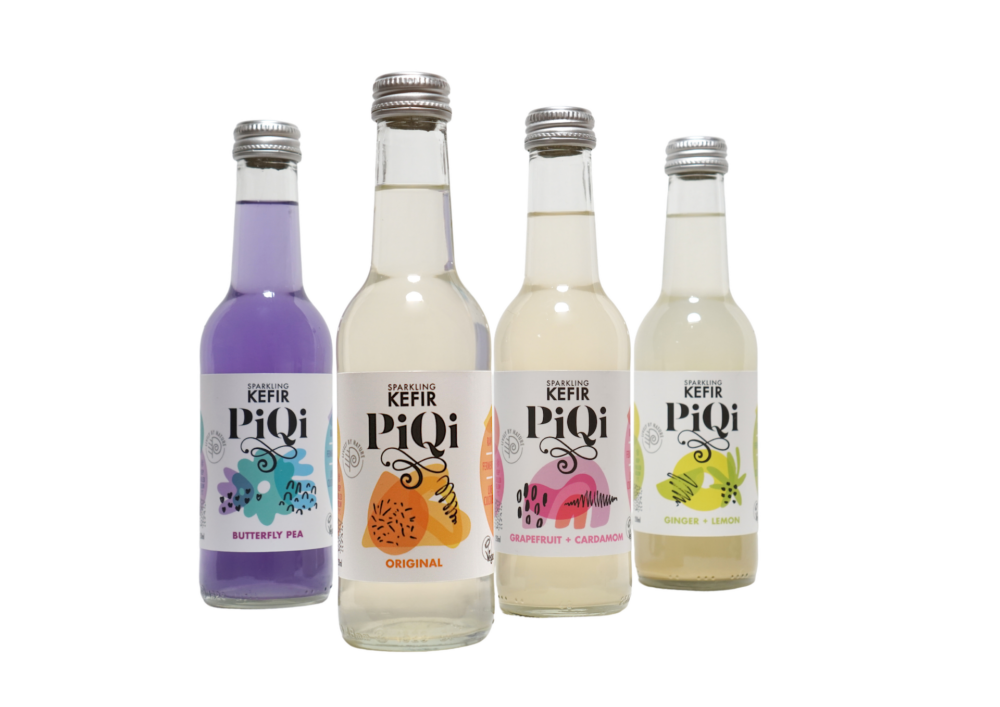 As a sophisticated, naturally low-sugar, dairy-free and caffeine-free refreshment, PiQi drinks offer the perfect, gut-healthy alternative to artificially sweetened and flavoured soft drinks or alcohol** and also work well as a mixer for creating unique cocktails.
The PiQi range is packed with enchanting organic ingredients and unique water kefir flavour combinations that include:
An uplifting, magical herbal infusion brewed with organic butterfly-pea flowers from Thailand. This gorgeous-looking water kefir is rich in antioxidants and has a delicate aroma with herbal and floral notes. The naturally purple colour and deliciously unique flavour of this gut-healthy drink makes it perfect as an alternative to alcohol or as a healthy mixer to create an easily impressive cocktail serve.
Reawaken your senses with this invigorating water kefir, brewed with organic fiery ginger and organic lemon. A lively zesty thirst quencher with subtle lemon and citrus notes.
This refreshing kefir is brewed with organic pink grapefruit and paired with fragrant, yet delicate cardamom (a perfect combination for a healthy glow)!
Water kefir in its most natural form. This rejuvenating elixir is brewed with organic figs and has a honey-like aroma with a crisp and slightly fruity flavour.
The PiQi drinks range is stocked in independent eco-grocers at £3.69 RRP for a 250ml bottle and is available to buy online via www.piqilife.com or via www.yumbles.com at £28.50 RRP for a case of 8, 250ml bottles.
*According to Fortune Business Insights, the global Digestive Health Market market is expected to grow at a CAGR of 7.9% from 2020 – 2027.
**Similar to kombucha and other fermented beverages, water kefir contains trace amounts of alcohol from natural fermentation. The amount is usually low, below 0.5% abv. However, raw unprocessed kefir will continue to ferment slowly in the fridge and can reach up to 1% ABV. Always store kefir in the fridge, below 5 degrees.
Those sensitive to alcohol are recommended to ask their doctor before consuming any fermented products.