IDRIS ELBA'S AND DAVID FARBER'S PORTE NOIRE BAR AND SHOP IN KING'S CROSS IS NOW OPEN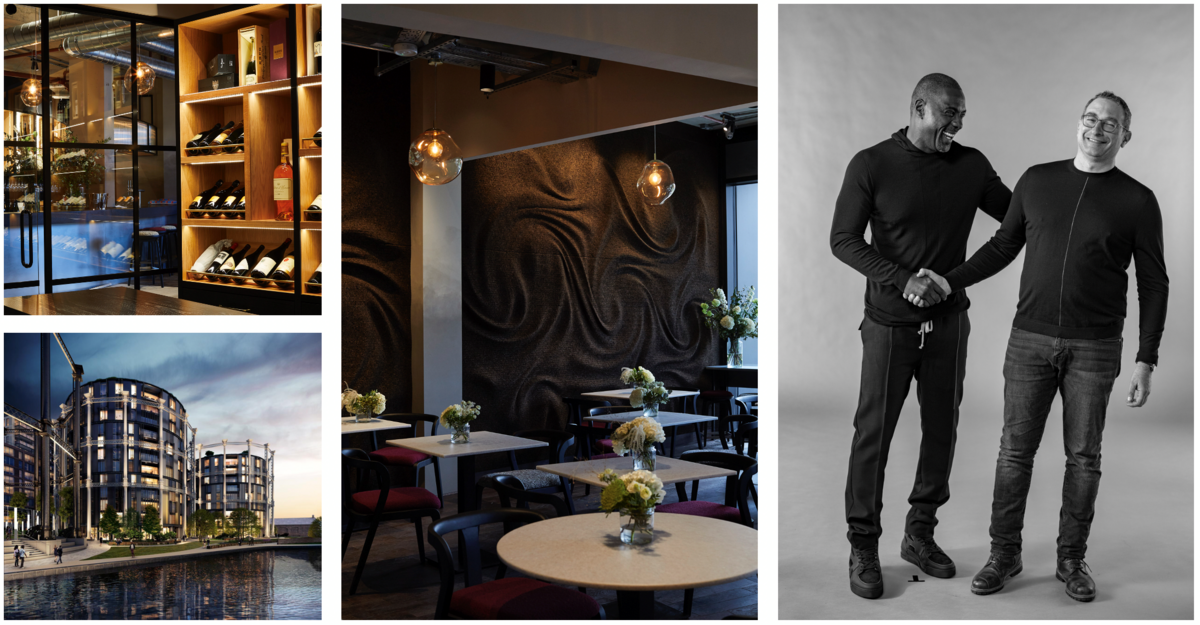 Porte Noire is home to around 800 wine bins, and one of the largest fine wine rooms in London
World renowned actor, producer and DJ, Idris Elba, and founder of Connaught Wine Cellars, David Farber, are delighted to announce the official opening of their first bar and shop from the wine and Champagne brand Porte Noire. Located at the foot of the stunning Gasholders London building, opposite Regent's Canal Towpath at Coal Drops Yard, the vibrant shopping and restaurant district in London's King's Cross, the new bar and shop is a celebration of the brand itself as well as an extensive selection of exceptional international wines, accompanied by artisanal cheese and charcuterie, and a succinct small sharing plates menu.
Designed by leading design agency Kanvass, Porte Noire features an outdoor space, a beautiful dining room and a bar which seats up to 70 guests. The new bar and shop are also home to around 800 wine bins as well as one of the largest fine wine rooms in London. Curated by co-founder David Farber, the wines range from some of the best and rarest bottles to a more accessible selection of wines on tap to suit all tastes. Most bottles are available to purchase in the shop that sits by the entrance of the bar.
The food menu at Porte Noire is a succinct selection of small plates to share. Dishes include Terrine, cornichons & toasted sourdough; Truffle fries and pecorino; Tartare of gin-cured salmon, flamed charred cucumber and dill creamand Black garlic hummus, heritage crudités and toasted sourdough. For those looking for something lighter, there will be an extensive selection of high-end European cheeses and charcuterie available to order as a platter. A selection of cocktails will also be available, made solely with premium spirits including the signature Porte Noire Flower (Wild hibiscus flower syrup, Dima's vodka, apricot liqueur, Champagne, garnished with a hibiscus flower) and Blue Sky Margarita (Codigo Blanco Tequila, Blue Curacao Monin Syrup, Supasawa, garnished with cotton candy and edible flowers).
David Farber commented: ''We're really excited to be bringing a slice of continental hospitality to London this autumn. Since launching our brand Porte Noire we have seen some incredible reviews of the product and we're looking forward to creating a space to match''.
Idris Elba added: ''David has been working in the wine space for a long time, I know he is going to take the Porte Noire name and create something special''.
The Porte Noire Bar and Shop is now open. For more information: www.portenoire.co.uk.