'SLEAZY PIZZA' LAUNCH ITS FIRST SITE WITH A STREET PARTY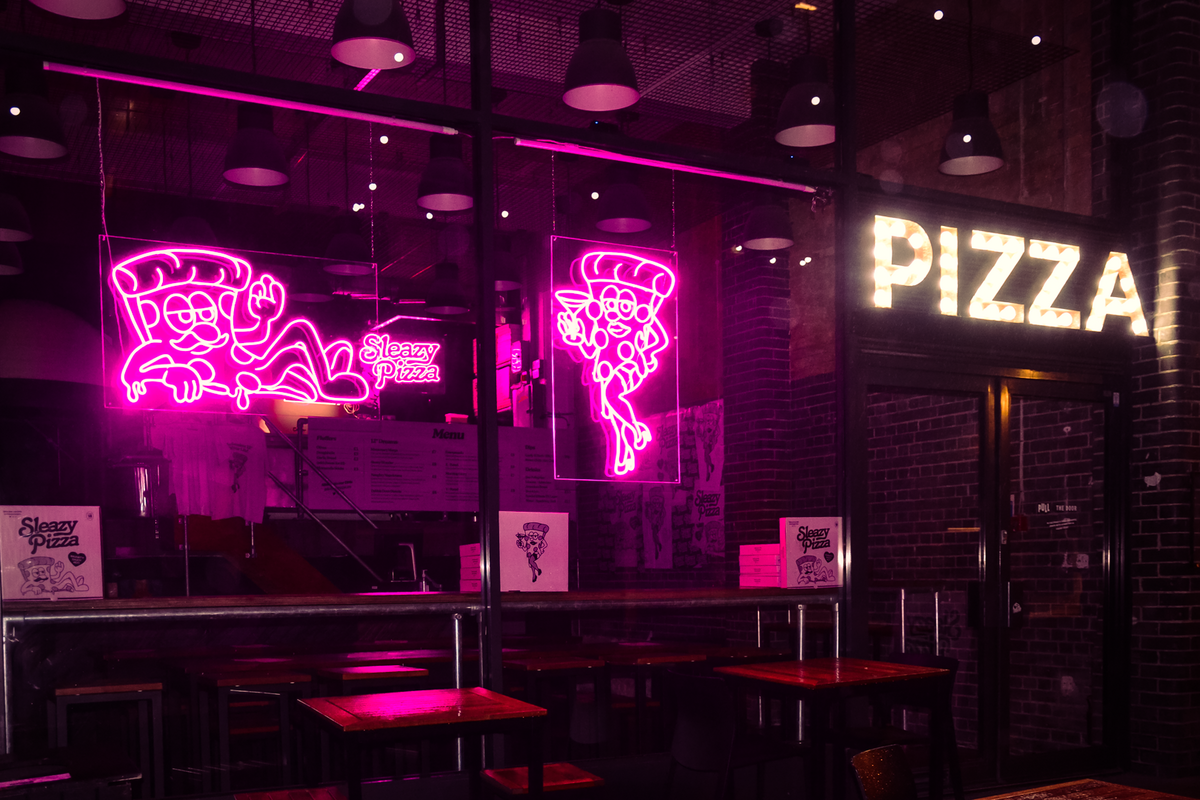 Anything but ordinary, the new pizza joint will bring some (x-rated) fun to the 12 incher
Celebrate the opening of Sleazy Pizza with the sleazy street party, taking place just off Brick Lane on Dray Walk, next to Cafe 1001. The sleazy street party will be a quirky opening party hosting free pizza for all, DJ's, drag performers, live saxophonists, outdoor bar, giveaways and some sleazy (temporary) tattoos in the courtyard outside the restaurant. You'll also have the chance to be featured on the money shot wall! The party kicks off on Friday, November 12th from 6pm and run until late, with free 'Friends With Benefits' Membership cards given away throughout. All of the above is to honour the launch of Sleazy Pizza, a back to basics yet fun pizza restaurant that takes the snobbiness out of pizza but still retains the high-quality ingredients. The restaurant isn't afraid of a pun or two, with some pizzas named after famous adult films from the past (Debbie Does Diavola is the sequel we never thought we needed). The walls will be plastered with custom movie posters with some other surprises to keep the fun in the building whilst waiting in the 40 capacity seating space. The launch party is free to attend, with free pizza whilst pumping some fun back to Brick Lane. Further information HERE
If you are interested in coming to launch party or would like to come and check out the pizza another time, fill in details HERE.
The pizzas will be lovingly crafted in the authentic wood-fired method, think thin crust with superb mouth-watering ingredients.
With their tongue pressed firmly in their cheek, the team behind Sleazy have gone in with a fully themed menu, where you can warm up with a fluffer before devouring a 12" dream. There's something for all pizza persuasions, whether you fancy a slice of 'Morning Glory' (how do you like your eggs in the morning? Perfectly cooked on a white base with pine nuts, mozzarella and spinach? You're in luck) a nibble on a 'Naughty Napoletana' or go 'X-Rated' with an nduja sausage, black olives and red onion combo. They'll also be offering vegetarian options and vegan cheese will be available on all pizzas.
This slideshow requires JavaScript.
Luca, Founder of Sleazy Pizza says "During the last lockdown an opportunity arose to open a pizza shop at Truman Brewery and given my Italian heritage I couldn't say no. My father Piero ran an Italian restaurant as I was growing up so I've grown up in Sicilian kitchens with fresh ingredients I understood the importance of quality food but we didn't just want a traditional pizzeria like most others. After looking around for what else is on offer we found a lot of brands lack any identity and we wanted an exciting and memorable pizza place that can have a bit fun with itself so our dirty-minded eatery Sleazy Pizza was born. Luckily we were also able to hire an amazing chef Danilo whose hometown is just outside Napoli (the home of pizza) and he'll be tossing out "12inch dreams" for free on our launch event!"
During the street party, free pizza will be flying out from the oven. People are recommended to come with an open mind to find their new favourite flavours! DJ's will be playing some dirty disco beats and sultry slow jams with drag performers causing a ruckus throughout until late. The evening will be injected with some seedy brass from a live saxophonist and an outside bar keeping everyone stocked up. The 'Money Shot Wall' is on hand for those who want to immortalise themselves with a sleazy selfie, and temporary tattoos will give people a chance to bring something back with them other than a hangover.
Sleazy Pizza is not the average pizza restaurant, filled to the brim with naughty puns, tasty wood-fired pizza and enough adult laughs to keep people coming back for more. Opening from November 12th, this cheeky pizza play space may just have a few surprises left in store.