Design District Canteen opens in September 2021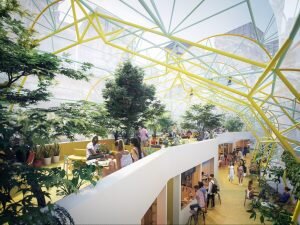 Bringing Six Global Street Food Operators to the heart of Greenwich Peninsula
Design District Canteen, Greenwich Peninsula's newest food and drink destination, will open in September 2021, bringing to the area a selection of independent food operators and culinary entrepreneurs including rising star Sugo Italian Street Food and Venezuelan Arepa masters, Guasa. Canteen is at the heart of London's new community of creatives, Design District, recently crowned 'one of World's Greatest Places in 2021' by TIME Magazine. The architecturally impactful food hall will be centred around an outstanding transparent structure created by lauded Spanish architects, Jose Selgas and Lucia Cano. Vibrant stalls serving food from around the world will surround a stunning tree canopy for people to sit in and eat alongside drinks from The Canteen Bar.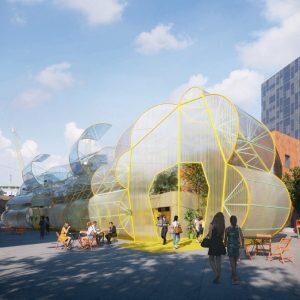 Through Canteen, Design District aims to provide a platform in a key London location for up-and-coming food operators to grow and develop. This is in keeping with Design District's overall ethos as a place of nurture and a community for Londoners. The six carefully chosen operators – Eat Lah, Ehla, Guasa, Sugo, Raastawala and Toasted – will bring their own unique flair and provide daily sustenance to more than 10,000 students, residents, and Design District members as well as those visiting the world's busiest music venue, O2 arena, which draws weekly crowds to Greenwich Peninsula.
The Canteen Bar, managed by the experienced Dawid Sowinski, will offer creative cocktails using local ingredients alongside wines, spirits and softs via click and collect. Craft beers will be available on tap and by the bottle including their house lager brewed just around the corner by Meantime brewery. The Canteen Bar will be one of the first bars in the world to utilise the new EcoSpirits range. When purchasing Portobello Road Gin, customers will be supporting the growth of a forest that will be planted and named after the Design District. Look out for the EcoSpirits Droplet logo on the menu to help save up to 150g of carbon emissions per serve.
The visually appealing structure is airy and ventilated providing a comfortable covered-outdoor dining experience. Architectural husband and wife team, Selgascano, envisioned Canteen as a warm welcome to those approaching the district; the space will emulate that of a European square through a modern lens, with a blurring of indoors and outdoors and a buzz of sociability suited to communal dining. Canteen will be open for breakfast, lunch, and dinner, offering visitors with freshly made dishes crafted by experts in their cuisine. The space is also available for events both private and corporate and areas can be rented out for bespoke dinners, drink receptions and parties.
Eat Lah
Founded in June 2019 by Robert and Melanie, a husband-and-wife duo, through Eat Lah's their goal is to bring the favours, colours and culture of Malaysia to the streets of London. Malaysian food is still unrepresented in the UK and the couple is on a mission to change this through their street food brand and a little-known rice dish called Nasi Kerabu. The dish encompasses all that is exciting about home cooked Malaysian food – colourful with amazing flavours and textures. Eat Lah's menu will feature classics such as Chicken Rendang, Satay Chicken, as well as a selection of snacks and sides such as Karipap Pusing (Homemade Malaysian spiral curry puff), Sweetcorn fritters, and Malaysian spiced fried wings.
Ehla
Ehla, meaning 'welcome' in Arabic and 'come over' in Greek, specialises in healthy, fresh and tasty Eastern Mediterranean food inspired by the region's countries such as Egypt, Palestine, Turkey, and Israel. Top falafel sits alongside zingy salads and succulent chicken shawarma, comforting bulgar pilaf bowls, and regularly changing specials such as warming Mediterranean stews. In the evening, mezze dishes, fluffy pitta wraps and traditional dips are available alongside daily baked pastries such as spanakopita and tahini pie. Already a regular trader at Greenwich Market, the team is excited to open their first permanent site in an area filled with friendly faces.
Guasa
With existing sites in Mercato Metropolitano and Old Spitalfields Market, founder David and his team work tirelessly to make sure that Arepas and Venezuelan food in general achieves the recognition it deserves in London and beyond. The simple yet flavoursome menu consists of arepas (a traditional Venezuelan gluten free, round- shaped corn bun) opened up like a pocket and stuffed with a variety of fillings such as smoky beans, vegan jackfruit, pulled chicken and all served with their signature GUASA (homemade zingy avocado based sauce – the official condiment of Venezuela). Guasa will also be serving a selection of bowls with a base of black beans, quinoa, pico de gallo salsa, fried plantain and a choice of buffalo beef, roasted pork leg, jackfruit or pulled chicken.
This slideshow requires JavaScript.
Sugo
Crowned one of London's top street food vendors by Time Out in 2019, SUGO transports the experience of eating on the streets of Italy to the heart of London, by breaking down the foreign stereotypes of pizza/pasta restaurants and introducing Londoners to the fast and bustling Italian street food culture. Run by a team of young entrepreneurs, the menu represents the food experiences that remind them of home. From freshly made arancini to pork ragu fritters, all dishes are made from scratch and showcase the exciting street food scene in Italy from North to South. Sandwiches made from home baked focaccia make the ideal mid-week lunch, filled with the most authentic ingredients from Porchetta (The Porkstar) to Burrata (Burrata Dreams). Whether you are looking for something light and fresh or hearty and filling – the SUGO famiglia has you covered.
Raastawala
Raastawala, a popular and favourite family business based in South East London, specialises in North East Indian street eats, specifically Kolkata, with dishes and cooking techniques inspired by where the founders' parents are from and where Rinku (co-founder) spent 3 years living. The speciality dish is the Kolkata Kati Roll – an amazingly soft and filling naan bread layered with an egg and a choice of Raastawala's spicy lamb kebabs, tandoori chicken or chickpea filling with lashings of home-made spicy sauces (their coriander chutney won 3 stars at the Great Taste Awards) and salads. Other dishes include Spicy Water Bombs, another savoury Kolkata street food…which is a hollow semolina puff filled with spiced potatoes, with an added shot of homemade spicy tamarind sauce – a unique experience in itself! For the ultimate Raastawala experience, dishes are best washed down with a refreshing Mango Lassi.
Toasted by The Great British Charcuterie Sandwich & Cheese Bar
With successful existing sites in Brighton, Toasted is excited to take on London! The concept is simple – the team source great quality ingredients and the best bread they can find and combine. The Design District Canteen menu will feature mouth-watering sandwiches alongside a new British raclette offering. All ingredients are sourced from independent British farms and producers in and around London, with smoked and cooked meats made in-house by the team. Toasted sandwiches will be made using bread from Rinkoff, a local bakery well known for their incredible crodoughs (croissant donut), which will also be sold at the Toasted stool. Expect to taste a range of full flavour sandwiches stuffed with fillings such as Wagyu Salt Beef, Cornish Lobster, and Treacle Cured Bacon. All accompanied with homemade pickles and sauces. For something even more indulgent, visitors can enjoy Cornish Gouda Raclette complete with heritage new potatoes, home fermented vegetables and pickles.
Located at the centre of Design District, the Canteen is set to become a focal point of the neighbourhood for all to enjoy. Conveniently, just one minute's walk to North Greenwich tube station, with links to central and East London in 15 minutes or less – including the Thames Clipper.