WITH a flavour journey that is reminiscent of ocean travel, Greenwich Gin has launched.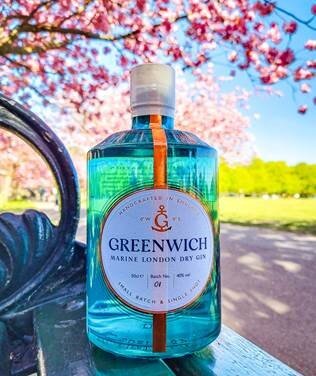 It is the first ever drink by Greenwich Spirits Company and is a celebration of the London borough's maritime legacy and the great explorers who sailed the seven seas.
The premium craft gin pairs British marine and coastal botanicals with a host of enchanting and intriguing flavours from all four corners of the world.
Using natural, foraged and sustainable ingredients from small, local, family-run suppliers, Greenwich Gin is distilled in a single shot and handcrafted in small batches. It is underpinned by a classic London dry base without any flavouring or sweeteners.
For every bottle sold, Greenwich Spirits Company makes a donation to The Seahorse Trust to help fund marine education and conservation projects.
Gin-loving founder Gonz Ruiz was inspired to create a gin during lockdown as it pushed him to experiment with dozens of intriguing botanicals.
"This time gave me a totally new perspective on enjoying life," he said. "Being a gin lover, I started making gin. This was a fun journey of curiosity and exploration and it quickly turned into an obsession and soon after, a profession! Leaving a lucrative and successful career behind to make a living from distilling gin in a saturated market was not an easy decision."
Ruiz, a self-confessed "world explorer" who hails from Colombia and is now firmly rooted in Greenwich, has spent his life relocating and living in eight different countries across four continents, and can speak four languages and holds five citizenships.
He says Greenwich Gin is a reflection of the spirit of exploration and says his own special connection with different parts of the world is the secret to bringing the drink's flavours together in such harmony.
The finest marine and coastal botanicals are featured, including Atlantic Dulse, Kombu Kelp and Sea Fennel, from the Celtic Sea and around the British Isles.
Flavours from around the world include Lulo from Colombia, Sakura from Japan, Tonka from the Amazon, Pink Pepper from Brazil, and Balsam Fir from Canada.
Greenwich Gin also contains classical botanicals including Juniper from Italy, Coriander from Morocco, Angelica from Poland, Bitter Orange from Spain, and Lime from Mexico.
Ruiz said: "Our flavour is a beautiful journey. Marine notes tell the story of ocean travel to discover intriguing coastal and land botanicals from different continents. Each botanical's charm emerges at different parts of the flavour journey, each sip tells a story different from the previous one, yours to explore!"
Greenwich Gin has a citrusy freshness with gentle juniper that gives way to a subtle marine breeze that remains in the background. Layers of dry and sweet flavours travel through the palate, combining a classic dry base with peaks of tropical and intriguing sweetness. There is an enduring and well-rounded finish of sweet almonds, peppery spice and a subtle reminder of the ocean.
"The maritime legacy of Greenwich enabled safe navigation around the world and paved the way for a new era of culinary innovation that combines flavours and spices from different parts of the world," said Ruiz. "However, Greenwich Meridian is much more than that, it is a global symbol of co-existence and collaboration, the entire world coming together to agree on time and space. Our gin seeks to revive that spirit of global inclusion and collaboration that has been lost in recent years. We use marine botanicals from Britain but the true provenance of Greenwich Gin lies in the spirit of bringing together people and places from different corners of the world."
Greenwich Gin celebrates the diversity of world flavours and cultures whilst respecting their environment and communities, and keeps sustainability firmly at its core.
Ruiz added: "A sustainable future is our only future. Besides ensuring that ingredients are sustainably sourced, we eliminated plastic and synthetic materials from our packaging in favour of sustainable materials such as natural cork and seals made from wood pulp."
Greenwich Gin is 40% ABV and bottles are sold in 5cl, 50cl or 70cl sizes with the 50cl size retailing at £32.
For further information about Greenwich Gin, please visit: www.greenwichgin.uk