Creative Workspace Solution for the new remote and flexible workforce – DropTop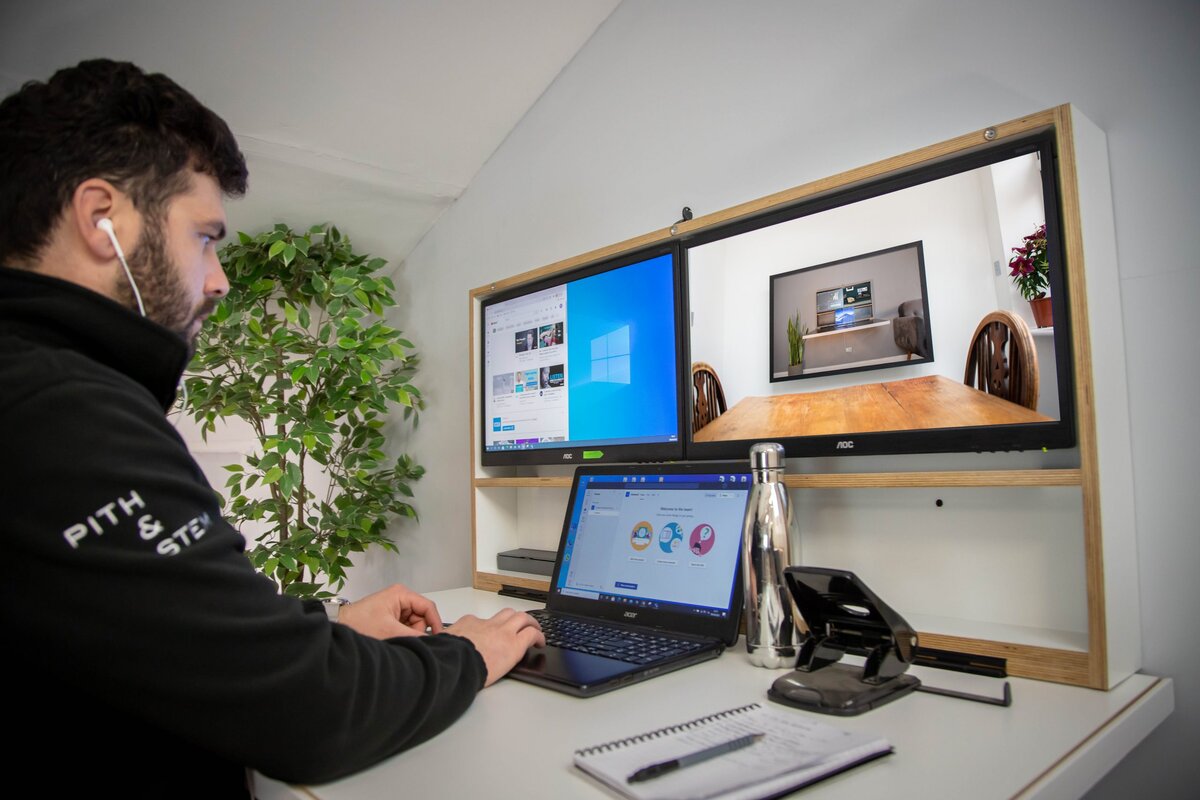 Instant multi-screen desk in any room.
DropTop.™ is our groundbreaking luxury solution to remote working in the 21st Century. Whether you are looking to have a home office setup that doesn't compromise your living space, or looking to upgrade your working from home setup to maximise productivity, DropTop.™ is the ultimate home office solution.
Maximum style and productivity.
Designed to maximise productivity, with pre- installed monitors, DropTop.™ is available in multiple screen configurations. Ready to plug-and- play with any laptop when open, discreet and stylish when closed makes it the perfect home-office desk. Your custom-tailored DropTop.™ can be styled to suit any interior with multiple finishes available. With interchangeable frames and artwork inserts, your DropTop.™ can be easily updated any time you change your decor.
21st Century, luxury remote working solution.
Available in multiple matt or wood-effect finishes, with a choice of machine finished rustic reclaimed pine frame exterior DropTop.™ looks great in any interior. Utilising our custom reinforced hinges, the desktop supports in excess of 100kg in weight without any supports or stays and comes with a full manufacturer warranty. DropTop.™ offers an extra-large work surface uncompromised by screens and stands, housed in a stylish and compact design.
Working away from your office will no longer mean having to settle for limited productivity on just your laptop, but tactfully allow you to have up to a triple screen set up in any from in your home.
This slideshow requires JavaScript.
DropTop.™ comes in three configurations: The original DropTop.™ Duo with two inbuilt 24″ monitors with up to 4k resolution. DropTop.™ Single with an ultra- wide 29″ integrated monitor for smaller rooms and compact spaces and DropTop.™ Single-Max with an inbuilt 34″ ultra-wide monitor.
So where do we see DropTop.™? Modern city living brings many advantages, but space is not always one of them. With a DropTop.™ small homes and apartments can provide a dedicated working area, without taking up valuable floor space. DropTop.™
The unit is easily installed and designed to be fitted on any brick or plasterboard wall so is just as suited in modern build or Victorian era bedrooms and living rooms, as it is in garden pods and offices.
Already have a home-office? Having a DropTop.™ in a second room allows for multiple members of the household to work from home. As adept at working with large spreadsheets, video editing or gaming, DropTop.™ is perfect for the whole family.
What's under the hood? We've taken care of all of the wiring behind the screens with HDMI connectivity on our DropTop.™ Single models, or via DisplayLink single cable USB/USB-C charging and connectivity on our DropTop.™ Duo. Compatible with both laptops and Macs. the DisplayLink Doc allows for triple extended screen display for maximum productivity.
Delivered pre-wired, plug-and-play ready, with no faff or complicated installation DropTop.™ allows you to start work right away.
PITH & STEM.
www.pithandstem.com/droptop – [email protected]