Add Aperol Spritz to your menu this Summer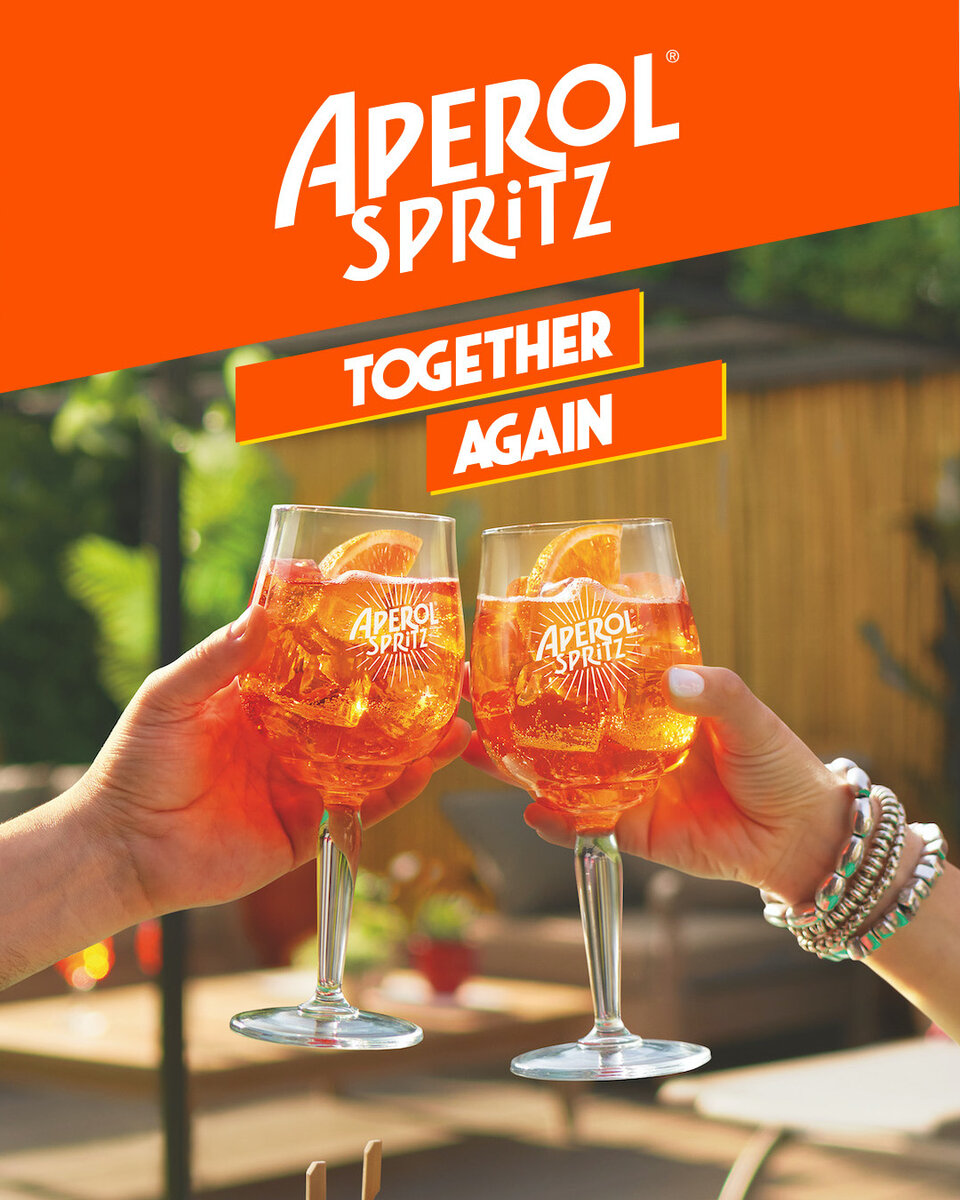 The On Trade is facing a crucial period in its recovery as restrictions continue to lift and customers return to their favourite pubs, bars and restaurants. Recognising the importance of the summer months for the hospitality industry, and the role it plays in helping venues increase footfall, Aperol has launched Aperol Spritz, Together Again. Running from now until the end of August, the initiative encourages consumers to reconnect with friends and pick up an Aperol Spritz at their local pub or bar, on them.
Aperol is offering 100,000 free serves, which consumers can claim from any venue nationwide. With no onus on the On Trade to sign up to the initiative, there is a real opportunity for those bars that serve Aperol Spritz to capitalise on this promotional activity and enjoy increased footfall from those seeking an expertly-crafted serve in a much-missed hospitality environment.
The campaign also encourages customers to opt for more premium, higher-priced items on the menu, by offering a rebate when two Aperol Spritzes are purchased.  With Aperol Spritz recognised as a popular summertime serve, the initiative is poised to have a real impact.
The value of having Aperol Spritz on re-opening menus is already evident:
By championing the Aperol Spritz on menu and in-venue this summer, the On Trade can reap the benefits of this offer and boost sales during the warmer months.
Aperol Spritz, Together Again is a continuation of Campari Group UK's support for the hospitality sector during the pandemic. In response to the impact of Covid-19 on frontline bar workers' livelihoods – and lives – the Shaken Not Broken relief fund was established in April 2020 to offer much-needed help. Founded with an initial donation from the business, which has also given on-going support as the crisis has continued, the fund is administered by hospitality charity The Drinks Trust. Consumers can also choose to donate their refund from Aperol Spritz, Together Again to the Shaken Not Broken hospitality workers' relief fund.
Brad Madigan, Managing Director at Campari Group UK, says: "We have supported bar and restaurant staff during the pandemic through our Shaken Not Broken relief fund, and are looking forward to now supporting venues again with this On Trade Aperol initiative. The industry so urgently needs customers back at tables and filling outdoor areas, and this is our way of helping to reconnect customers with their favourite venues.
"Life, like an Aperol Spritz, is best shared with friends. That's why after so long apart, we wanted to play our part in bringing people together again, as well as demonstrate our continued commitment to supporting our On Trade partners as they emerge from an incredibly difficult period."
[4] CGA Mixed Drinks Q1 2020
[5] CGA Managed EPOS Tracker Data to 01.05.2020
[6] CGA Drink Recovery Tracker Data to 12th June 2021
[7] CGA Drink Recovery Tracker Data