MasterChef at charming 16th century Cornish coaching inn shakes things up with bountiful new spring menu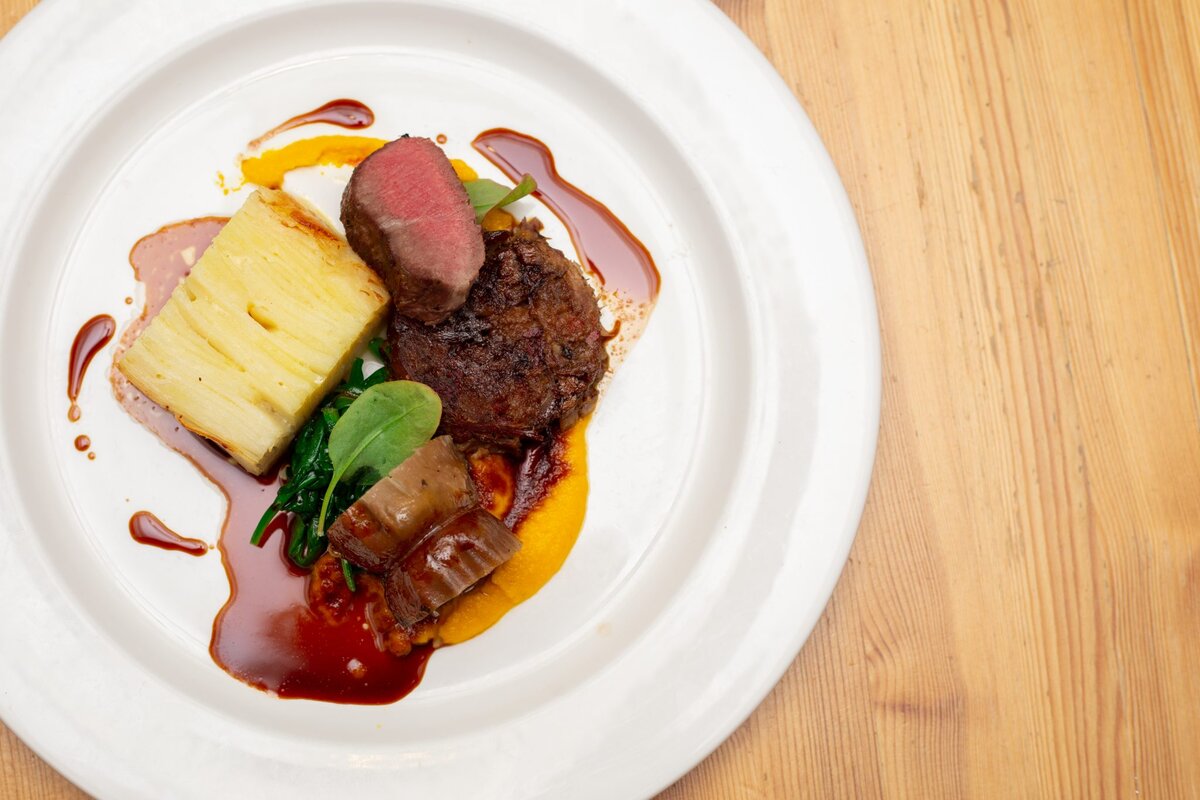 Recently appointed chef patron at The Plume of Feathers in Mitchell, and former MasterChef contestant Nat Tallents is well and truly living up to her name, showcasing her talents, leading the way for female chefs and celebrating Cornish heritage and style with the launch of her newly-curated spring menu. This is the first since her move to the 16th century Cornish dining and accommodation destination earlier this year.
Launched today, the skilfully and passionately crafted menu showcases the freshest of seasonal produce and exceptional Cornish provenance. Featuring sumptuous elements including potted venison, succulent Cornish lamb (from the local butchers), fresh king scallops from the waters close by, and sweet springtime rhubarb with comforting homemade custard, the new menu has sustainability at its core, with many of the dishes flavoured with herbs from the inn's own vegetable patch.
Nestled in the heart of the Cornish countryside yet just seconds from the A30, The Plume of Feathers is a world away from the hustle and bustle of everyday life, celebrating everything that is wonderful about Cornwall. Combining the luxury of a modern getaway with the historic beauty of a traditional 16th century Cornish coaching inn, it is the perfect location for the intrepid explorer, artistic muser or fatigued city-slicker, offering hearty food, a cosy ambience and extensive designer bedrooms in the surrounding contemporary Cornish barn buildings.
Nat was previously the executive chef of both The Plume of Feathers and its iconic sister venue, The Lewinnick Lodge in Newquay which is perched in the most elemental position right in the cliff edge of Pentire Headland. Now shifting her entire focus onto The Plume of Feathers as chef patron, Nat is set to transform the dining experience of visitors and guests and is really excited about the future.
Lancashire-born, Nat began her cooking career at 23 years of age after eight years of working both as a waitress and a restaurant manager. However, with three strong mentors in the early days, she picked up skills and techniques extremely quickly skyrocketing her career in the culinary world, holding her first head chef position after only 18 months in West Yorkshire. In 2012 she took part in BBC's MasterChef: The Professionals, and got to the classics round, during which she was extremely excited to cook for one of her food heroes Michel Roux Jr.
Nat said, "The Plume of Feathers is just such a great place in a fantastic location and has so much potential, so I really want it to stand proud and carve its own reputation as the ultimate gastro pub dining experience in Cornwall. I am determined to make that happen and am enjoying the chef patron role which allows me to be extremely hands-on in the kitchen here but also means I have control over all elements of our new menus."
Already curating a host of signature dishes using locally-sourced ingredients, many from The Plume's store of home-grown produce, Nat says that guests planning to dine at the 16th Century coaching inn can expect 'honest, homemade and inspiring modern-British cuisine', with a menu that celebrates Cornish heritage.
To find out more about The Plume of Feathers and to check out the brand new spring menu, visit: https://theplumemitchell.co.uk/