Blue Moon's London summer sampling campaign increases demand at on-trade venues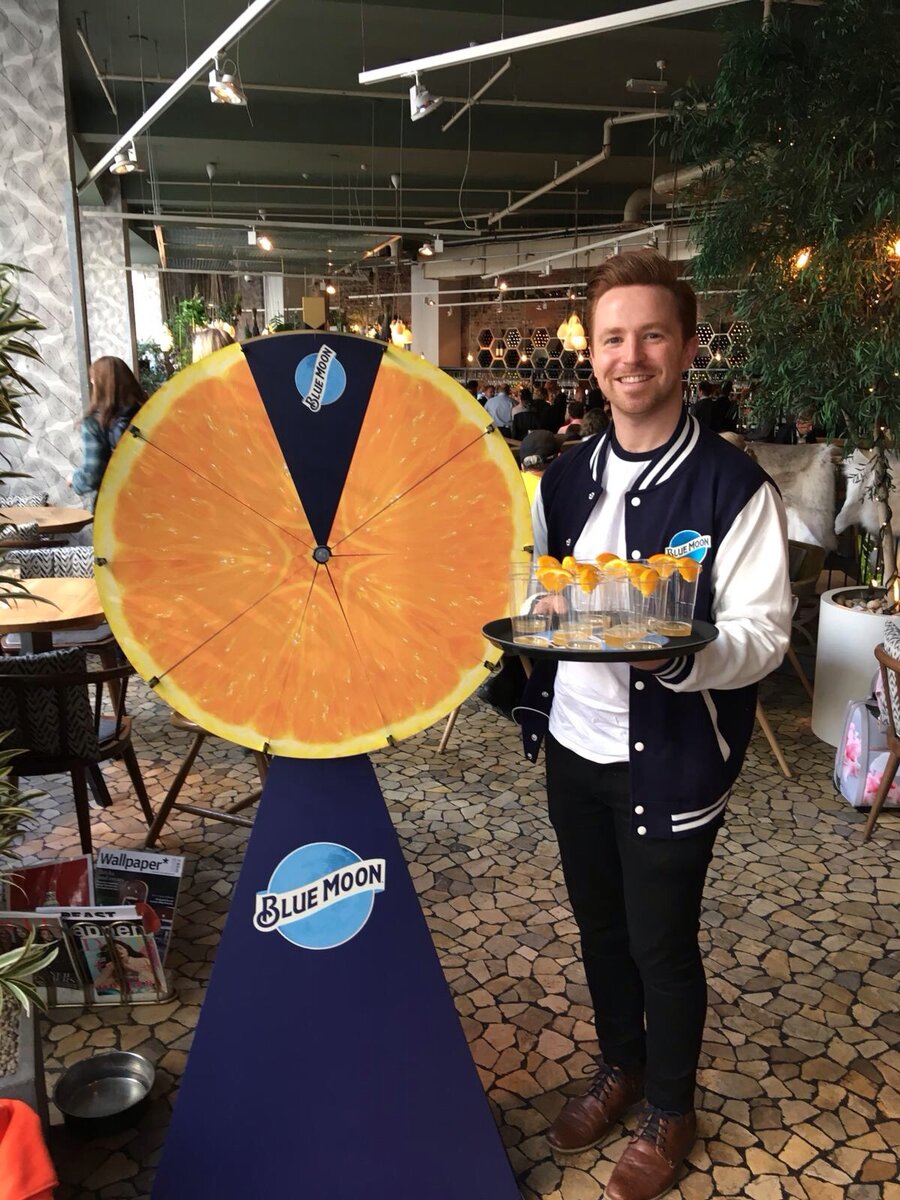 Blue Moon, the number one craft beer in the US, launched an on-trade summer campaign to help customers raise awareness around the beer and ultimately increase ROS
The sampling activations took place in pubs and bars across the capital from May to September and resulted in increased consumer demand for Blue Moon
Over 1,300 consumer interactions and 800 samples trialled on site led to an average sales increase of 30% of Blue Moon 
The beer brand provided digital toolkits for accounts, which included video assets and social media copy
Blue Moon, the number one craft beer in the US, has just wrapped up its first on-trade sampling programme, designed to help customers raise awareness around the beer, provide low risk trial of Blue Moon ultimately increase ROS through a series of installations, creative sampling activations and digital toolkits.
The brand provided London-based customers with a kit comprising of a 'Peel of Fortune' spinning wheel, inspired by the beer's perfect serve, which features an orange slice garnish, and sampling equipment. Promotional staff, provided by Blue Moon, drew in consumers to engage with the wheel, which not only gave people the opportunity to win a free pint, but also revealed fun educational facts about the brand and beer itself.
During the activation free samples of the beer were also given out to consumers, with staff explaining everything from tasting notes to the ingredients. The brand recorded over 1,300 consumer interactions and almost 800 samples trialled on site, which led to an average increase in keg sales by an average of 30% in the month following*.
Steph Goldie, Brand Manager, Blue Moon said: "As the leading craft beer in the US, we understand the importance of educating and guiding consumers who are intrigued by craft, but overwhelmed by the language and choice attached to the growing category and so have provided customers with the tools to do this in a really simple, but engaging way."
As well as the sampling wheel, Blue Moon also offered premium London-based customers the opportunity to feature a smaller version of the brand's interactive 'Once in a Blue Moon' wishing tree. Originally created as a larger art installation last year and displayed at London's Old Spitalfields and Macclesfield's Blue Dot Festival, Blue Moon recreated the same experience on a smaller scale at flagship accounts such as Drake & Morgan and Tobacco Skylight.
Blue Moon also provided customers that hosted the activations a social media toolkit, empowering them to engage with their consumers digitally. The toolkit included video assets and sample social media copy, to help customers raise awareness around the activations taking place in their venue as well as educate consumers on the unique taste of Blue Moon.
Alexander Metcalfe, Assistant General Manager at The Folly said: "The team was great at engaging with the customers. The activation really grabbed their attention and there was definitely an increase in sales as the keg needed changing which is unusual for a Tuesday evening."
If your venue is interested in taking part in the Blue Moon campaign, please contact Brew + Press – [email protected]