Elite Hotel Group celebrates long-serving staff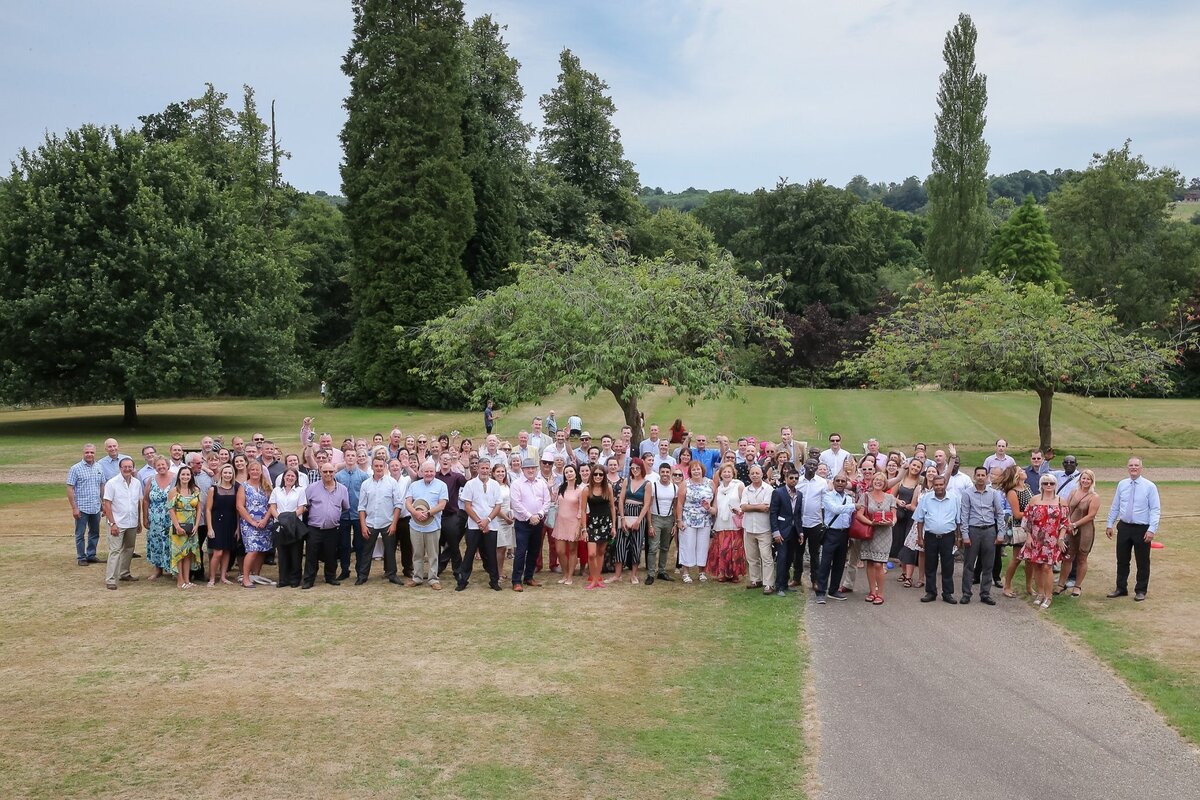 Leading independent hotel group Elite Hotels has been celebrating the long service milestones of 273 employees, at a summer garden party ceremony held at Ashdown Park Hotel.
The Elite Hotel Group operates four luxury four-star and five-star hotels: Ashdown Park Hotel & Country Club, Luton Hoo Hotel, Golf & Spa in Bedfordshire, Tylney Hall Hotel & Gardens in Hampshire and The Grand Hotel in Eastbourne.
Employees of the group are rewarded for five years or more of service, with further recognition at every five-year milestone. This year, to coincide with the 25th anniversary of Ashdown Park Hotel opening and 20 years since the purchase of The Grand Hotel, a summer garden party was held with long-serving employees from all four hotels invited.
Taking place on Tuesday 7 August, the afternoon was a chance for staff to relax, celebrate and enjoy a range of activities in Ashdown Park's 186 acres of grounds, including clay pigeon shooting, falconry displays, llama walking and a Spitfire aerial display.
The long service awards were presented by managing director of Elite Hotels, Graeme Bateman. All staff celebrating a milestone were gifted one or two-night stays at an Elite hotel of their choice, along with pin badges for five years, commemorative clocks for 10 years and vouchers for up to £200 for 15, 20, 25 and 30 years.
Managing director of Elite Hotels, Graeme Bateman, said: "As a family-run, small hotel group, Elite is committed to the development of our staff and we believe passionately in nurturing talent and rewarding loyalty. In an industry where staff turnover is notoriously high, I am extremely proud of the number of staff who have been here five years or longer. It is testament to the culture of Elite and the opportunities available that staff do stay for so long – in the case of our longest-serving employee, a fantastic 46 years – and so it is my pleasure to be able to celebrate with them at the long service awards."
Robin Miller, gardener at Ashdown Park Hotel, was celebrating his 10-year milestone with Elite at the long service awards, having spent seven years at The Grand before moving to Ashdown Park. Robin said: "One of the reasons I've stayed with Elite so long is because of the opportunities they've given me. I couldn't go any further in my department at The Grand but moving to Ashdown gave me the chance to work in a bigger team and do the type of estate gardening I wanted to move onto. I like the fact that we work as a team but also as part of the Elite group, and the long service awards are great as the recognition makes you feel really appreciated."
Debbie Hine, events manager at Tylney Hall, received her 30-year long service award and said: "I love my job as every day is different. I love the process of building relationships with clients and working with each department of the hotel to bring an event to life.  Knowing we have exceeded a client's expectations is such a rewarding feeling. I've seen the hotel grow from 30 bedrooms to 113 bedrooms and helped to build its reputation to what it is today. I work with some wonderful people that make coming to work a joy. The hotel and gardens are stunning, Tylney just gets under your skin… there is just something about this special place."
For more information about careers with the Elite Hotel Group, visit www.careersatelitehotels.co.uk.