Embargo – join the new loyalty reward app revolutionising the hospitality industry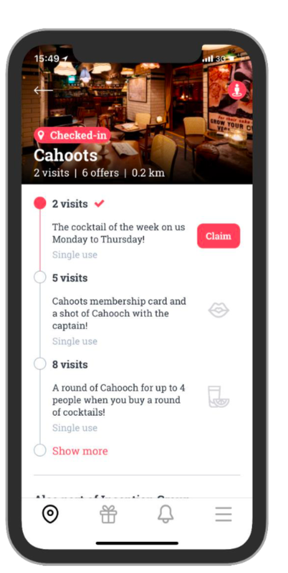 'Connect to hundreds of London's top-rated venues and join the thousands of users transforming their going out experience'
Launched in 2017, Embargo is one of the UK's most exciting and fastest- growing lifestyle apps, that not only connects users to hundreds of London's top-rated bars, restaurants and events but lets them enjoy countless perks and rewards at their fingertips. Customers can finally get the treatment their loyalty merits just by simply visiting their favourite hotspots!
Embargo is the brainchild of co-founders; Tsewang Wangkang, Nik von Solodkoff and Frederick Szydlowsk – all three had experienced a similar problem as either customers or former directors of some of the hottest venues in the capital -these venues were lacking innovative and personal ways to engage clientele and sustain their loyalty.
Collectively, the founders realised the ideal solution was to foster a better connectivity and relationship between venues and its family of customers. They discovered the ratio between customer visits and rewards was almost non-existent and that London's regulars weren't being recognized by their favourite establishments. There was nothing left but to come up with a game-changing solution; not just digitalise but revolutionise the hospitality industry's failing relationship with the consumer.
Employing a simple yet smart functionality, the Embargo app makes use of all the features of Bluetooth 5 technology to complement its native iOS and Android mobile applications. The team recognised and applied this technology as the clear choice, aiming to serve users with the highest quality experience across accuracy and power-efficiency. Once users have signed up and enter one of Embargo's registered venues, the Bluetooth signal is processed seamlessly, leading to an automatic check-in without users needing to take any action. The venues in turn have an infrastructure comprised of Bluetooth beacons and tablets which act as terminals for them to monitor and configure their progress, develop bespoke promotions and offers, as well broadcast personalised messages to their loyal customers. The whole interaction is consistent and reliable, achieved via the app's state of the art central server. Armed with powerful analytics and data, hundreds of venues are now seeing a measured and effective way to retain and reach new customers whilst boosting their revenue.
-The app is currently signing up 10-15 new venues per week and is growing its user sign up rate exponentially. To date, venues on the platform have enjoyed over 65,000 + visits from Embargo users-
"It is an amazing feeling to visit our venues and see people using our app with a smile on their face. Customers are now enjoying more relevant and personalised hospitality experiences and this gives us confidence that we are creating something really special" – says Tsewang, co-founder and CEO
Embargo has been downloaded and enjoyed by thousands of users since its launch and has signed some of hospitality's best rated and trendiest bars, cafes and restaurants, collaborated with leading brands including Ciroc, Sauvelle, Four Fox Sake, IQOS and amassed a loyal army of brand ambassadors, influencers and celebrities along the way.
-Currently trending at no.18 in the lifestyle category on the Apple Store-
The Embargo team continue to put heavy efforts and investment into the highest quality back-end infrastructure to ensure effortless VIP treatment to its users on the back and front end.
 "We developed Embargo to become a lifestyle and an experience. We want to give our users more than just loyalty rewards, hence why we've held and continue to do regular events across the city, competitions and collaborations. We want to show that life can be celebrated every day. We seek to cover all the fun things people do in their free time on one platform and there is so much more to come!-, adds Frederick, also co-founder and CMO
The Embargo movement fuels and ignites relationships in the hottest industry in the world, finally providing London's hospitality users with the acknowledgement and rewards they have long deserved.
Now available is the latest Embargo 2.0 version – which introduces not only a fresh new design, seamless user interface but also new features – like 'stamp and collect' – used for take-away restaurants, busy lunch spots and cafes.